Do fans really save energy? Do you leave them on when you are not in the room? Do you use them with air conditioning? What about during the winter?
We answer some of the obvious and not so obvious questions about fans in an old house.
When I moved into our 1900s Victorian Farmhouse I noticed that there were lots of fans in strange locations. We have 3 bedrooms but only one had a fan in it. However, there was a fan right outside of the bedrooms at the top of a tight stairwell.
We also had a fan in the back mudroom which was being used as a breakfast nook. (We use it as that too during the winter months when we move in our furniture from the porch.)
But what do fans really do so that they were in these rooms? HINT: I took 2 of the fans out during our old house rehab! If you want to read more about our rehab and how we saved money see our post How to Save with a Historic Tax Credit.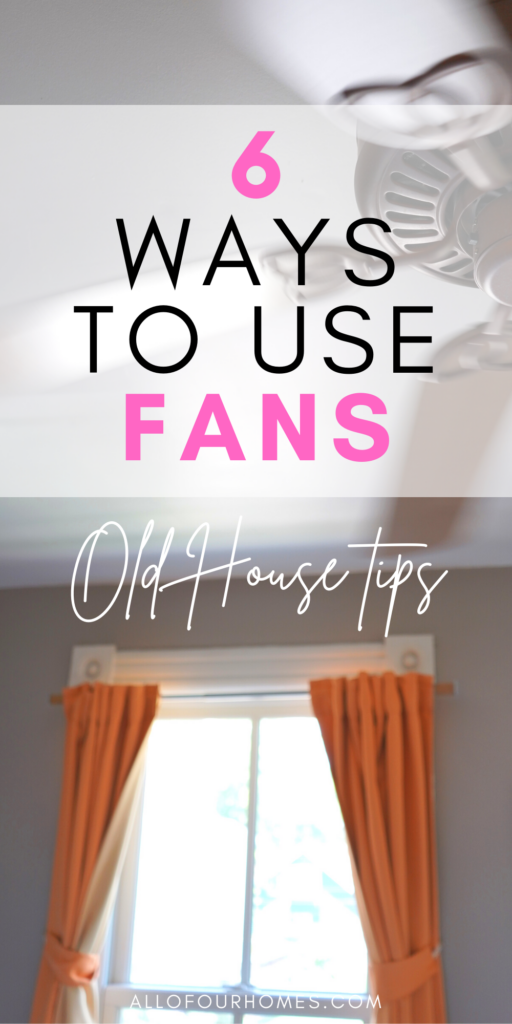 6 WAYS TO USE FANS AT HOME
1. TURN OFF FANS WHEN YOU LEAVE THE ROOM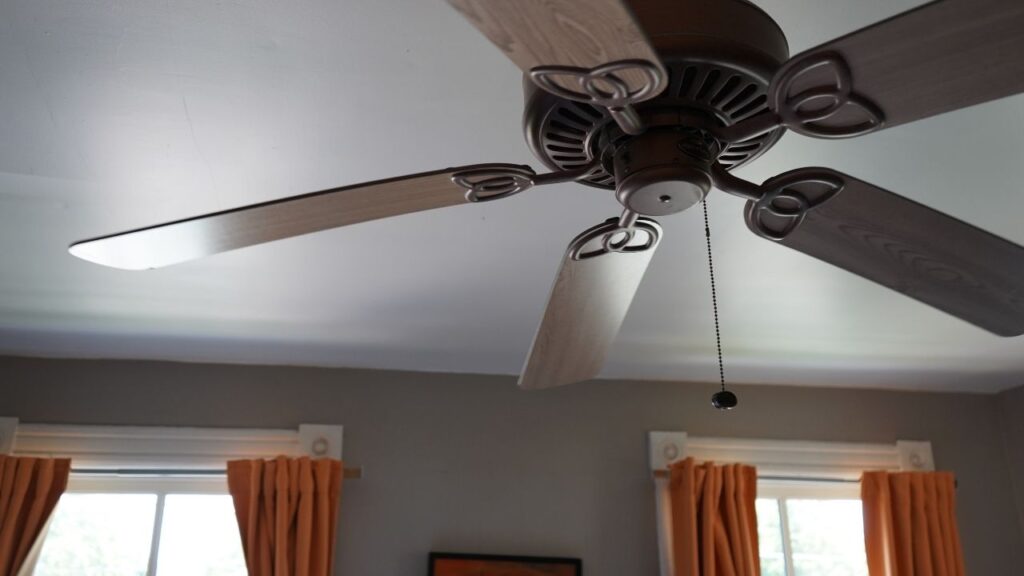 Fans only cool you off if you are in the same room. They lower your body temperature as they circulate air around you. They do not cool the air itself. That means you should turn off fans when you leave the room.
If they are left on you will be spending money on electricity you are not using, plus the fan motor actually adds a small amount of heat to the space. You don't want to do that! However, there is one exception to this and it would be with using window fans.
Make sure your fan is rotating counterclockwise for cooling. See below for how to run a ceiling fan in reverse during the winter to help redistribute heat.
2. USE WINDOW FANS TO PUSH HOT AIR OUT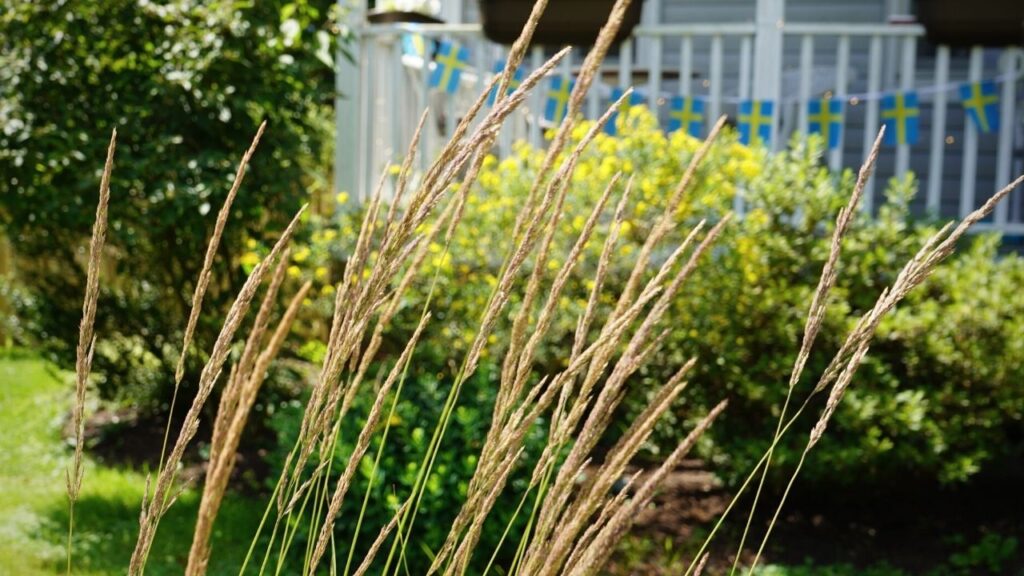 Window fans can be placed in a window to pull cool air in and push hot air out. Ideally, place your window fan on the top of a double hung window and circulate it to push the hot air out of the room. Why on the top part? Because hot air rises and when it exits the room it can make space for cooler air to come in.
On the shady or breezy side of your house, open the bottom portion of another window to let cooler air in. This will create air flow throughout your house. This also works well when opening a window on a lower floor and placing a fan on an upper floor of your house, creating a stack effect.
In this case it is ok to leave your fan running when you are not in the room because you are working to pull cool air into other spaces even if you are not occupying them.
It would not make sense to use a window fan with A/C of course unless you are trying to quickly cool off a hot room that has no access to your A/C. Similar to when you crack windows open in a hot car when you first start the A/C.
3. SAVE ENERGY WITH A FAN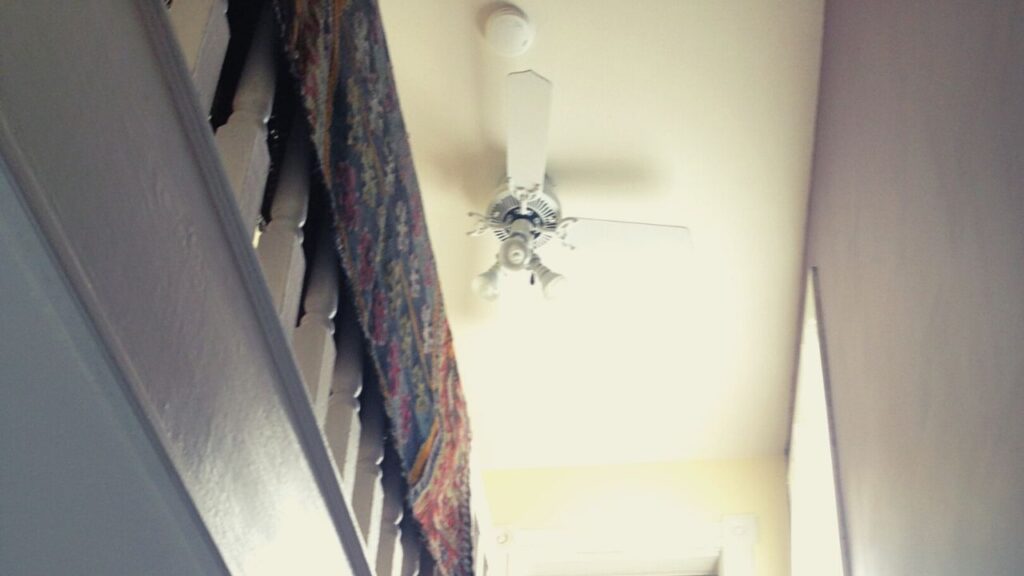 If you are using window fans in combination with natural ventilation to cool your house, that is great. They you will save money but turning off your A/C completely. However, you can also save money by setting your A/C at a higher overall temperature and using fans to bring down your body temperature.
Once again, that only works if you have a fan located in the room you are in. The picture above is of a fan in our narrow stairway that we hardly spend time in. A fan here would cool us only for a moment as we passed by. Needless to say, we had this (broken) fan removed and bought a table fan for our home office. We hope to add a ceiling fan in each bedroom and office during our next phase of renovation.
4. TAKE YOUR FAN OUTSIDE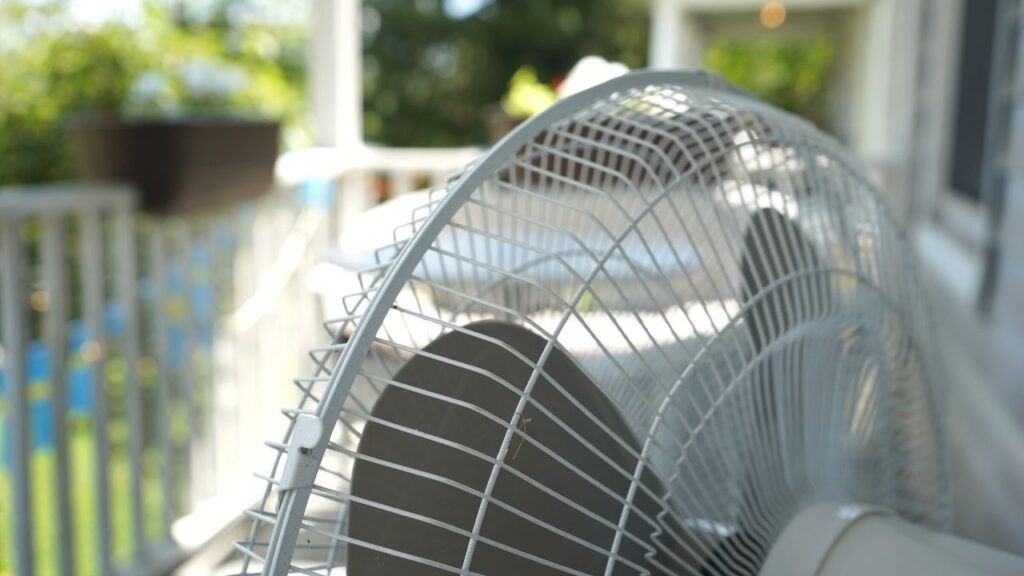 Fans can keep bugs away as they cool you off outside. See more tips in our post on How to Keep Bugs Away Naturally.
As long as the temperature is not super hot, less than 99 degrees Fahrenheit, then a fan can help to cool you off. We use a fan on our front porch to keep us cool and bug free while enjoying our fresh summer meals.
5. RECIRCULATE HEAT WITH FANS IN WINTER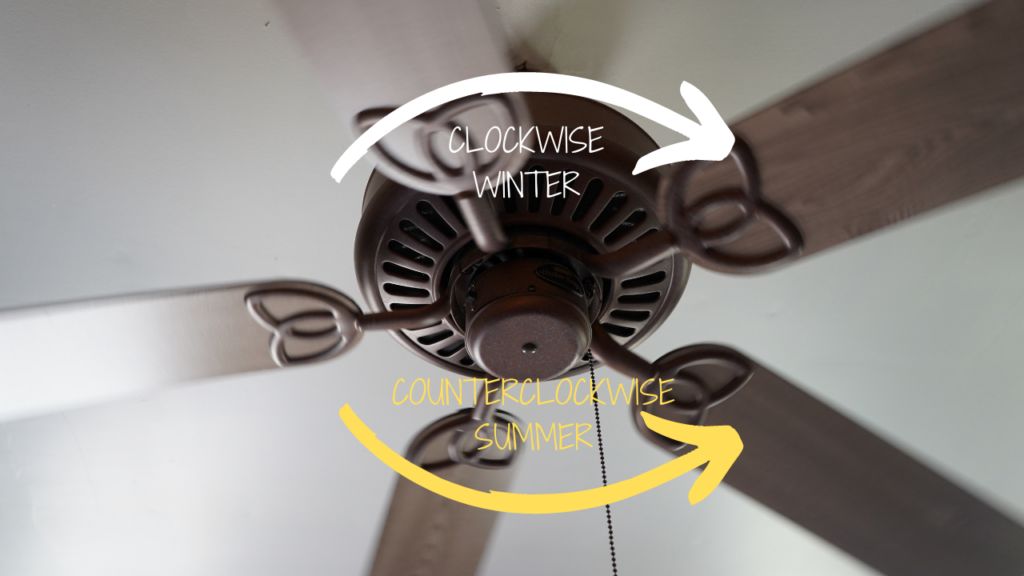 During the winter, when the heat is on, reset your fan to run clockwise on the lowest setting. This will redistribute the trapped heat above the fan and near the ceiling down to the lower part of the room.
This tip only really works with very high ceilings, like double height or lofted spaces. The ceilings in our old Victorian farmhouse are 9 feet on the first floor and 8 feet on the second floor, so we don't use our fans during the winter. We have stayed in an A-frame cabin where this worked well though.
6. CLEAN CEILING FANS WITH A PILLOWCASE
I totally have to give Martha Stewart credit for this tip, although I've seen it posted all over the internet since I read it in Living magazine ten years ago. The tip is to clean your ceiling fan blades with a pillowcase to keep the dust from falling on your head, or other things you don't want to have to clean again!
Just spray water inside of a pillowcase, wrap the blade with the pillowcase like you would a pillow, and then wipe down the top of the blade. When you're done you can just throw the pillowcase in with the rest of your laundry. Make sure your fan is off when you do this!
---
MORE OLD HOUSE TIPS
Fire Pit In Backyard | Which One is Right for You?
Hygge | Learn the Danish Way of Creating a Cozy Atmosphere