Using IKEA's kitchen organization tips we organized our small farmhouse kitchen, in our 1905 Folk Victorian farmhouse, into 5 distinct areas, making mealtimes super easy!
KITCHEN ORGANIZATION VIDEO
We share our Scandinavian style farmhouse kitchen organization from a functional food prepping area to a simple (yet fabulous!) spice drawer in the cooking area. Get your kitchen organized the IKEA way! See how you can organize your kitchen using the same methods.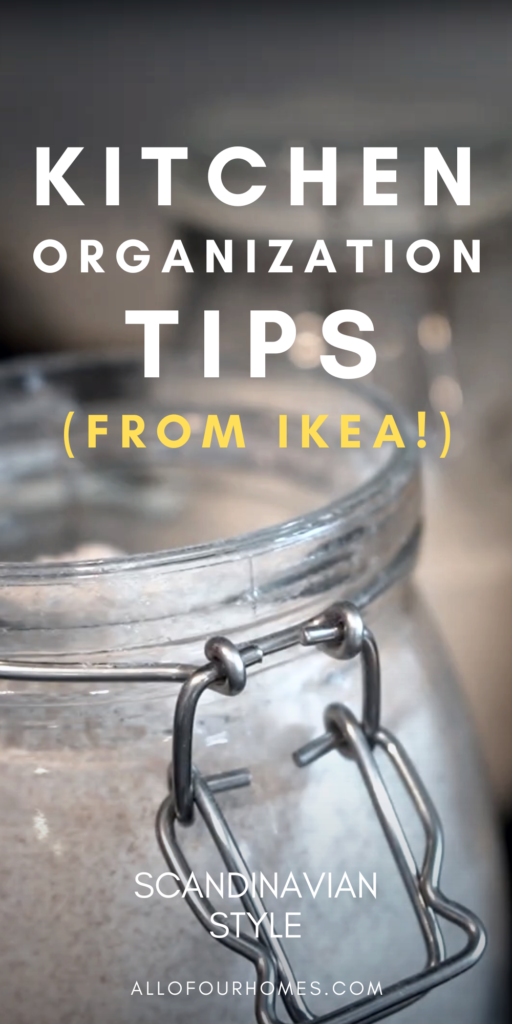 OUR FOLK VICTORIAN FARMHOUSE KITCHEN
Our Folk Victorian farmhouse was built at the turn of the century. That being said, our kitchen has a lot of newer amenities than it did in 1905 thankfully!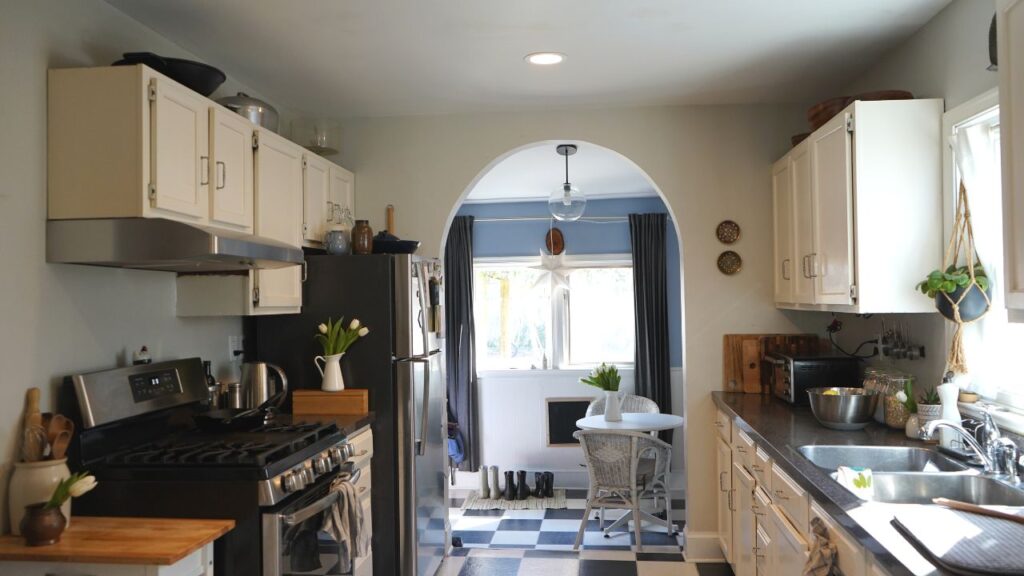 Our kitchen is still very humble and could use a renovation. We've got big plans for the house to make it more eco-friendly and energy efficient, which you can learn more about on our blog HERE.
So, we are sticking with our humble kitchen and just looking into upgrading appliances as needed. In the meantime, there's no reason that an old kitchen can be well organized!
KITCHEN ORGANIZATION TIPS (FROM IKEA!)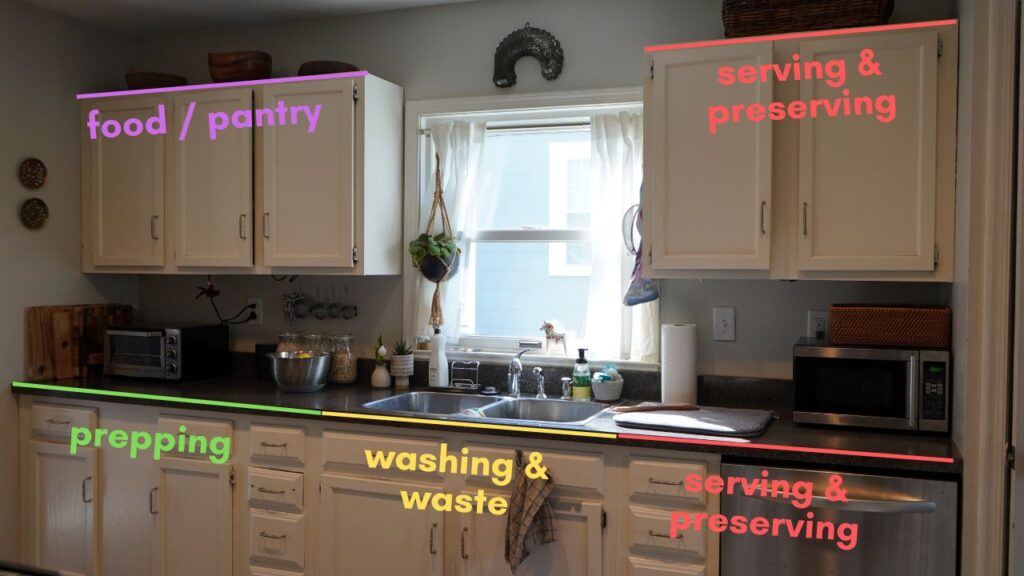 A wise woman (my mother!) once told me that the first room to start unpacking when you move is the kitchen. We moved a lot when I was young, so I know this has been proven to work well.
To organize our kitchen we turned to IKEA. They have thought and re-thought and thought again about how to create the perfect kitchen.
Our kitchen is not from IKEA but what better place to find advice on organizing a kitchen most efficiently! Of course their Scandinavian style kitchen storage, towels, and decor are perfect for our Scandinavian Farmhouse Style too.
IKEA has a great short video where they organize a small (fake) kitchen into zones. I recommend taking a look at that video too – The art of organizing a kitchen The kitchen they show is custom built and small.
We tried out the IKEA methods on our own regular old kitchen and are sharing that, so if you have a regular old kitchen you can get organized too! There are so many items that are stored in the kitchen we all could use some help organizing this high demand space.
THE FIRST STEP – TO DECLUTTER
Yes, IKEA actually says the first step to kitchen organization is to declutter! It is obvious. But I was surprised to see this from a company that sells tons of kitchen goods for ridiculously low prices…and tempts you with their maze-like shopping floors.
They recommend taking everything out of your kitchen – drawers, cabinets, shelves. Then sorting items according to how they are used. Ideally they would group well in to one of the 5 activity areas (see below). Take this opportunity to donate duplicates and any rarely used items.
THE 5 KITCHEN ZONES TO ORGANIZE
IKEA divides the kitchen into four distinct zones or areas. These are based on what activity is happening in those areas. We added in the fifth, a food zone because we don't have a separate pantry.
So the five zones in our kitchen are the food (pantry) zone, prepping zone, washing and waste zone, serving and preserving zone, and cooking zone.
When you keep useful items in one zone then activities won't bump into each other (meaning people because there are always too many cooks in the kitchen!)
1. THE FOOD (PANTRY) ZONE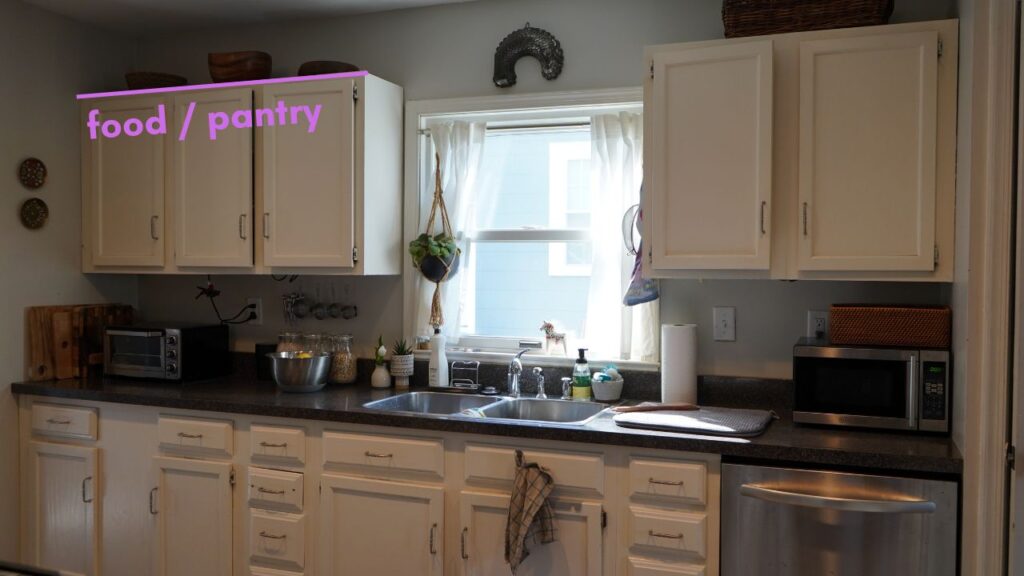 If you have a pantry then your food should go there. We don't so we've dedicated 3 of our cupboards to dry food storage. We also have all of our baking supplies grouped together in one of these cabinets near where we store mixing bowls and measuring cups.
2. THE PREPPING ZONE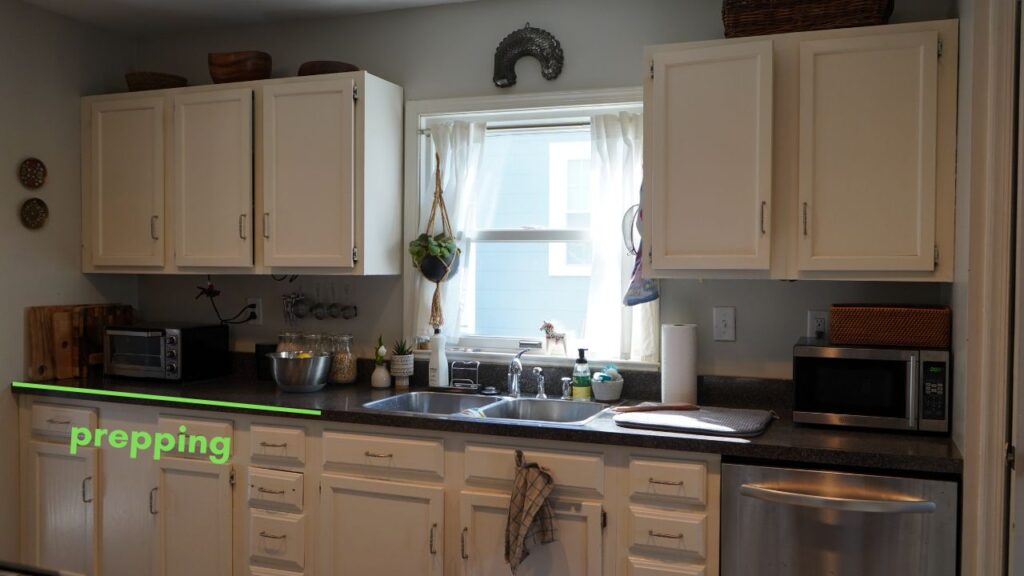 The prepping zone is small but we have cutting boards and knives along with our baking supplies. Above is most of our dry food storage so anything we need to add is just an arms length away.
3. THE WASHING AND WASTE ZONE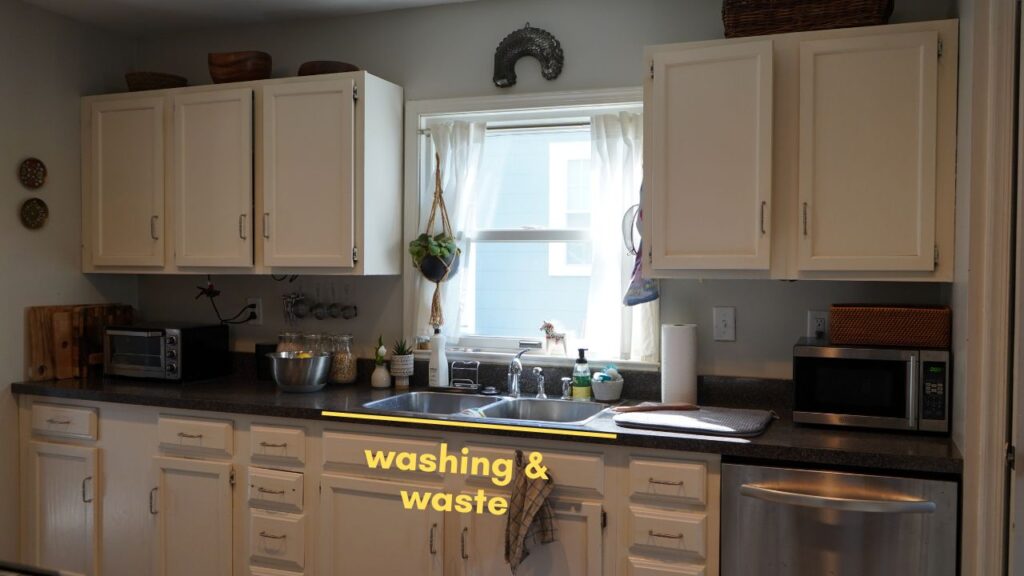 The washing and waste zone include our trash and compost bin under the sink and, of course, the sink! It is next to the food prep area so it's easier to get food scraps taken care of and messes wiped up easily.
4. THE SERVING AND PRESERVING ZONE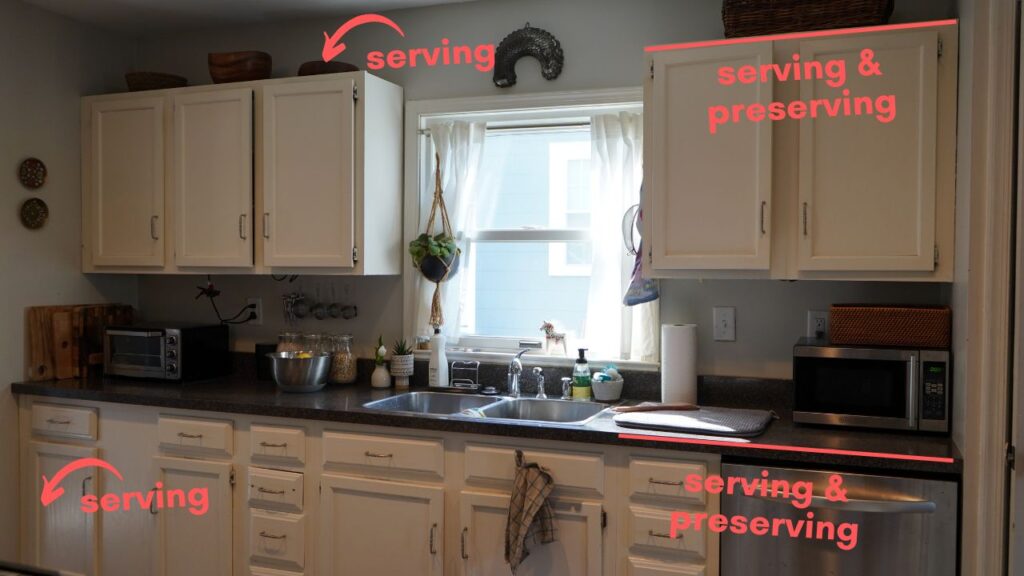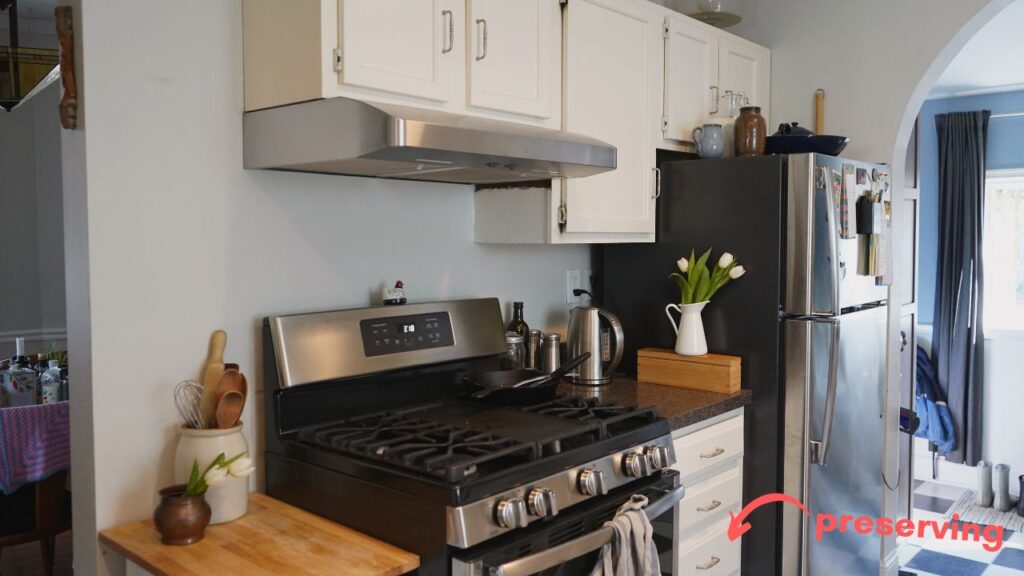 Our serving and preserving zone is…well…more like 4 zones. This could be improved but let me explain. We have dishes and cups above the dishwasher so they are quick to put away. (However directly above the dishwasher makes it quite a reach when it's open!)
We do have our cutlery ALL THE WAY on the other side of the kitchen. Annoying! But, it's the only drawer large enough and out of the "prepping zone" when two people are in the kitchen.
We have serving above the cabinets for decor with our wood bowls and baskets. Then more serving plates and bowls near our prep area where we sometimes prep those fancy plates.
More preserving is next to fridge to quickly take leftovers from the stove, put in a container, and pop into the fridge.
5. THE COOKING ZONE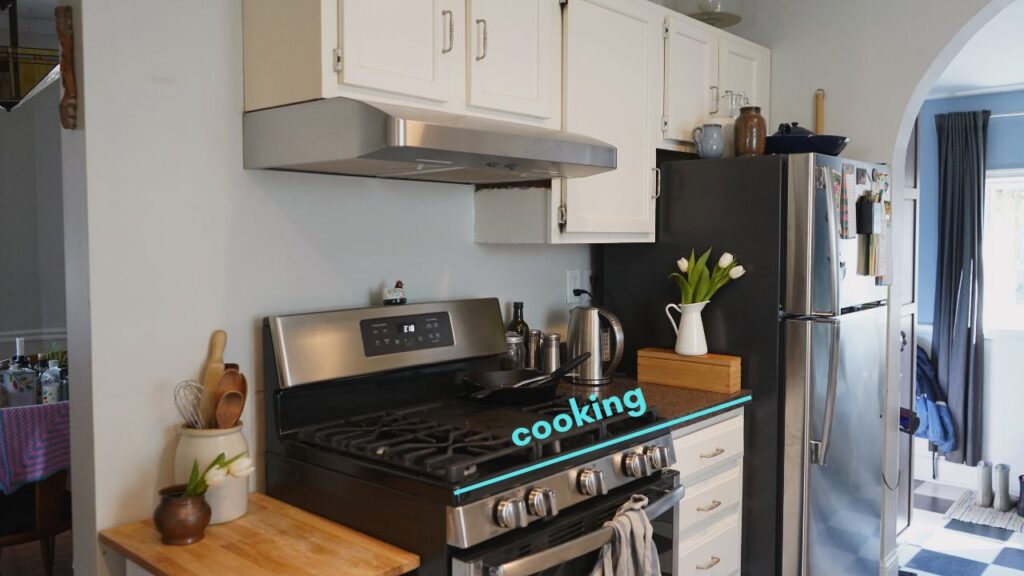 Finally there is the cooking zone with utensils, oven mitts, and spices. Our spice drawer is very simple and works wonderfully. It is a shallow drawer with spice jar labels facing up. I'd love to transfer all the spices into nice jars with pretty labels someday. For now they are neatly tucked away and quick to access…even if not beautifully arranged.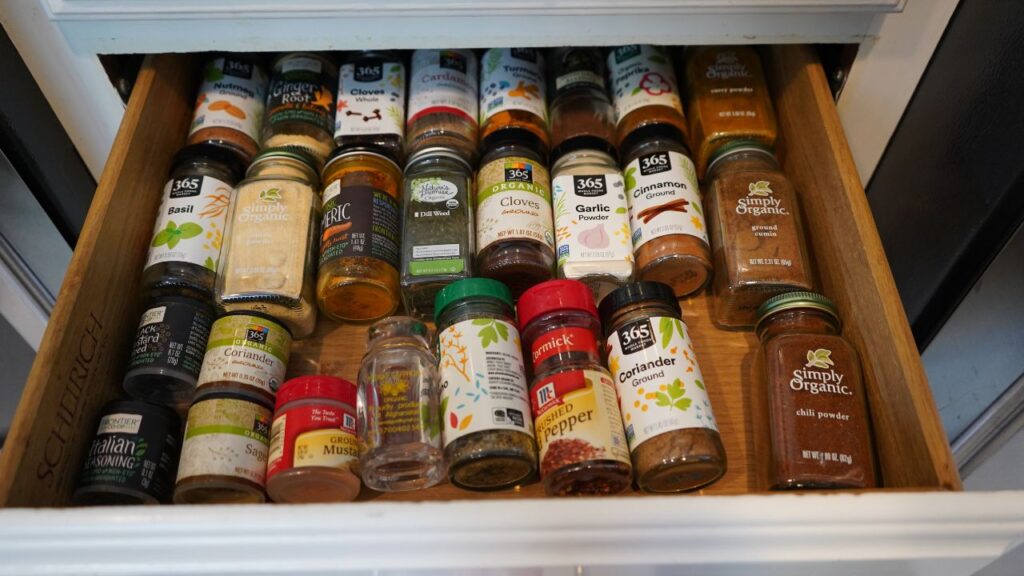 ---
MORE ORGANIZATION AND DECOR
Farmhouse Spring Kitchen | Scandinavian Style
Farmhouse Breakfast Nook | Scandinavian Style
How to Organize a Front Porch | Old House Tips
Montessori Set Up in an Old House | Old House Tips