Setting up your home for Montessori can seem overwhelming, especially if you have a smaller home without a dedicated playroom. See how we set up our old house the Montessori way. We created small areas for activities and others which foster independence.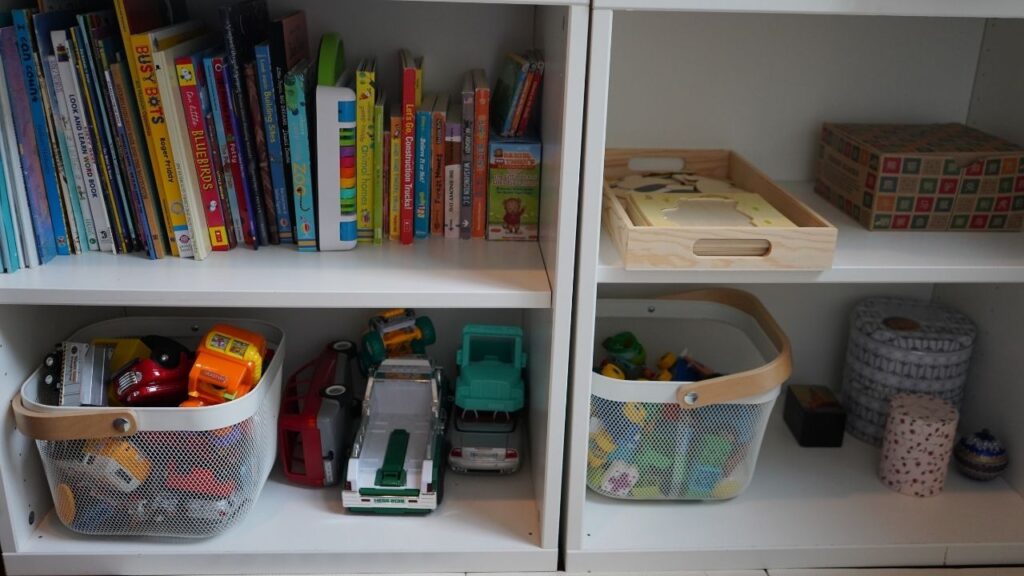 WHY MONTESSORI?
I have always loved Montessori. Having attended a Montessori preschool myself and then working as an architect, I appreciate the sense of independence and order that Montessori spaces provide for children.
It also takes the burden off of adults to constantly clean up after children. Kids learn where to get items they need and to put things away. Just seeing the beaming confident face of a toddler who got their own cup of water is enough to get you to set up your home the Montessori way!
WHAT IF YOU'RE TIGHT ON SPACE?
We live in an old house that was built in the early 1900s. We have only a few small closets for storage so we keep some large seasonal toys in a large plastic bin in our unfinished basement. For other toys and art supplies we have file boxes on top of a bookcase that are easier to access for toy rotations.
Other items are placed around the house. We don't have a dedicated playroom so we were extra thoughtful about how to set up our shared spaces in a Montessori way.
HOW IS AN OLD HOUSE DIFFERENT?
Well, first of all, there are typically fewer closets. Using bookcases has worked well for us and can be the most flexible option. Armoires, wardrobes, and dressers are great options too.
Bathrooms are much smaller and often have pedestal sinks, which can be a challenge with a Montessori set up in an old house. To make up for the lack of counter space, you can use removable hooks to add hanging storage in the all the right places.
Rooms are usually separated. Open floor plans, which connect living, dining, and kitchen areas, only became popular in the last 50 years or so. With separate rooms it might be hard to find visual connections to child play areas. Be thoughtful about sight lines from where you spend your time and where you set up a child's play area. Consider setting up small spaces in each room you use.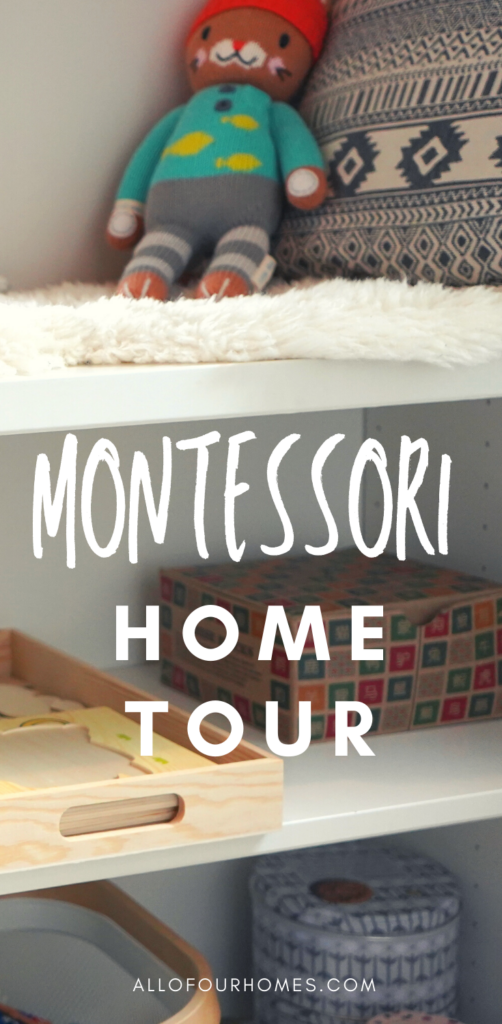 OUR MONTESSORI HOME TOUR
It's been so helpful for me to see how other people have created a Montessori set up at home, so I wanted to share our Montessori home set up too. Nothing glamorous here, just practical, mostly using what furniture we already had.
ENTRANCE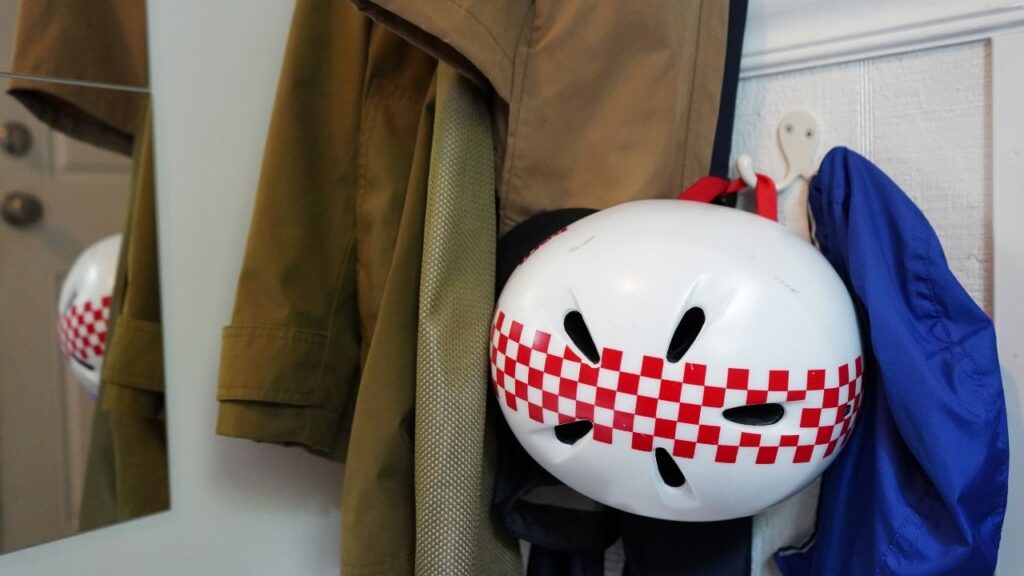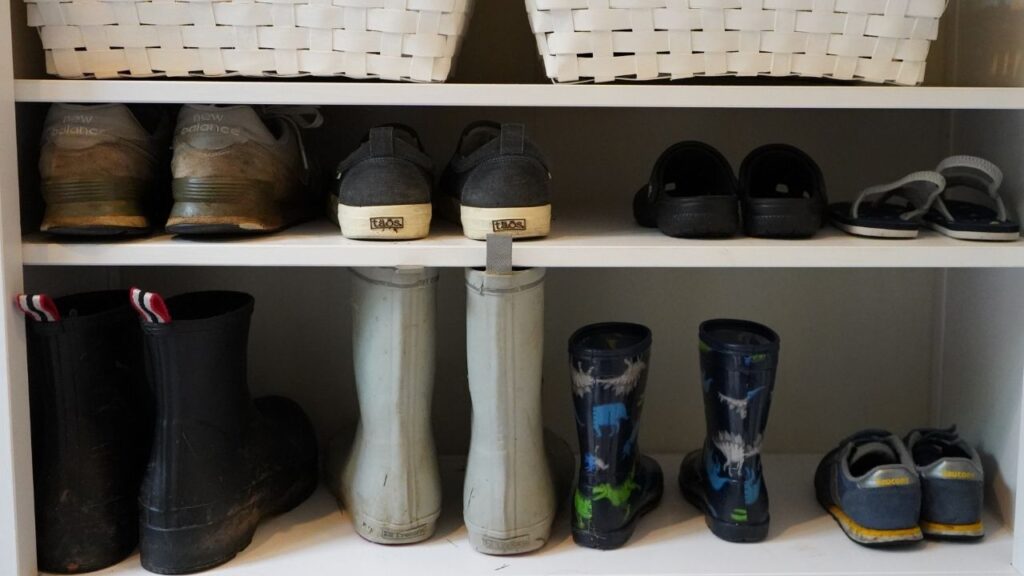 At our back door we have low hooks for coats and a mirror at child height. Across from the coat hooks we've used our bookshelf as hat and shoe storage. Hats and sunglasses or mittens, depending on the season, are in baskets just above the shoes at child height.
Shoes are stored in clear order, or else, I've noticed, that everything ends up in a huge pile. There is a rug under the last shelf of shoes that rolls out for muddy boots to dry on.
We have a small step that is used as seating to put shoes on. Otherwise, you could provide a small stool.
BATHROOM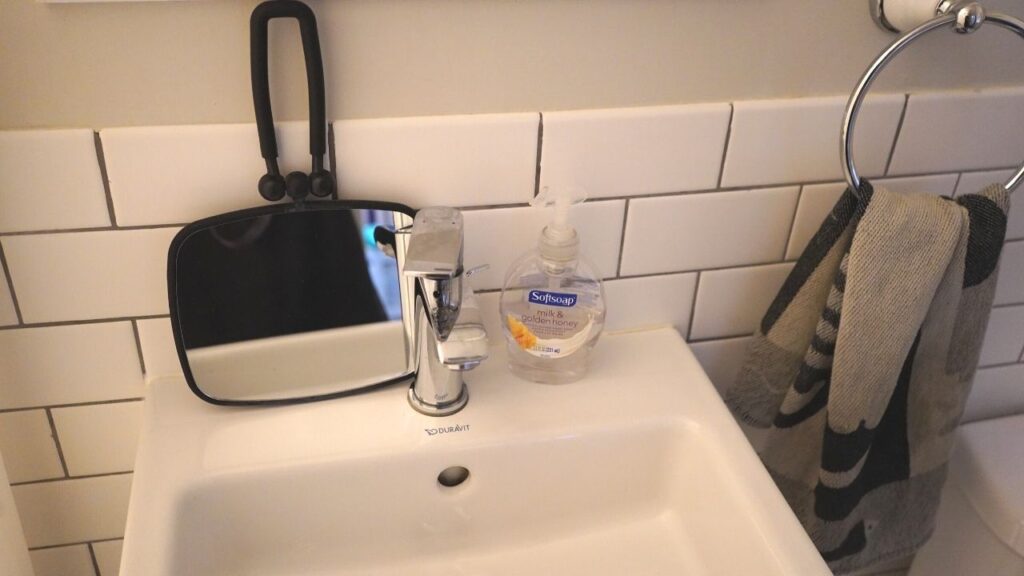 In our bathrooms we have a stool for easy access to the sink and a small mirror at child height (here just propped on the sink). We tried a few soap pumps and the Softsoap brand was the easiest for a two year old to use. Expect to go through a lot of soap until they get the hang of it!
We've also replaced our toilet seats with Mayfair built-in potty training seats. They are magnetic child sized seats that are easy to lift up or down, hardly take up any space, and can be removed once no longer needed. I saw one at a friend's house and was so impressed we bought two. They are perfect for a smaller home tight on space.
Our upstairs bathroom is small. It took some effort to figure out a solution for independence in that room! Toothbrush and toothpaste are in a small caddy hung on the wall at child height. (watch the video for more)
BEDROOM
In the bedroom there is a light switch at child height, cordless lift blinds, and a bed that can be accessed independently,
We use the dresser drawer knobs to hang up two outfits each morning to provide a choice of what to wear. I plan to add child height hooks and modify the closet someday too! Clothes are stored at child height in dresser drawers.
Books are stored on a bookshelf with a small selection on a forward facing shelf. A small selection of quiet toys is also in the bedroom for play without waking anyone up first thing in the morning.
LIVING ROOM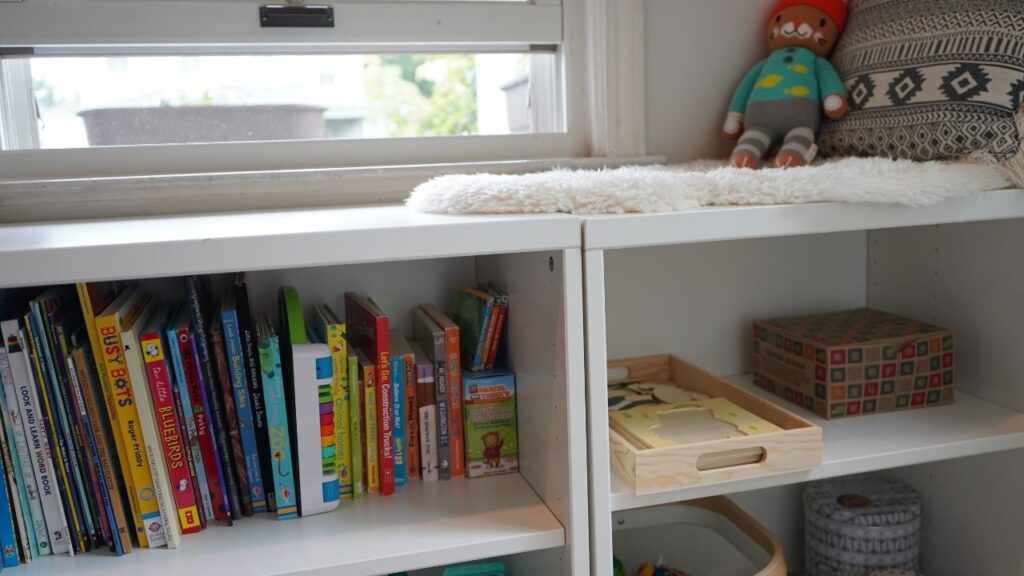 In our living room is a small nook (about 5 ft x 5 ft) which we call the play zone. It has shelves with room for 5-6 different open ended toys or activities and a soft play mat. A window seat makes a cozy reading area and underneath is a shelf with books.
The coffee table in the living room is also used as a snack table and occasional work table. We have a pouf for seating.
ARTS & CRAFTS AREA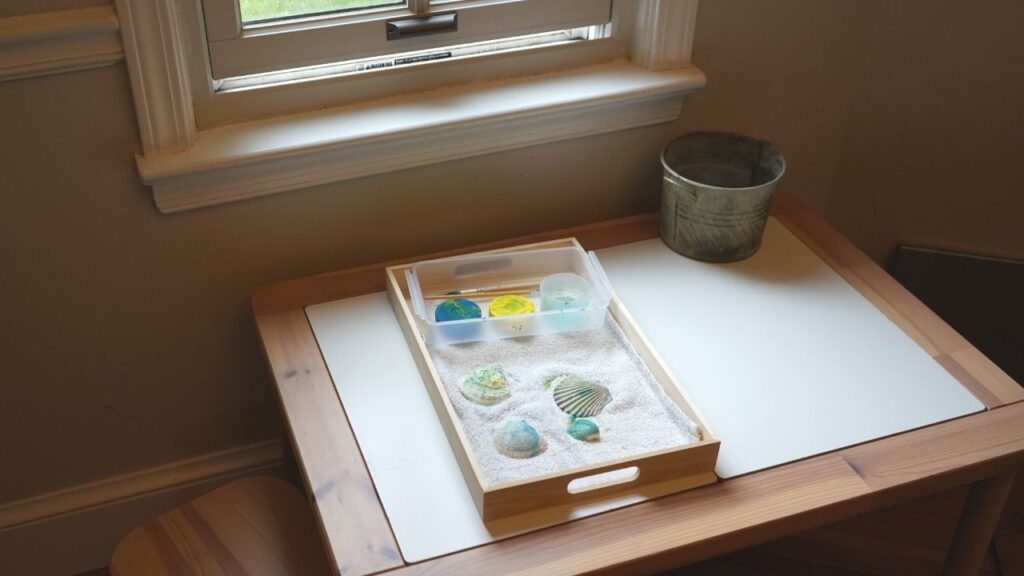 In our dining room we have an IKEA Flisat kids table that we use for sensory play and arts & crafts. Here there are art supplies and play dough, etc on low shelves of our bookcase at child height for independent access.
We have a rule that the art supplies do not leave this room. There are areas for displaying artwork and tools for cleaning.
KITCHEN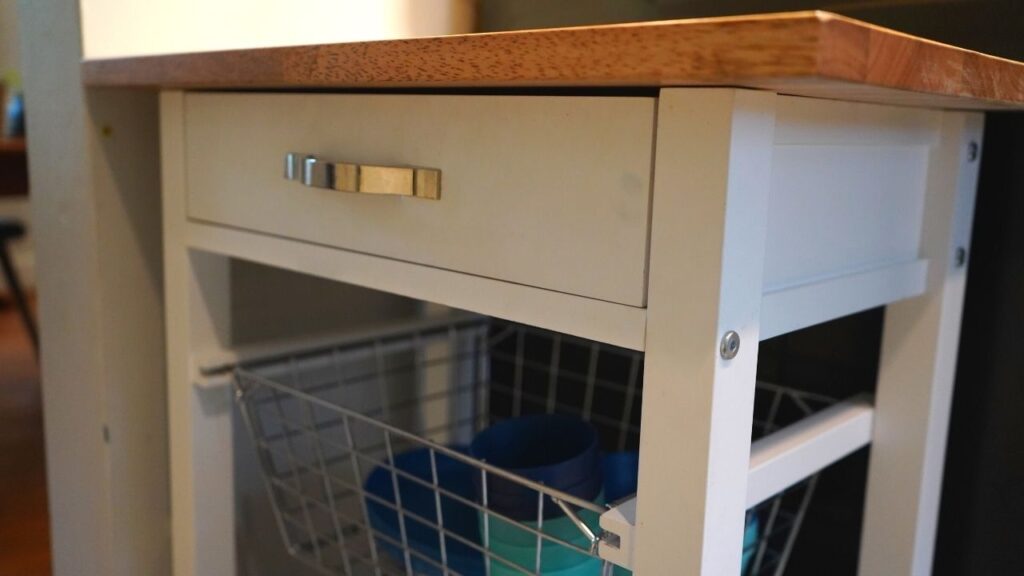 The kitchen has a stool (yes one in each bathroom, so we're up to 3 now!) that brings the child up to counter height. We also have this wooden cart that is slightly lower than counter height which we used with our two year old for cutting up bananas, baking, and other Montessori style kitchen activities.
Now nearly four, our son uses the stool to help at any of the kitchen counters and to use the kitchen sink. A learning tower would have been nice to have for that intermediate year, but once again, when you are tight on space a stool the whole family uses (I need one to reach some of our top shelves) was a better choice.
Kids sized plastic cups, plates, and cutlery are all stored at child height in the wooden cart. Water is also available at child height with an easy to use Brita dispenser.
MONTESSORI RESOURCES
A wonderful online resource, The Montessori Notebook has tips on setting up your home as well as all things Montessori. Simone Davies, who is a Montessori teacher has a book called The Montessori Toddler which provides many tools for parents.
Some links in this description may be affiliate, which means that if you click on one of them, I'll receive a small commission at no cost to you.
---
MORE ON MONTESSORI
Continents of the World | Montessori Inspired Activities
Halloween | Montessori Inspired Activities for Toddlers and Preschoolers
Fall | Montessori Inspired Activities for Toddlers and Preschoolers
Late Winter & Early Spring Simple Montessori Inspired Activities