We've created a cozy Scandinavian style farmhouse breakfast nook – in our mudroom! Using our porch furniture we transformed our mudroom into a hygge farmhouse breakfast nook for warm sunlit breakfasts and cozy crafty afternoons.
Now that we've had our first frost here, it is time to move our cozy wicker chairs and round Herman Miller table inside and off of our front porch. Moving them inside means they'll be better protected from the harsh winter weather. It also means we can continue using them in our farmhouse breakfast nook during the winter.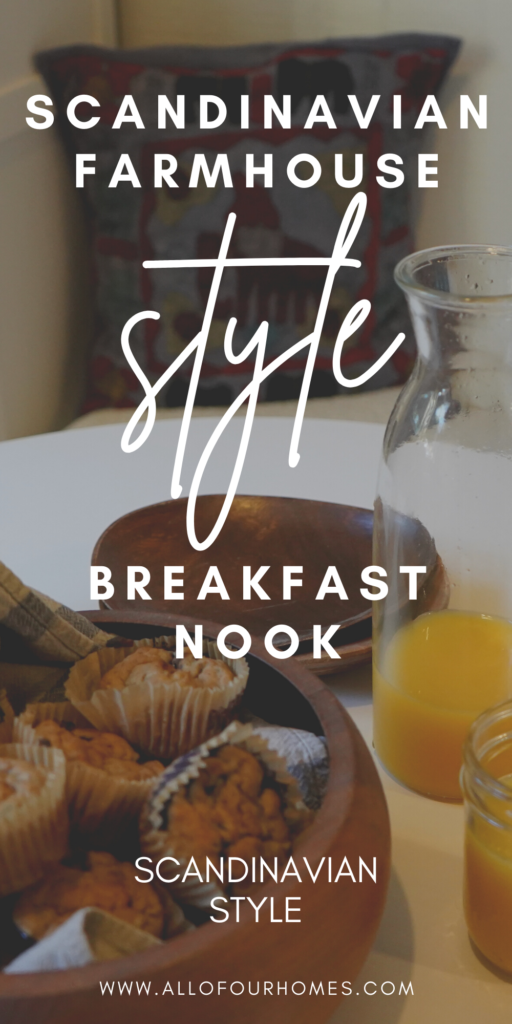 CHANGING WITH THE SEASONS
Once upon a time…in old houses…it was common for rooms to be used seasonally. Sleeping porches were used during the summer. Bedrooms moved closer to fireplaces or the kitchen during the winter.
We're following the same pattern. We use our porch for meals during the warmer months. Now we're moving some of our porch furniture into our sunny south facing mudroom to double as a breakfast nook.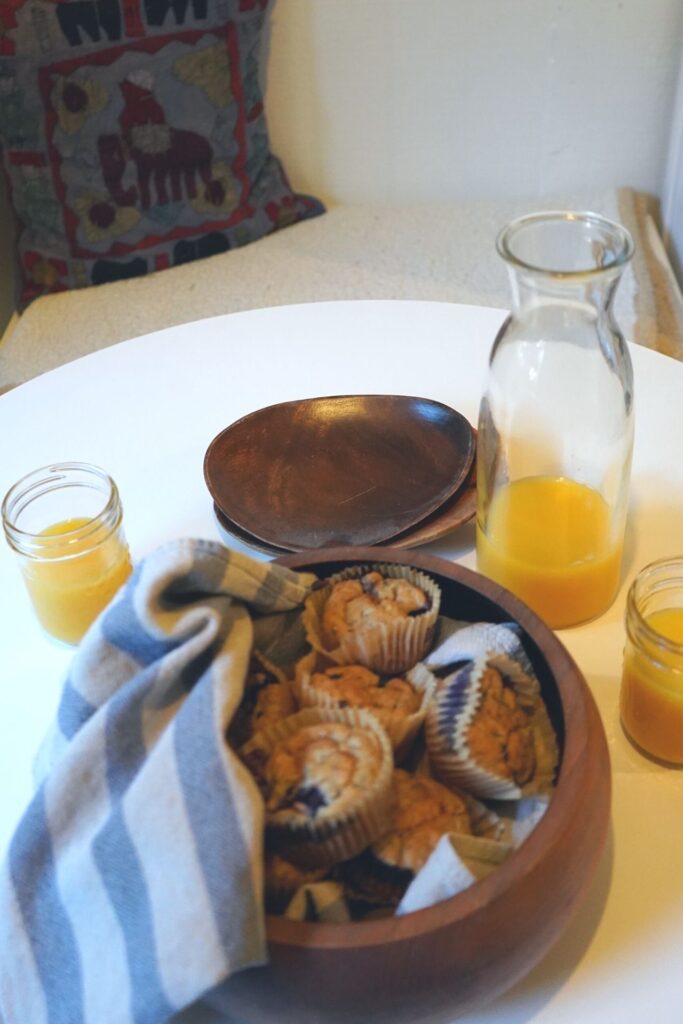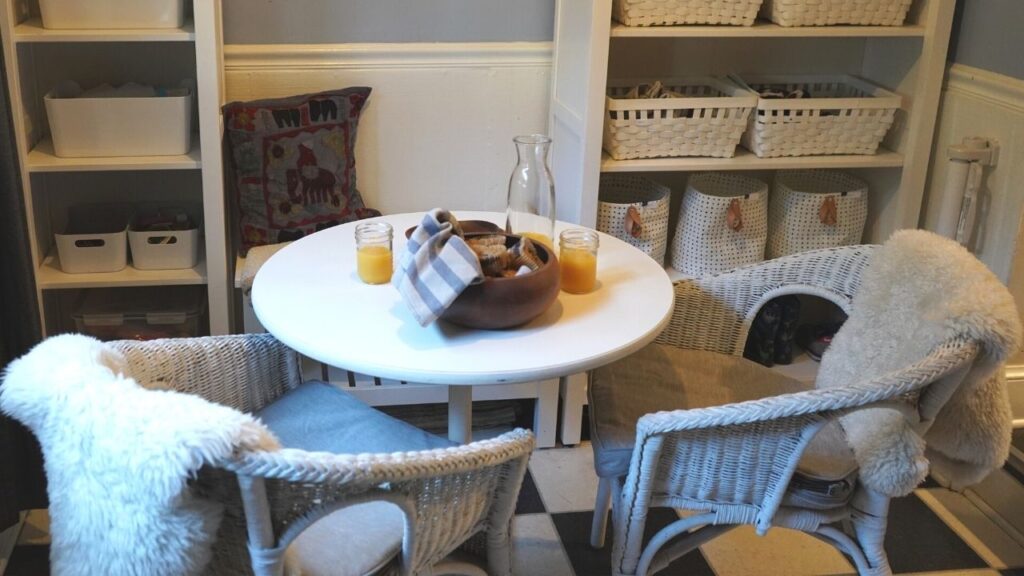 THE ORIGINAL VICTORIAN
We have a small(ish) 1900s Victorian farmhouse that had roughly 600 sqft on the first floor. The original home had only 3 rooms downstairs – living, dining, and kitchen. At some point the a back porch was added and then later enclosed. This added two more rooms, a bathroom and a second room that we are now using as a breakfast nook.
So far we have renovated the bathroom and closed off the basement. Our unfinished basement used to be completely open to this backroom. There was a half-height knee wall and no door. I was worried someone would fall down the steps on the way to the bathroom! We had the knee wall brought up full height and then closed off the concrete stairs leading down to the unfinished basement with a door.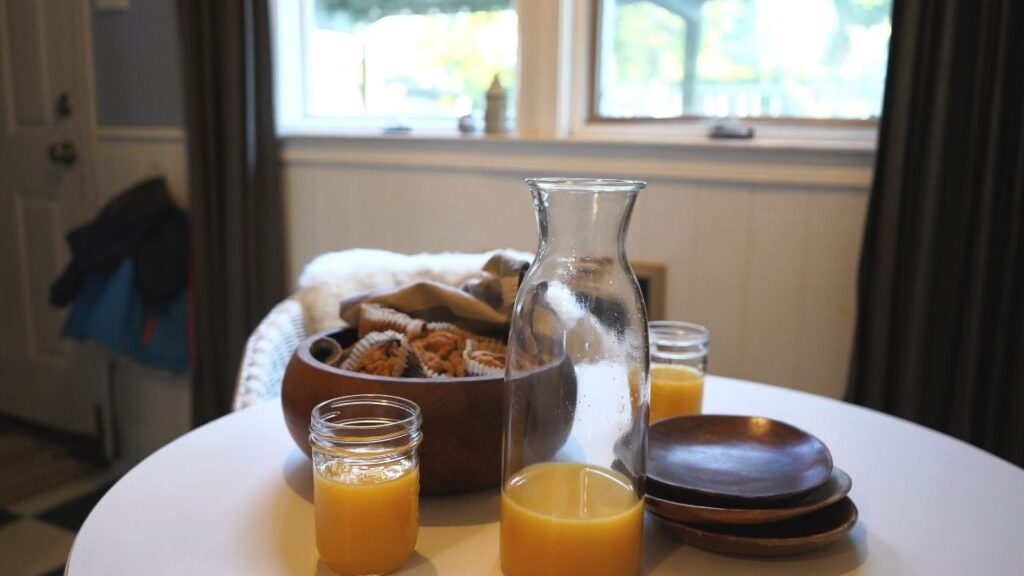 We plan to swap out these back windows for French doors in the next phase of our renovation. However, we want to apply for a historic tax credit first so that we can save 20% on the construction cost. You can read more about how we saved money for our renovation's first phase in How to Save with a Historic Tax Credit | Old House Tips.
WORKING WITH SMALL SPACES
Living in an old house has persuaded me to become more of a minimalist. Less closet space = a capsule wardrobe and just less stuff you don't use everyday. There was a lot less "stuff" in the early 1900s and you worked with what you had.
Having a place for everything certainly helps. We use baskets, boxes, and bins in open shelving these days and they are re-organized and swapped out at least twice a year.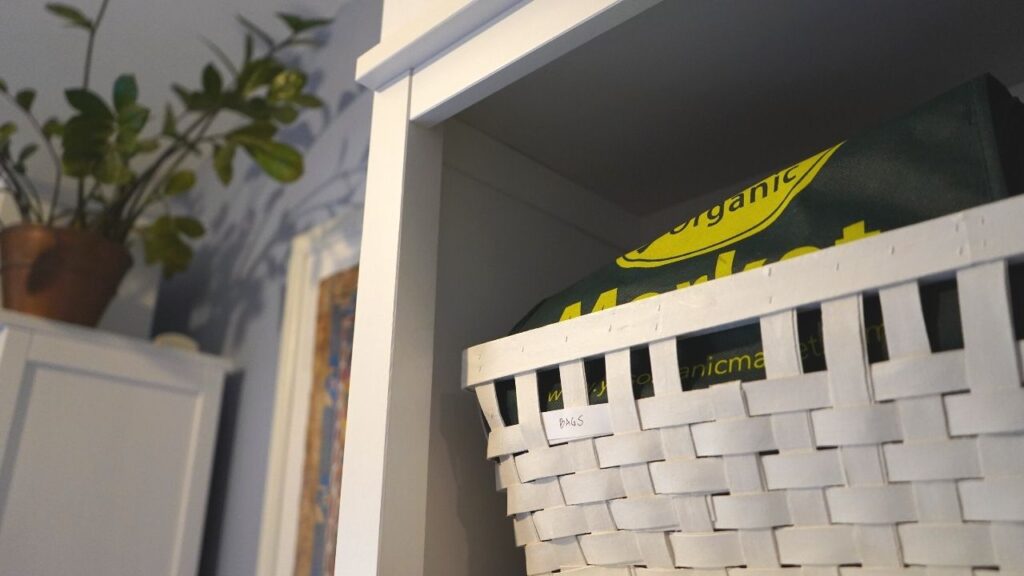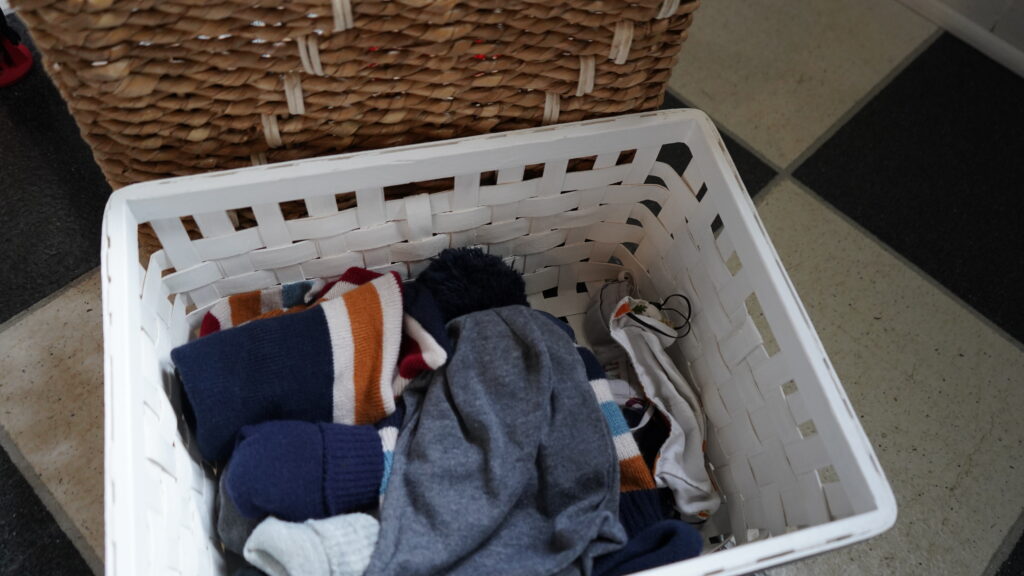 ADD IN SOME HYGGE
Adding textured throws and cozy cushions to seating will instantly add hygge to a space. You can read more on How to Make a Hygge Home | Scandinavian Style.
We added sheepskins to our wicker chairs. The TOFTLUND rug from IKEA is a perfect for this and is made from recycled bottles! They would pair well with the IKEA AGEN chairs too.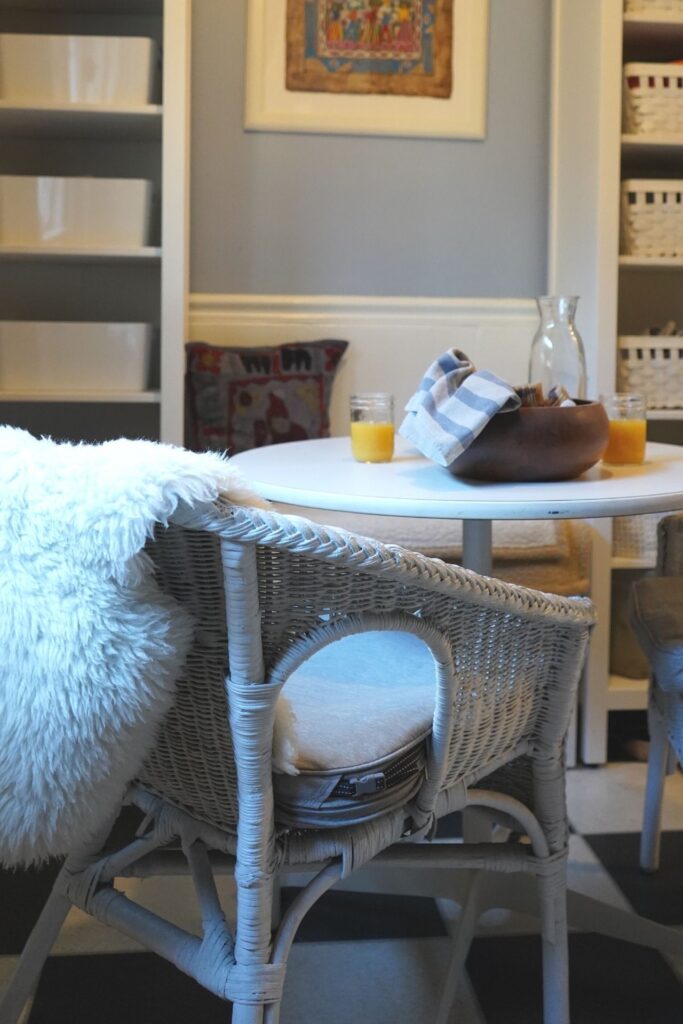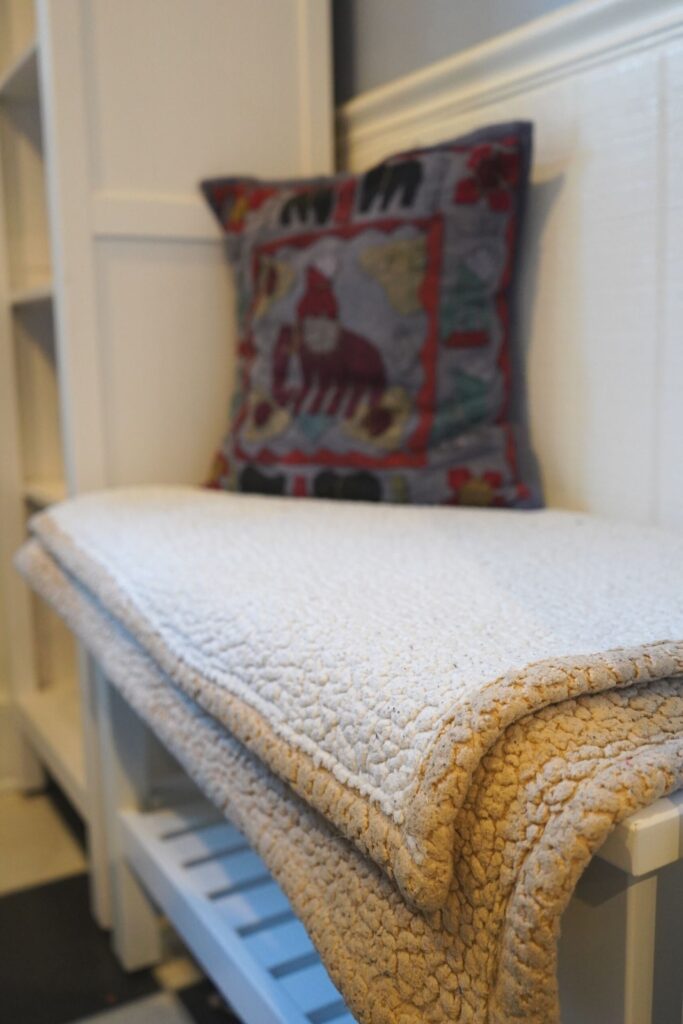 We love having our farmhouse breakfast nook. Lately it's become the lunch nook and dinner nook too! What a nice and cozy way to celebrate the change of season. How will you celebrate the change of seasons inside your home?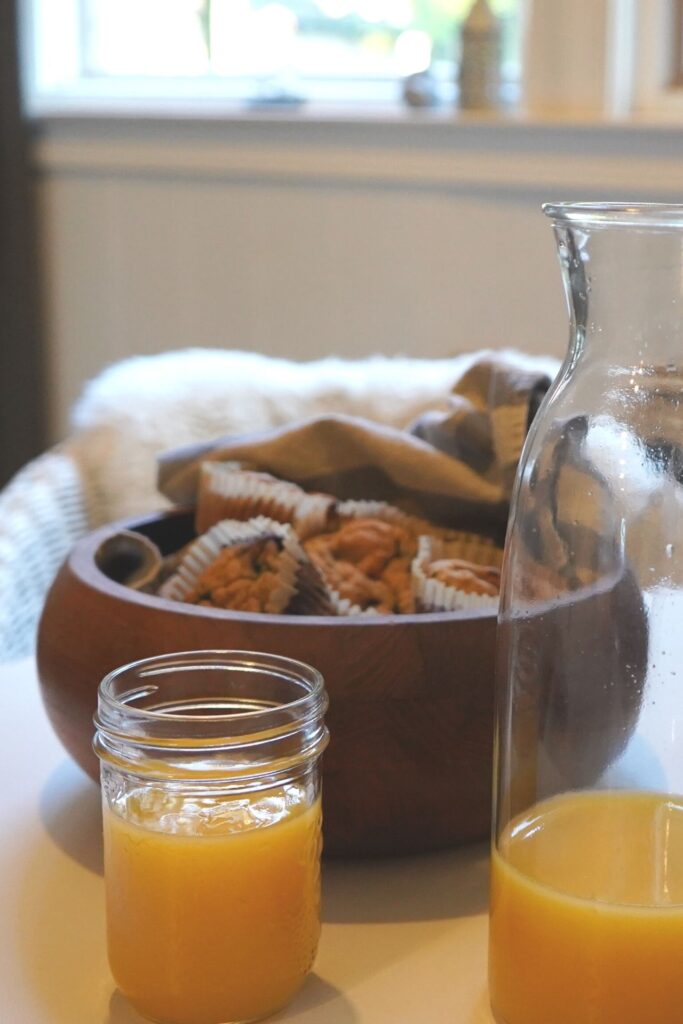 ---
MORE SCANDINAVIAN INSPIRATION
Farmhouse Fall Front Porch | Scandinavian Style
Simple Breakfast Ideas | Swedish Food at Home
Winter IKEA Grocery Haul | Swedish Food at Home