Learn two simple breakfasts ideas that you can cook up in a Swedish second! These simple breakfast ideas are centered around specialty Swedish foods, like cinnamon rolls, saffron rolls, and potato pancakes, that were purchased premade from the IKEA Swedish Food Market.
Before I married into a Swedish family, I had no idea what crisp bread even was. Now we always have this oversized cracker in our pantry (but we call it hard bread). It's perfect for making an open-faced sandwich and the topping options are endless.
For a simple breakfast start with crisp bread, buttered in the nooks and crannies, layered with Ost Prast cheese. You can add cucumbers for garnish or even slice a hard boiled egg with fresh chopped dill. Both the crisp bread and cheese can be found at IKEA.
Add a few premade warm cinnamon rolls and saffron rolls that can also be picked up at IKEA. Of course homemade rolls are WAY better, but that's a skill I'd prefer to master after this toddler + pandemic time is over and that would certainly not be a simple breakfast. IKEA is our local Swedish bakery option and we are thankful to have one close by!
Another simple breakfast idea – fried potato pancakes and baked beans. The potato pancakes are in the frozen section of the IKEA Swedish Food Market. Add crisp bread and cheese and a hard boiled egg and you've got a hearty breakfast that comes together in just a few minutes.
---
SIMPLE BREAKFAST IDEAS FROM IKEA – #1 ASSORTED ROLLS
CRISP BREAD
OST PRAST CHEESE
CINNAMON ROLLS
SAFFRON ROLLS
HARD BOILED EGG WITH DILL
BERRIES
FRENCH PRESS COFFEE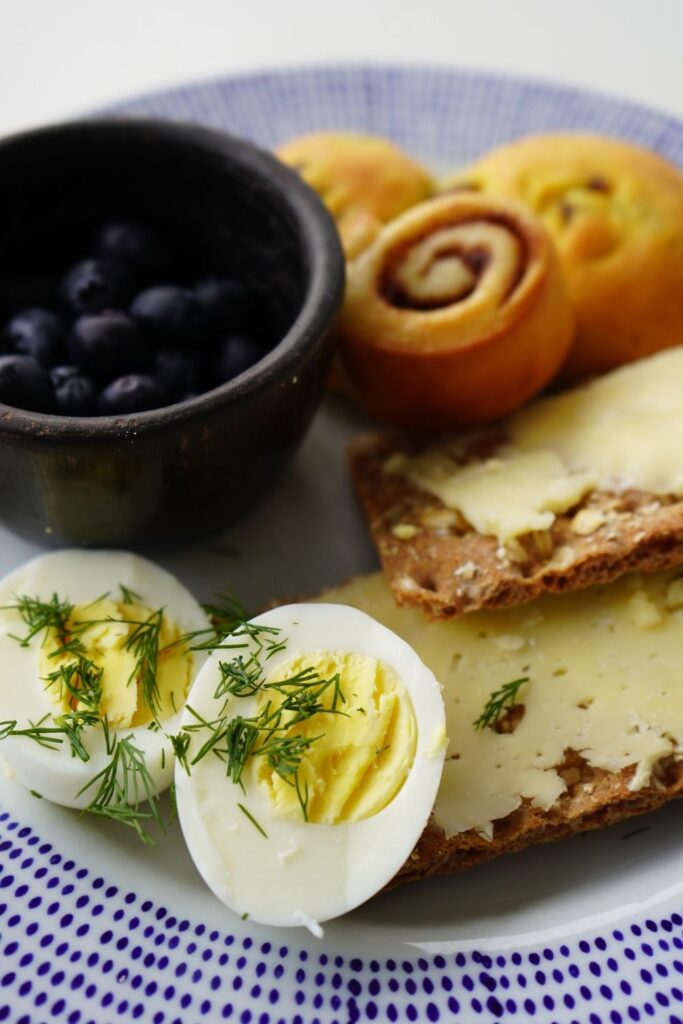 ---
SIMPLE BREAKFAST IDEAS FROM IKEA – #2 POTATO PANCAKES
CRISP BREAD
OST PRAST CHEESE
SHREDDED POTATO PANCAKES
BAKED BEANS
HARD BOILED EGG
SLICED CUCUMBER
BLACK SPICE TEA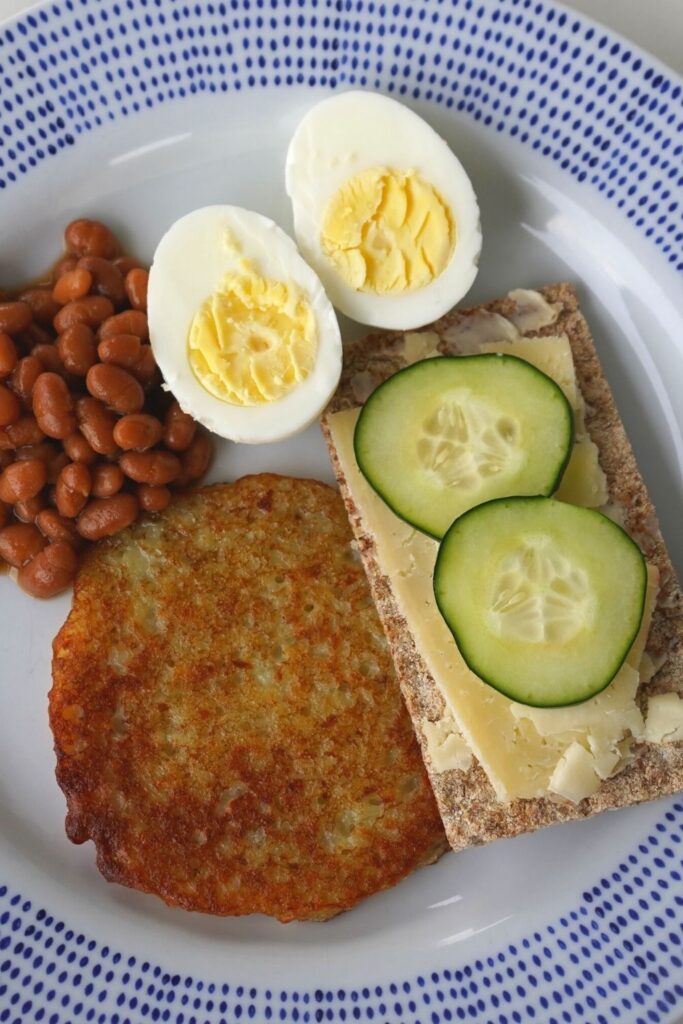 ---
See our entire Ikea grocery list in this post:
SWEDISH FOOD AT HOME | IKEA Grocery Haul
See dinner inspiration in this post:
SWEDISH FOOD AT HOME | Easy Dinners from IKEA
Stay in touch for more from our Swedish Food At Home series!
PIN IT FOR LATER