Simple and natural Scandinavian style fall decor ideas for your fall front porch. We use pumpkins, wheat, and fall flowers from the garden to decorate our Scandinavian farmhouse style fall front porch.
We love our old Folk Victorian farmhouse. Built around 1905, it is simple and straightforward. Our front porch is one of our favorite places to spend time.
This fall we gave the porch a quick refresh by adding hooks for hanging plants, adding fresh cozy covers to our old wicker cushions, and cleaning out the cobwebs and bugs that have collected in our porch light over the summer.
SCANDINAVIAN STYLE
If you've read any of our posts or watched our videos then you'd know we are big fans of Scandinavian living. We have Swedish family, so the winter holidays means lighting candles, spending time with family, and feasting on Jansson's temptation and gravlax.
During the summer we celebrate the start of the seasons with Midsommar and drink Aquavit while we eat pickled herring and crisp bread and fresh strawberries with cream. We've celebrated these moments in Sweden and the US and enjoy sharing them online with you!
It's no wonder that our old Folk Victorian farmhouse has a Scandinavian style. When friends and family visit our home they often say it feels cozy. We've followed the Danish Hygge with attention to lighting, plants in every room, and places to gather.
My mantra for a house and anything that goes into it is that it needs to be simple, natural, functional, and beautiful. Scandinavians do this so well!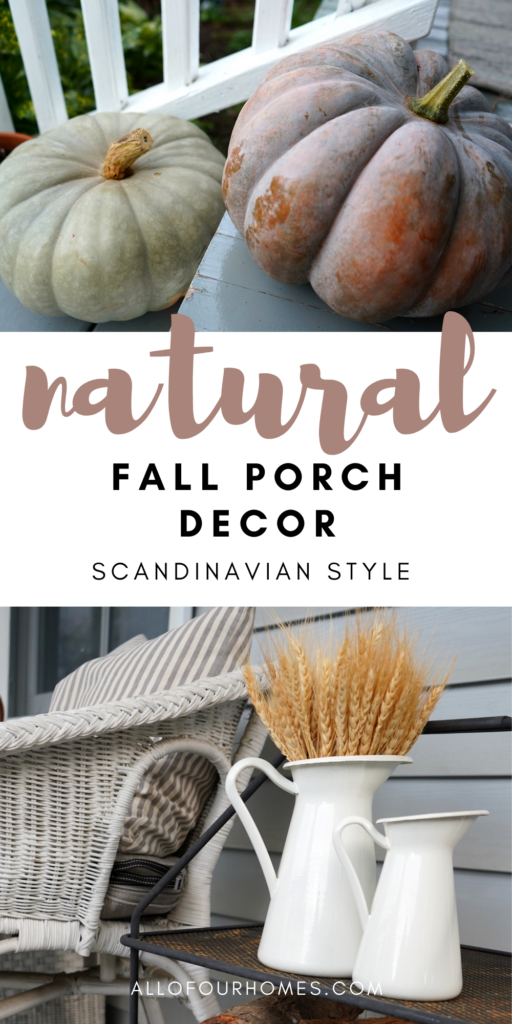 OUR FRONT PORCH
We took the same Scandinavian style approach to our fall front porch decor. There are simple neutral colors, functional and cozy furniture, and natural greenery with hanging plants, natural fall decor elements like wheat and pumpkins, and pitchers with fresh cut flowers, berries, and branches from the garden.
We spend so much time on our front porch, it's like another room of our house! If you want to see different ways we've organized our front porch, from kid friendly to outdoor office, check out our post How to Organize a Front Porch.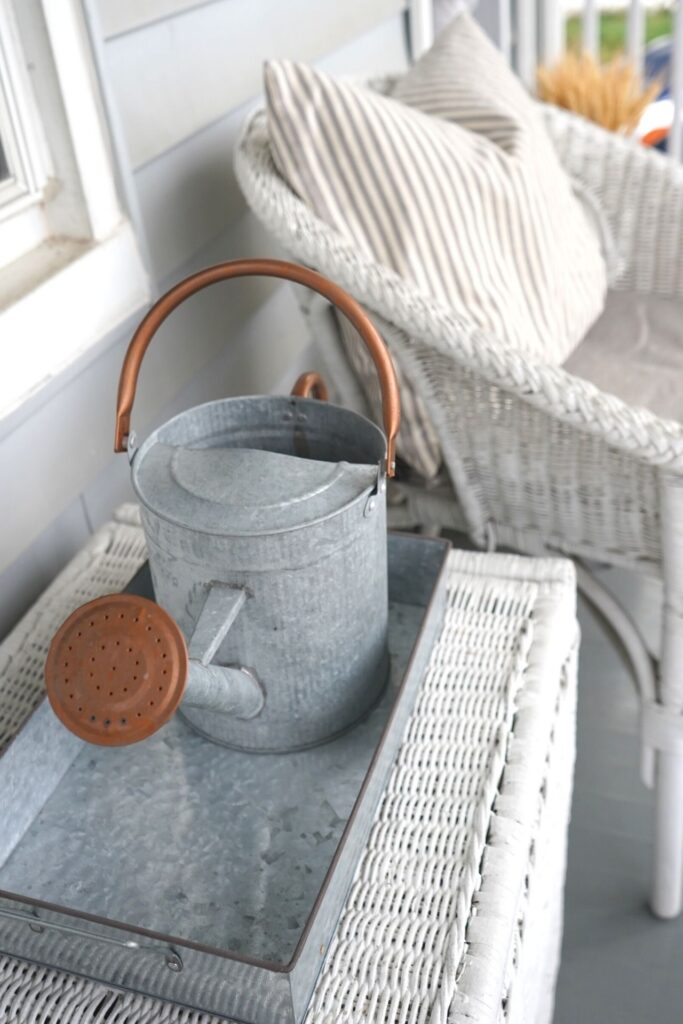 FRONT PORCH MAKEOVER
Before getting to the fun part of decorating our fall front porch we had to give it a good clean. We also put in some hooks for hanging plants that I wanted to add. I just love the look of hanging ferns on Victorian porches.
We have a north facing porch which doesn't get much sun so ferns are perfect. We tried flower boxes over the summer but they didn't do so well. I'm hoping the new ferns will hang in there through the fall!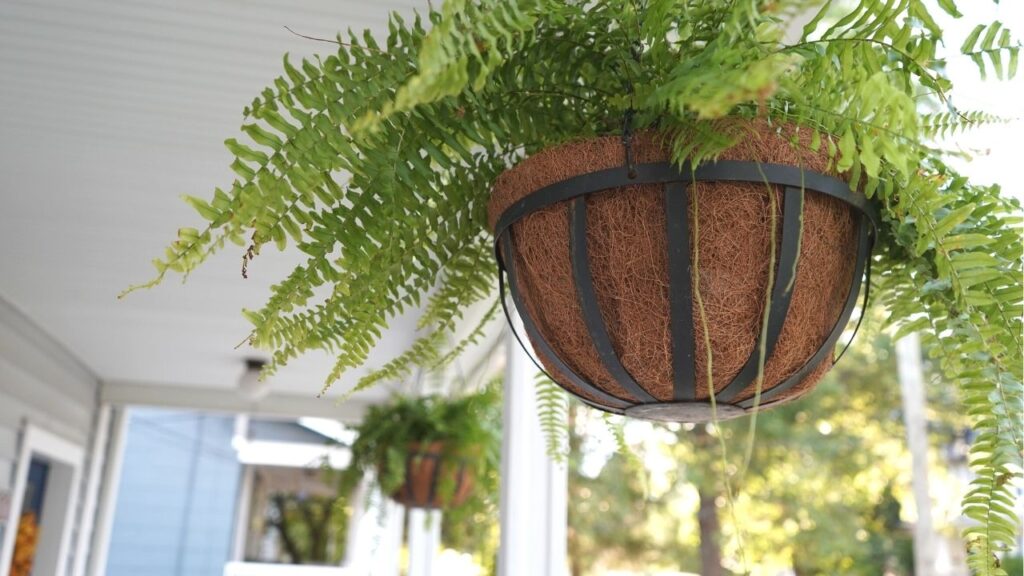 SCANDI-STYLE DECORATING FOR FALL
Is it farmhouse style? Not exactly. Is it modern farmhouse? Nope. It's minimal but with an older vibe. Then I found it! Scandinavian Farmhouse Style! That is what describes our house. Simple, natural, functional and beautiful. Our old house feels lived in and cozy.
More Scandinavian fall decor ideas: 10 Simple Fall Decor Ideas for a Hygge Home
When it came to figuring out a Scandinavian neutral color palette for our front porch that was easy. Finding the right size cushions in that color was nearly impossible. We have a small front porch and small furniture plus it is the end of the summer and most stores haven't restocked for patio furniture.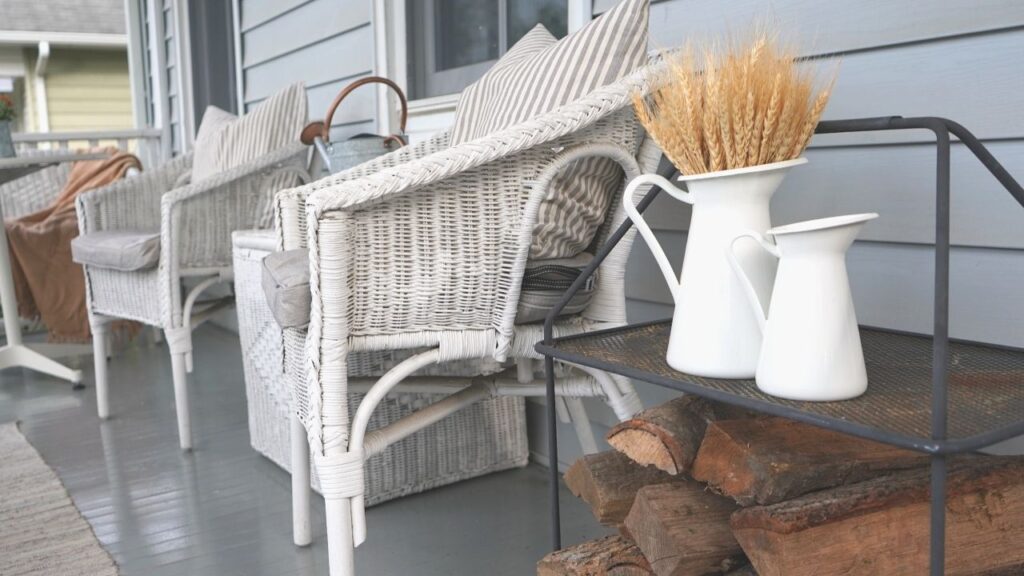 I ended up finding these gorgeous wicker furniture cushion covers and just stuffed our old cushions into them. They fit perfectly and the fabric looks so pretty and is very soft to the touch. I think we'll need a new cushion insert for the settee since it's been used a lot over the years, so I'll order that next.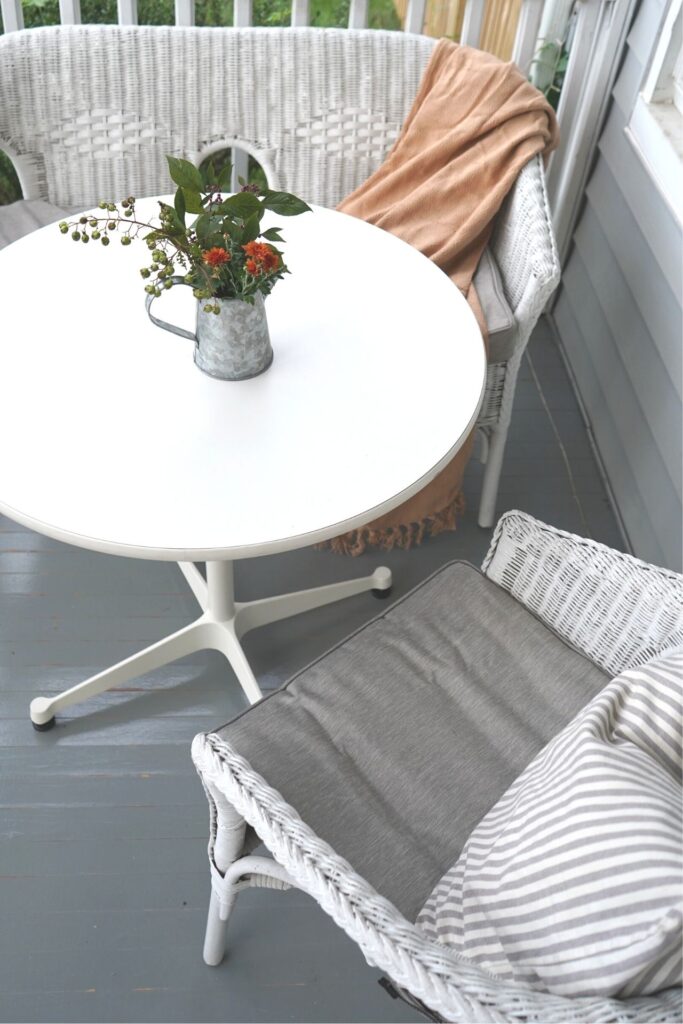 The rug and pillows we already had. The pillows are for indoors, so I may get some outdoor striped ones so that they'll hold up longer.
I went with a galvanized steel pitcher and tray to match our new watering can. Watering plants is less of a chore with a good watering can. This one is surprisingly easy to use and doubles as functional decor! The white pitchers I've had for ages and are from IKEA.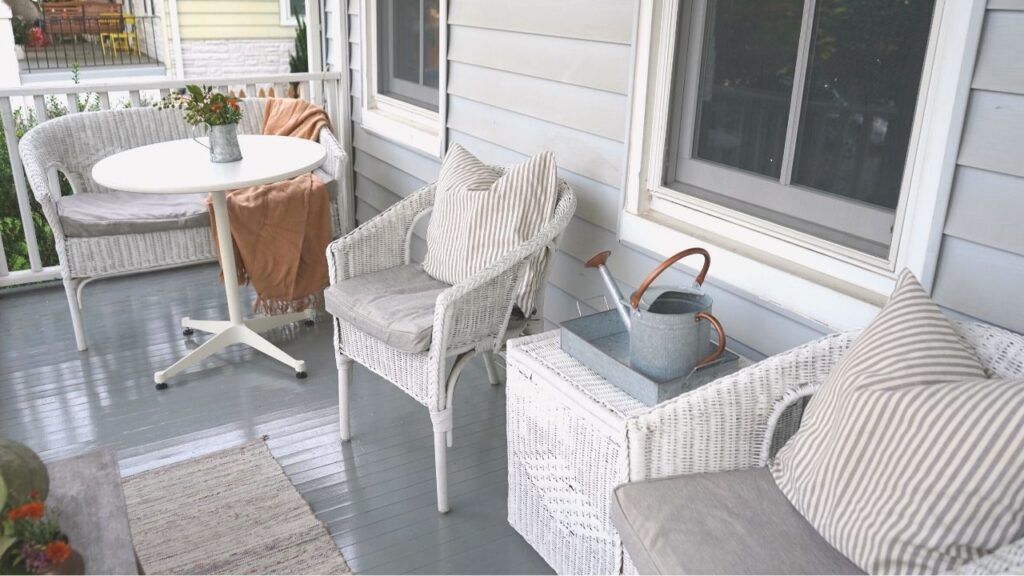 NATURAL FALL DECOR
I purchased some dried wheat, a Scandinavian staple for decor. I've used grasses from the garden or marshy parks near us too, but was short on time so just ordered this. The texture is so nice.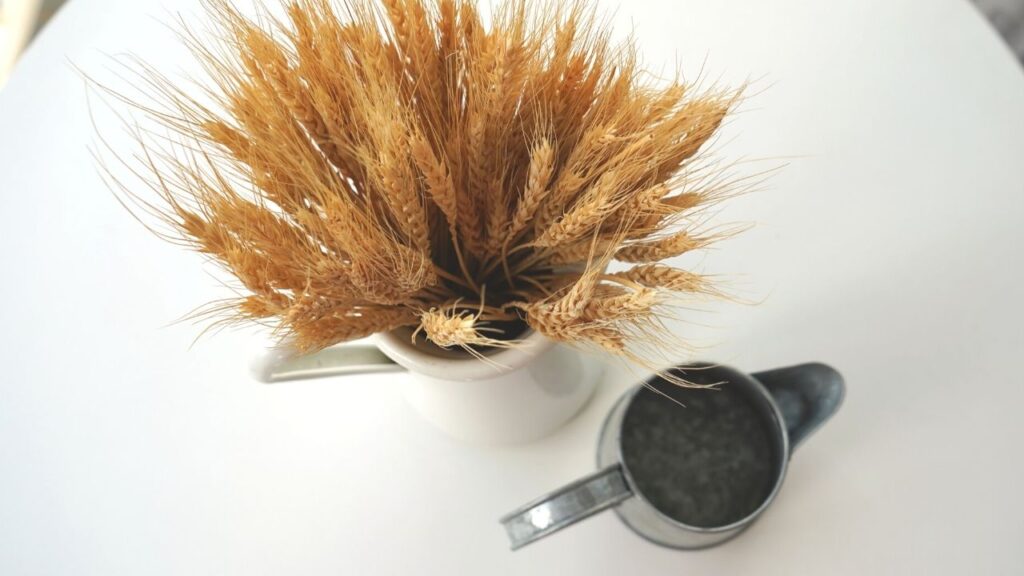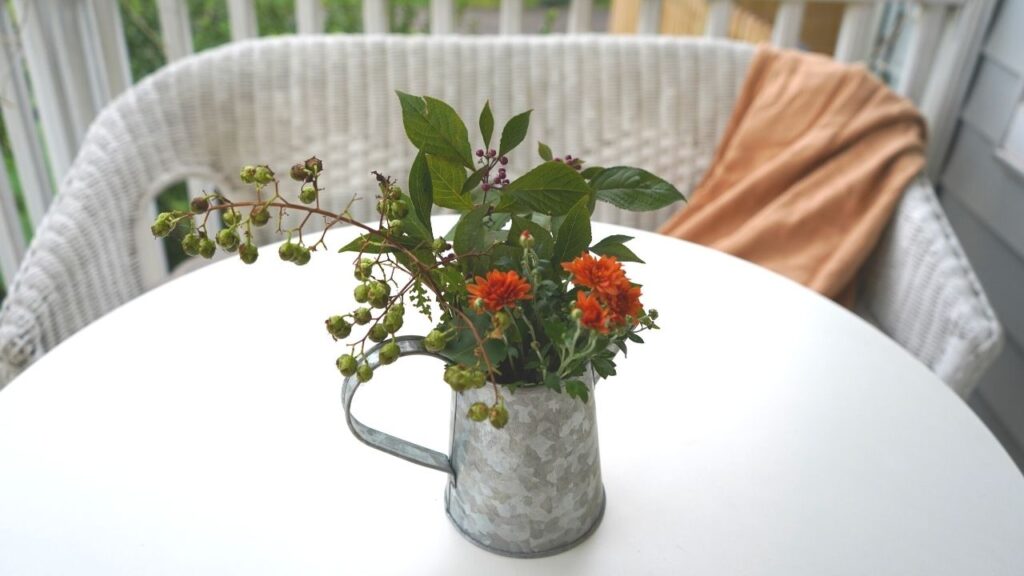 We picked up potted mums from a nearby nursery and I added a few clippings to another pitcher along with beauty berry and crepe myrtle from our yard. I made similar arrangements which you can see in our Simple Victorian Farmhouse Fall Decor.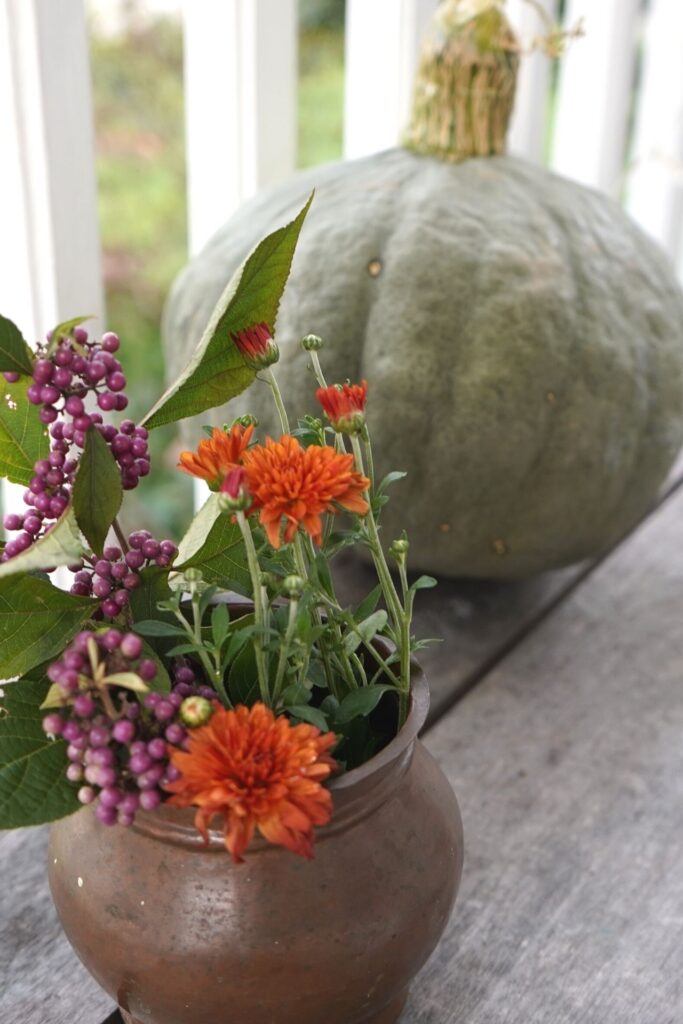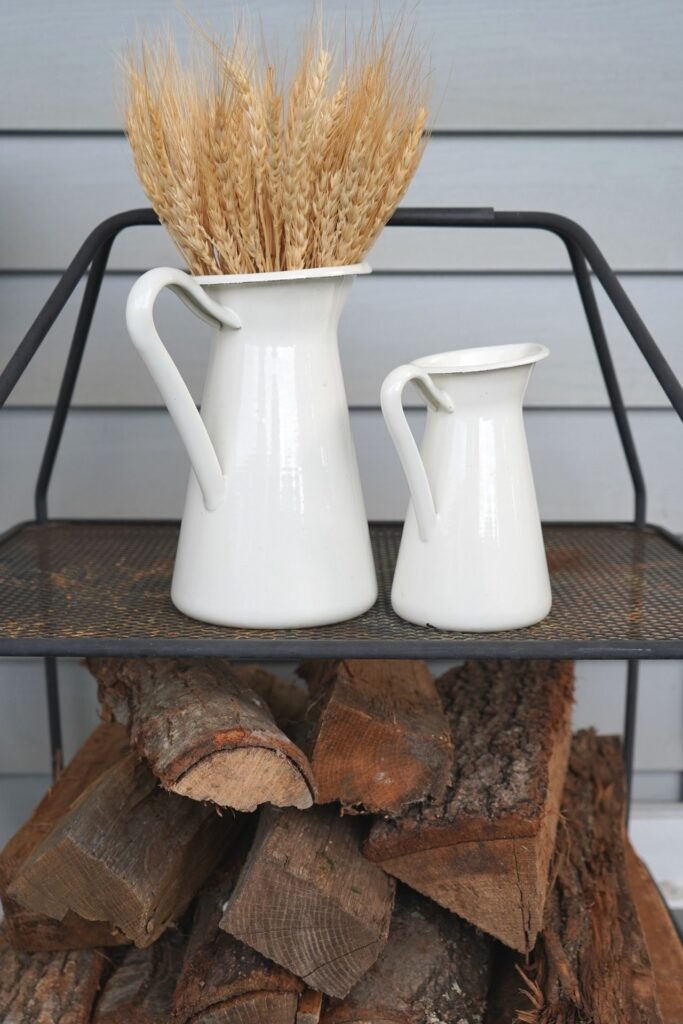 Natural and rustic elements compliment the neutral Scandinavian color palette of our front porch creating a cozy outdoor space.
SHOP THIS POST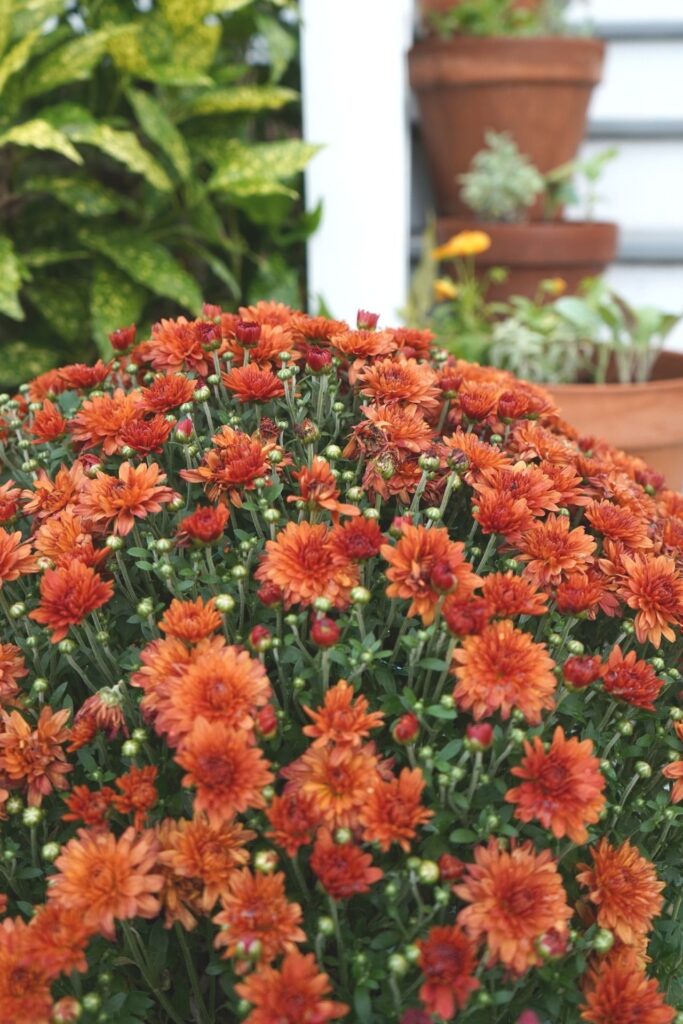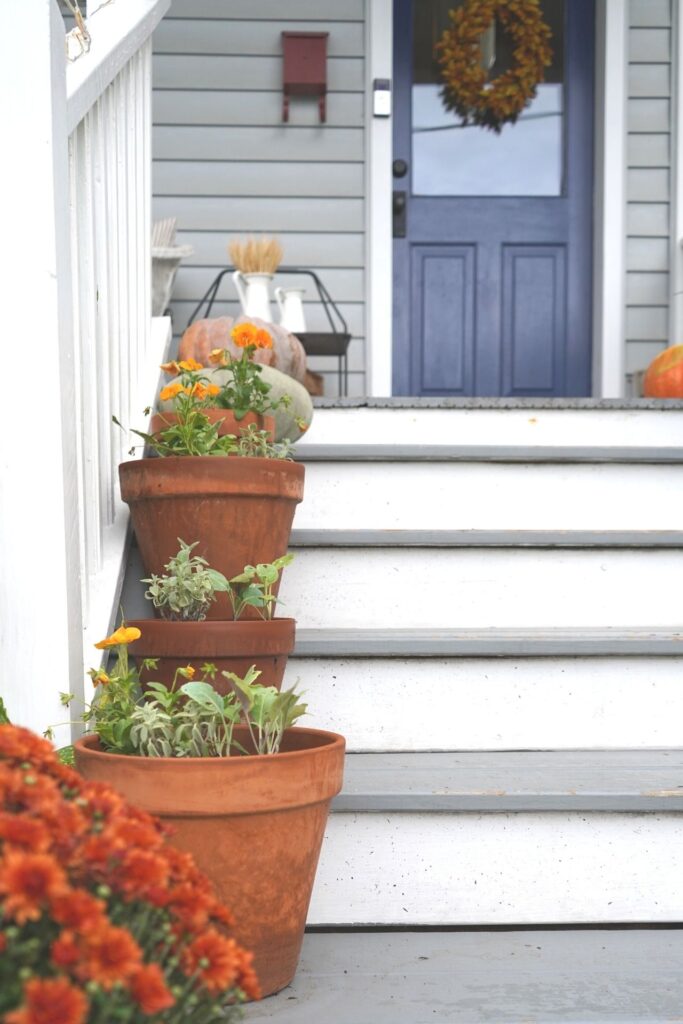 Fall front porch decor can be beautiful…and taste great! We planted collard greens and sage in these pots to eat later in the season. The heirloom pumpkins can be roasted for pumpkin soups, muffins, and waffles too.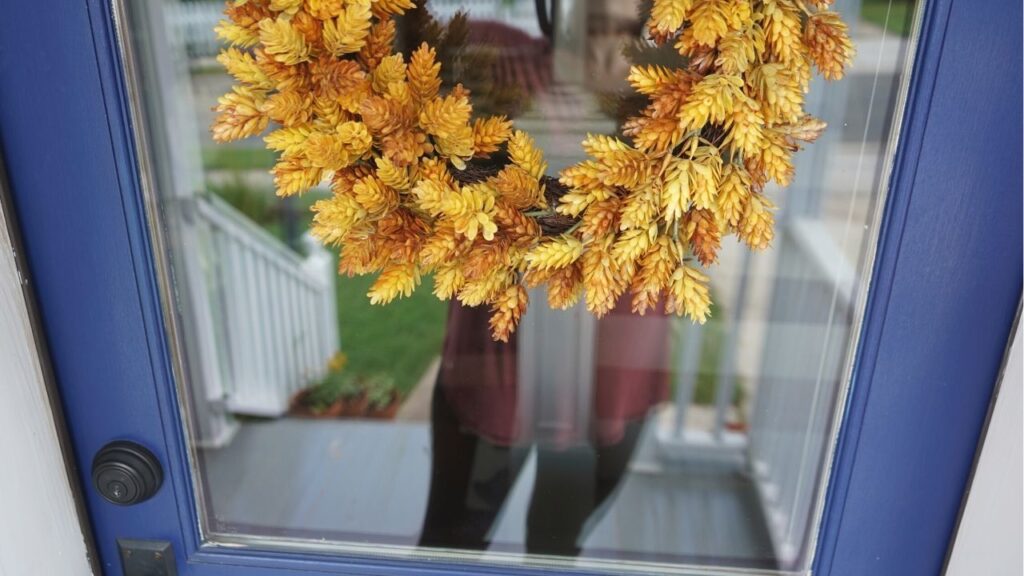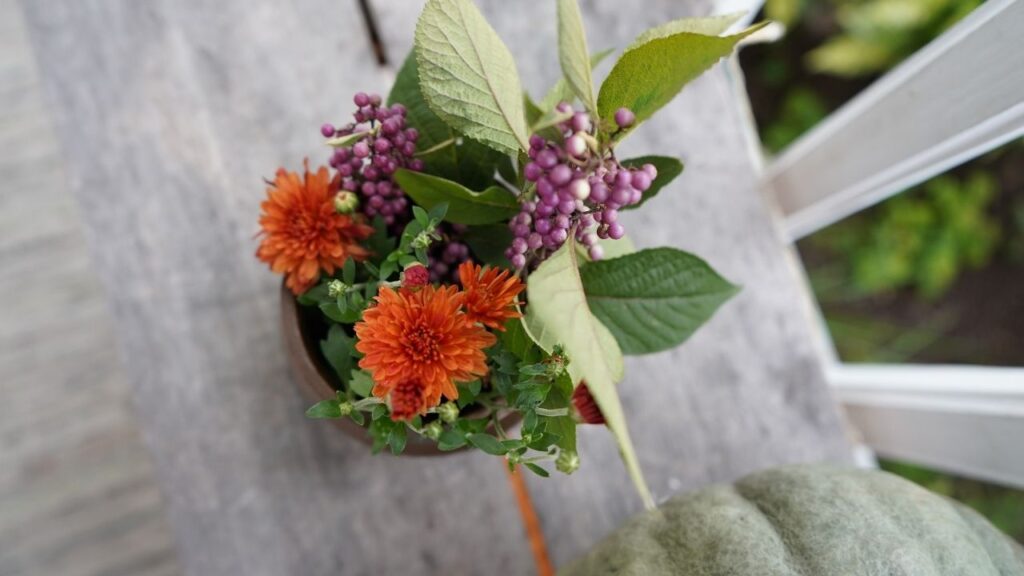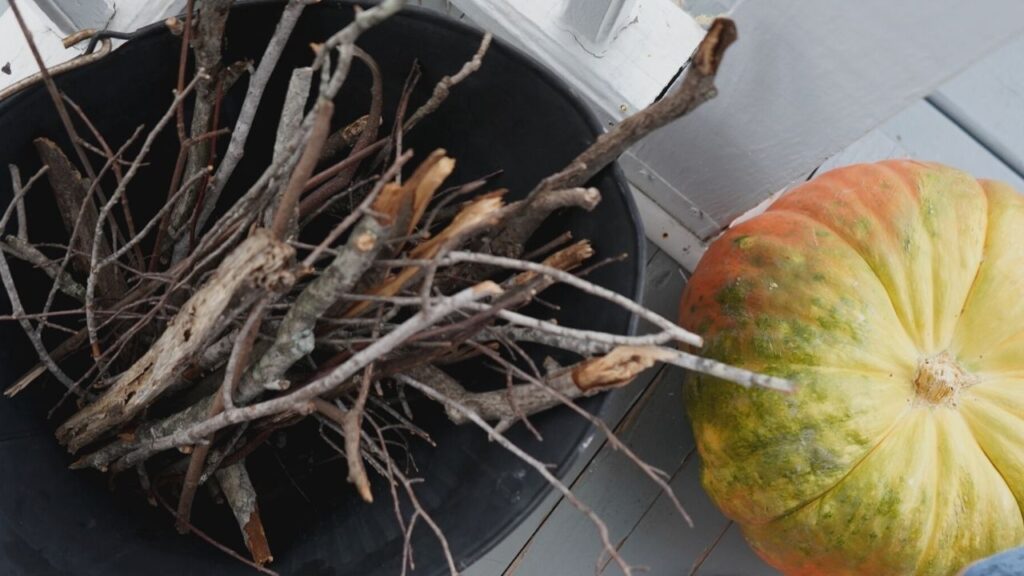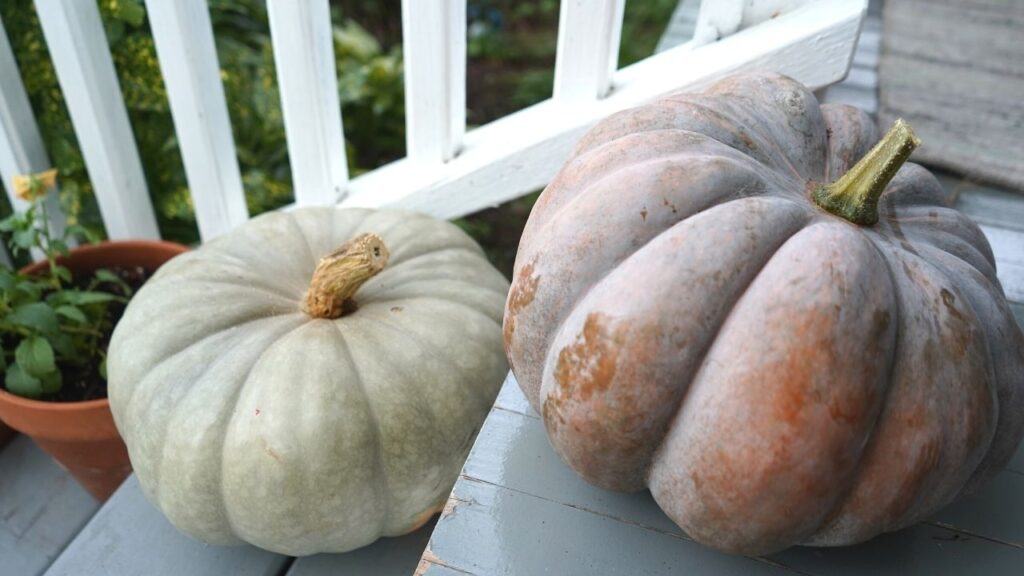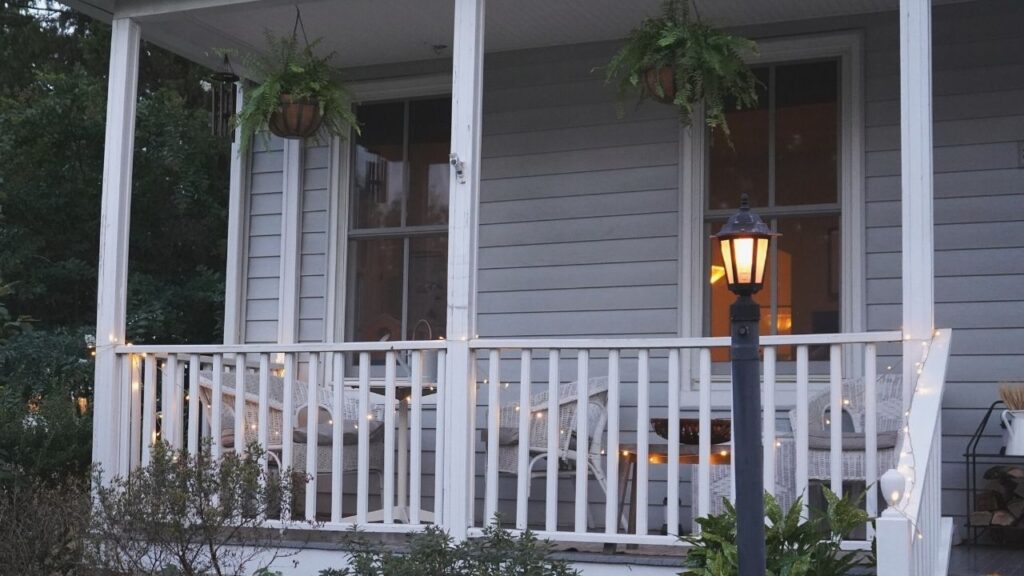 Get ready for fall with a cozy Scandinavian farmhouse style fall front porch that will be inviting all season long!
MORE SCANDINAVIAN FALL INSPIRATION
10 Simple Fall Decor Ideas for a Hygge Home
Fall Recipes + Decor You Can Eat | Old House Tips
Simple Victorian Farmhouse Fall Decor