We share 5 different ways to organize a small front porch. Our Folk Victorian farmhouse has a narrow front porch. We use it all the time for outdoor meals, working from home, and kids play. See how we've organized our small front porch into an outdoor room to enjoy all year long!
I love to arrange and rearrange things. In architecture we call it iteration. Solving a problem numerous times in different ways. Designers and architects use this iterative method all the time in order to find the best overall solution.
When it comes to my own house, I'll usually draw these iterations in a sketchbook. I mean it's tiring to do all of that heavy lifting of moving furniture around! Plus it's hard to remember all the options once you've made yourself dizzy with all that rearranging.
So, let us do all that heavy lifting for you. Take a look at these different ways we organized our front porch. Then you can try one out at your own house!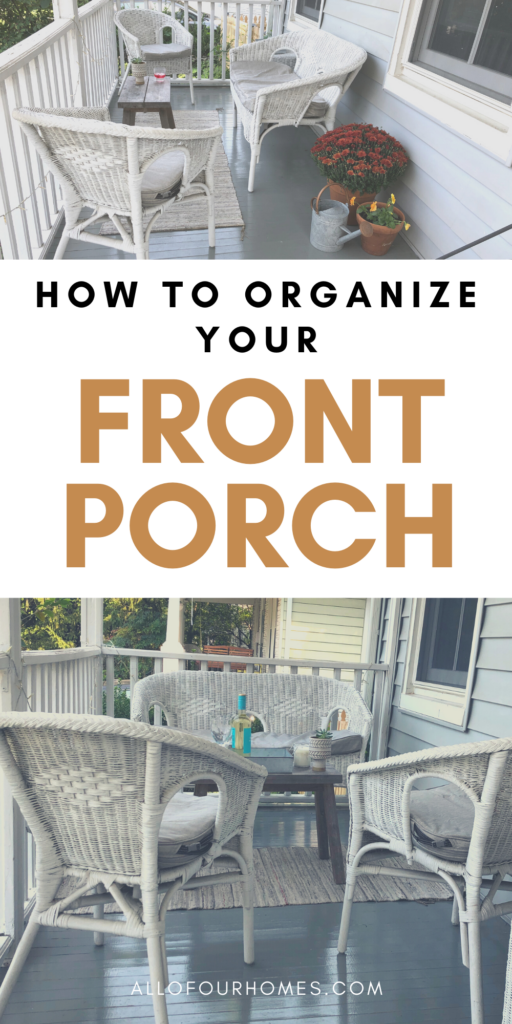 5 WAYS TO ORGANIZE A FRONT PORCH
We live in an old Folk Victorian house that we've decorated in a Scandinavian farmhouse style. The architecture mimics farmhouses of the time, probably because the carpenters who built it were familiar with that style. It was built around 1905.
Our house has a narrow front porch with no wrap-around. The stairs leading up to the porch and front door are off to one side. There's a guardrail around the porch and the Victorian decorative detailing of the front porch is long gone, although we hope to bring it back someday!
We spend a ton of time on our front porch. Working from home has meant many meals on the porch. Plus working outside and taking zoom calls means even more time out there.
From before baby, to time at home with a toddler, to covid distanced meet ups, our front porch has be arranged and rearranged many times. Let's share with you all some of the ways we have organized our front porch.
1. KID FRIENDLY FRONT PORCH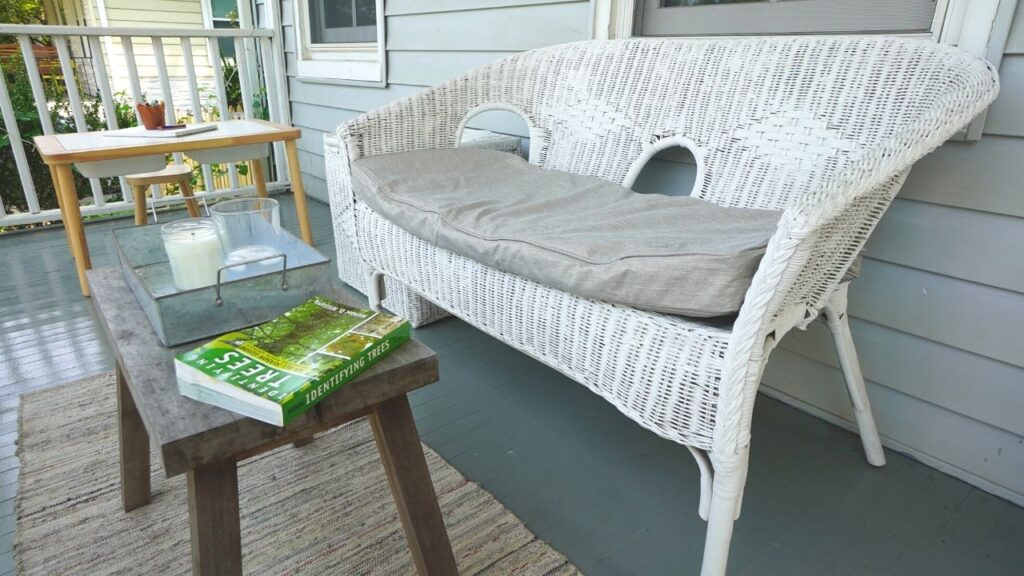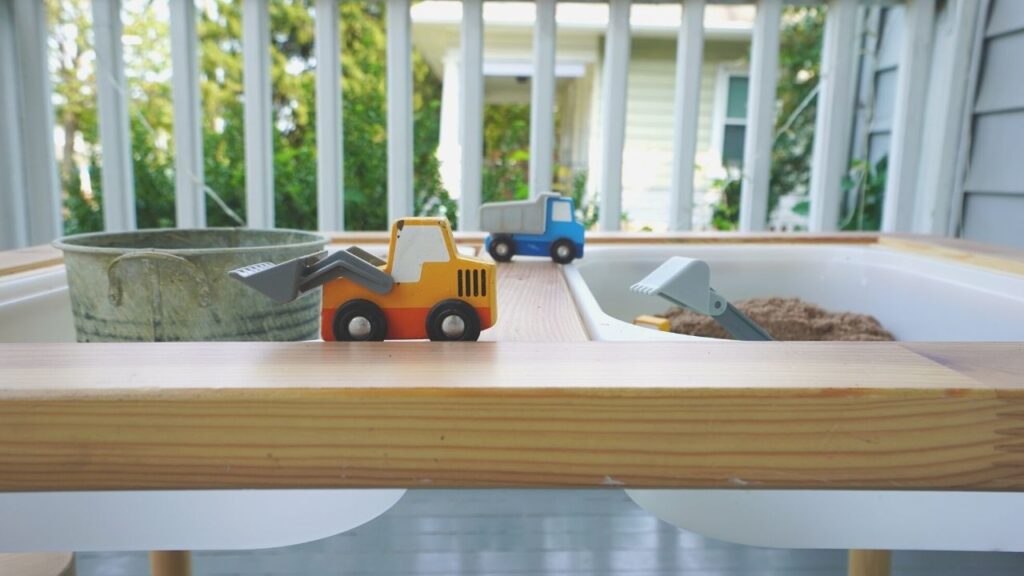 This layout has a kids zone off to one side and a loveseat next to it. I highly recommend this Flisat Table from IKEA that is flexible and can be used with bins for sensory play, like with sand or water, or as a kids table for snacks and arts and crafts.
We bring out this table when it gets too cold to eat meals outside but its still warm enough to play while I enjoy a cup of hot spiced tea. A loveseat is also nice for a storytime snuggle and you could even keep a small collection of kids books and a blanket for that.
2. COZY LIVING ROOM FRONT PORCH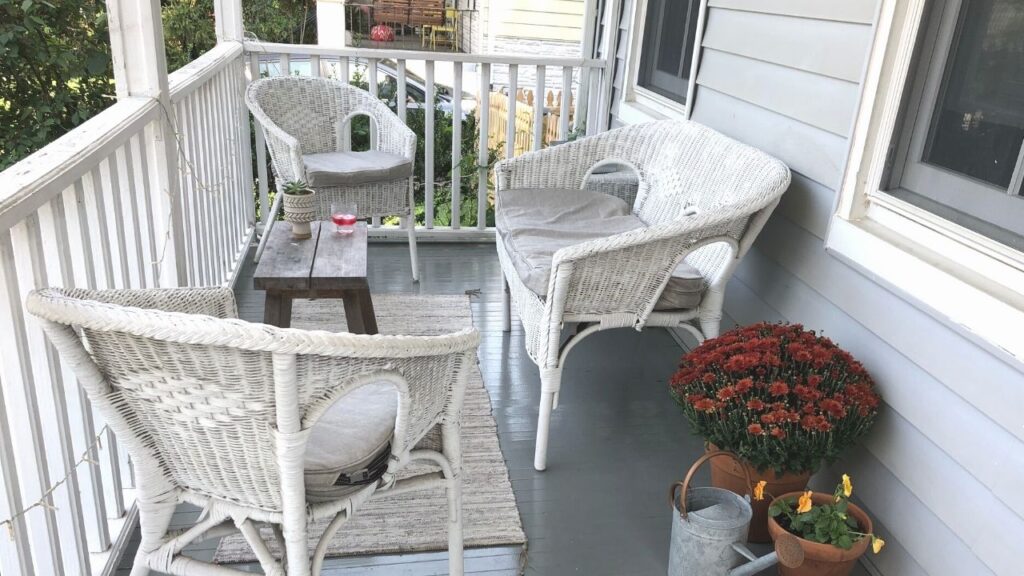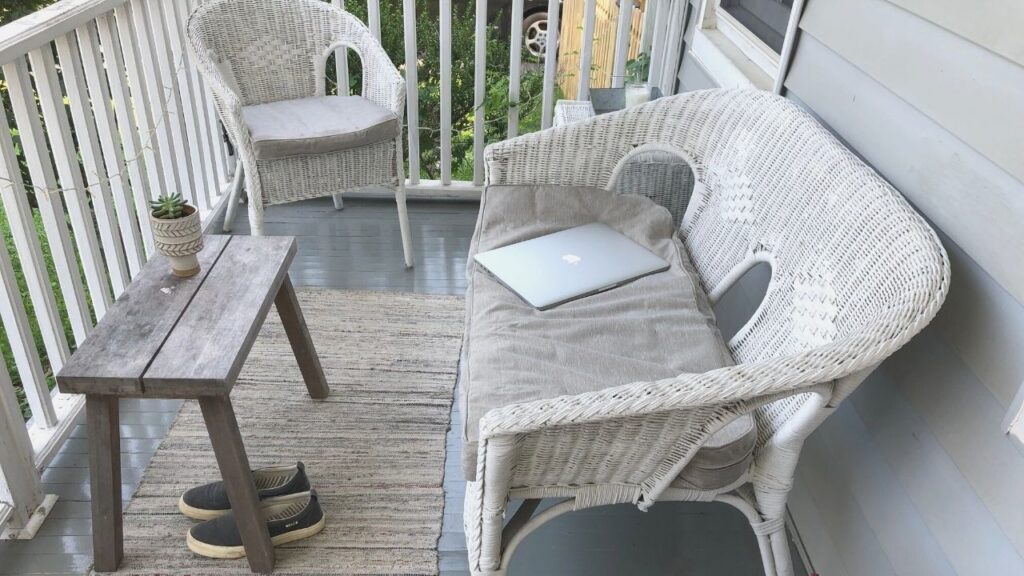 A cozy living room front porch is just that, a sofa, comfy chairs, a coffee table and a rug. Our porch is small so a wicker loveseat or settee is about as big of a couch as we can get. Ours is just 41″ but most seem to be 44″ which could work too.
This set up is nice for multiple people who want to lounge outside. You could probably even prop up your laptop on a stool and have a movie night. I like this layout for more casual work outside.
3. INVITING FRONT PORCH FOR FRIENDS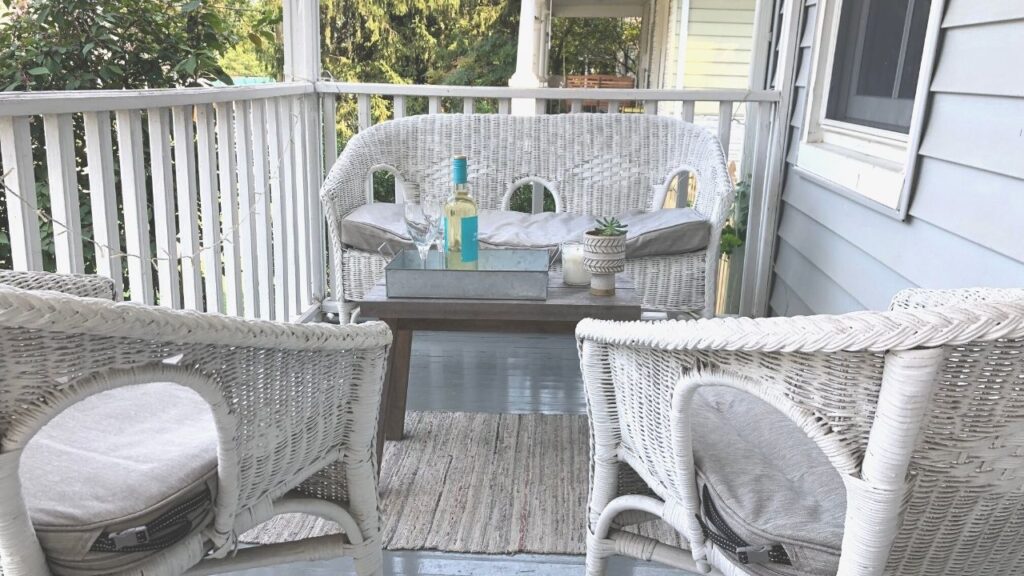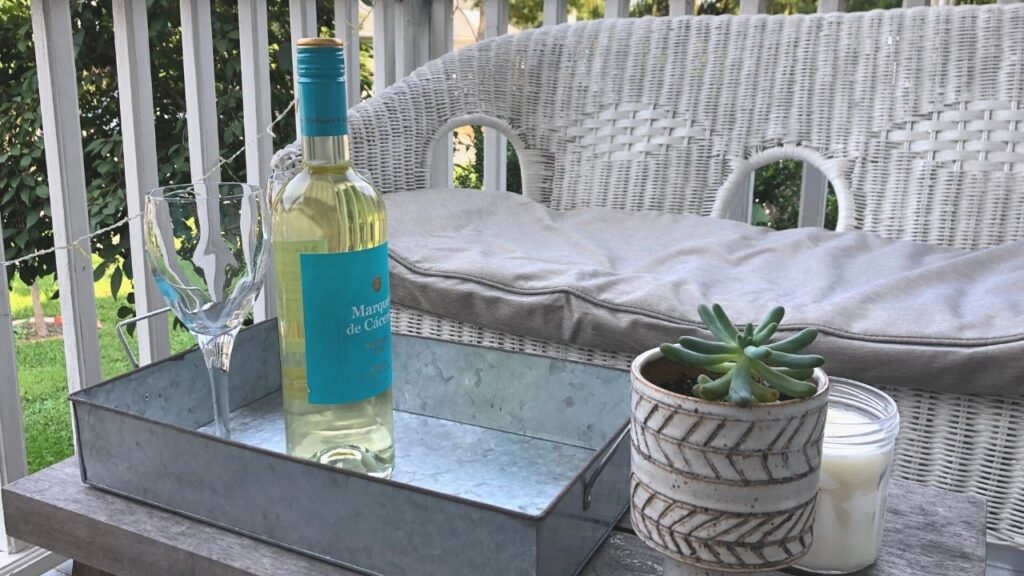 Our house used to have a porch swing and this layout could work with a swing too, instead of the loveseat. This is great for having friends over for a cocktail. Sitting across from one another makes it easy to chat and to share charcuterie.
It can be a tight squeeze between the two chairs so make sure you get small ones or opt for one comfy chair and an ottoman.
4. FRONT PORCH FOR EATING, WORKING, & LOUNGING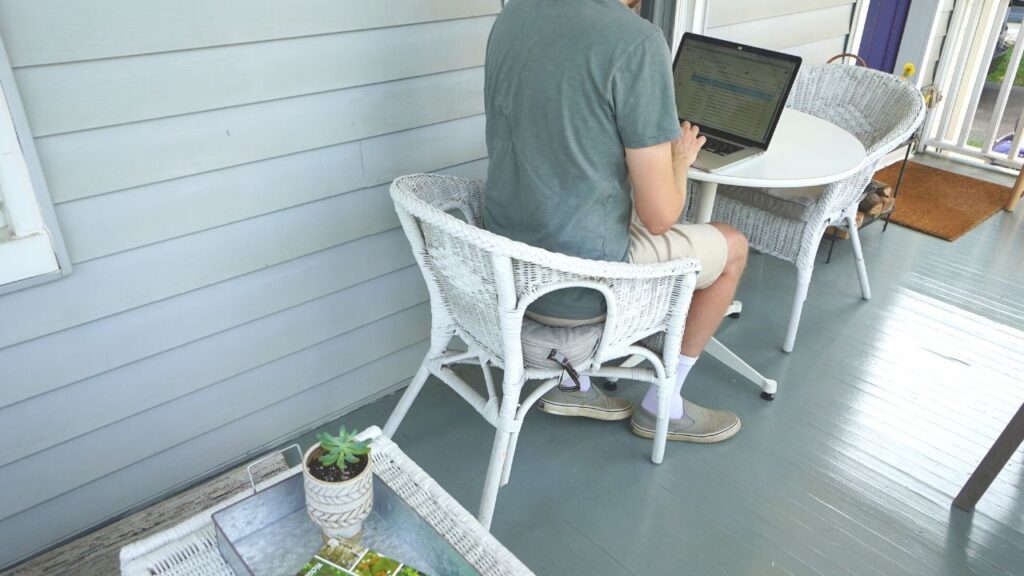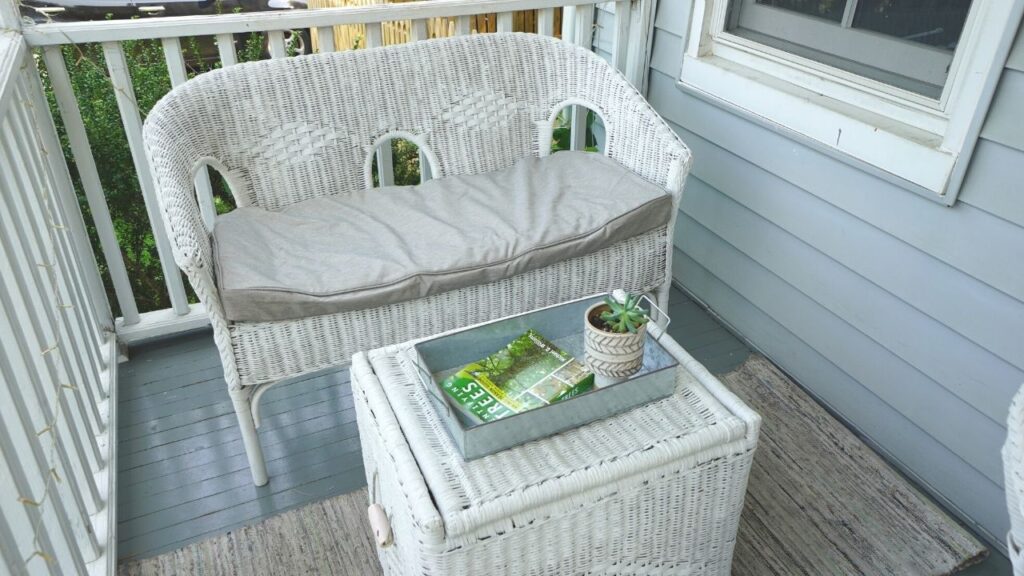 This front porch layout has everything. It has an area for dining or working and an area for lounging. If you like variety this is for you!
What's nice here is you can swing the chair around to either the table or the to the loveseat. You can also pull up the stool to the table which is what we do for our family of three. You could get multiple smaller stools too and pull the table out for bigger groups.
5. A SEAT AT THE TABLE FRONT PORCH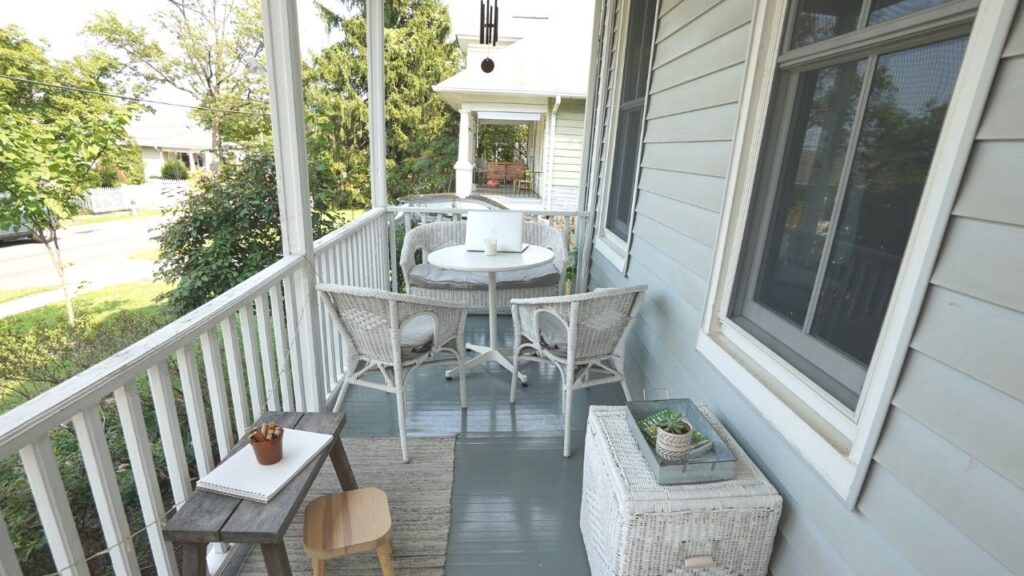 We have this configuration on our front porch currently. It's my favorite for summer. We can eat all our meals outside in comfort and I can easily work at the table too.
Plus there is a little kid friendly zone where we set up a coloring station or this cute sink for water play with my son too.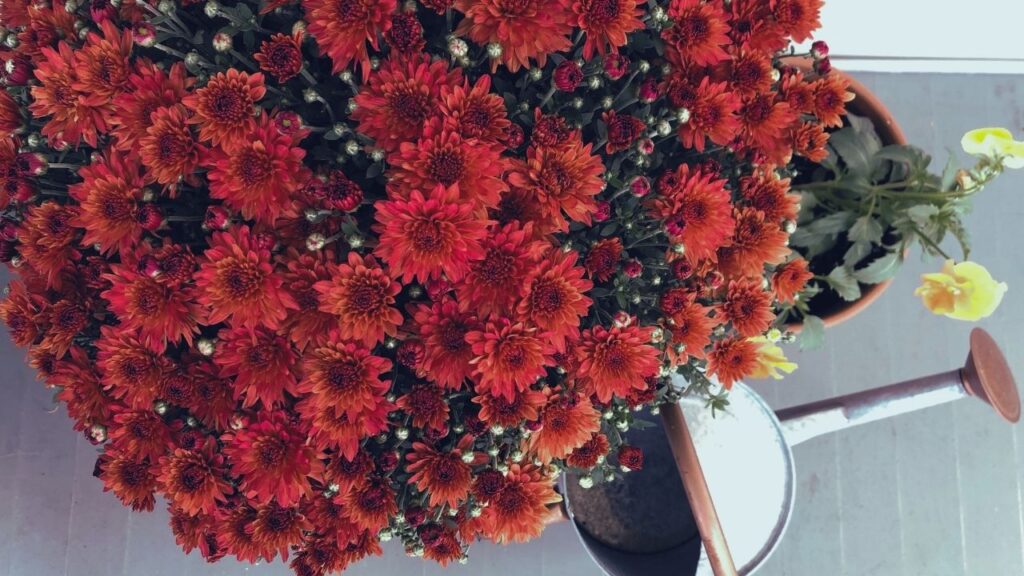 Once it gets cooler and dark earlier again and we're eating most meals indoors, we'll move the round white table and 2 chairs into our mudroom to serve as a breakfast nook.
Old houses used to always change with the seasons. Families would sleep on their porches during the summer and then bedrooms would be relocated to be near the heat of the kitchen fire during the winter. Outdoor kitchens were even used during summer months to keep the heat far from the house. How will you change your house for the season?
MORE OLD HOUSE INSPIRATION
Old House Tips | How to Keep Bugs Away Naturally
Farmhouse Fall Front Porch | Scandinavian Style