Create a mudroom you love for less than $500! This IKEA hack is easy. We use bookcases, boxes, baskets, and a bench to create a functional and beautiful mudroom on a budget.
Nothing organizes a house like storage in a mudroom. They are so popular right now and for good reason! Our lives are busy. Having open storage that is easy for everyone to access (kids included!) is one way to make the mess…less.
You don't need to have fancy built-ins to create a mudroom. A simple bookcase with a shelf for shoes and a basket for hats will do!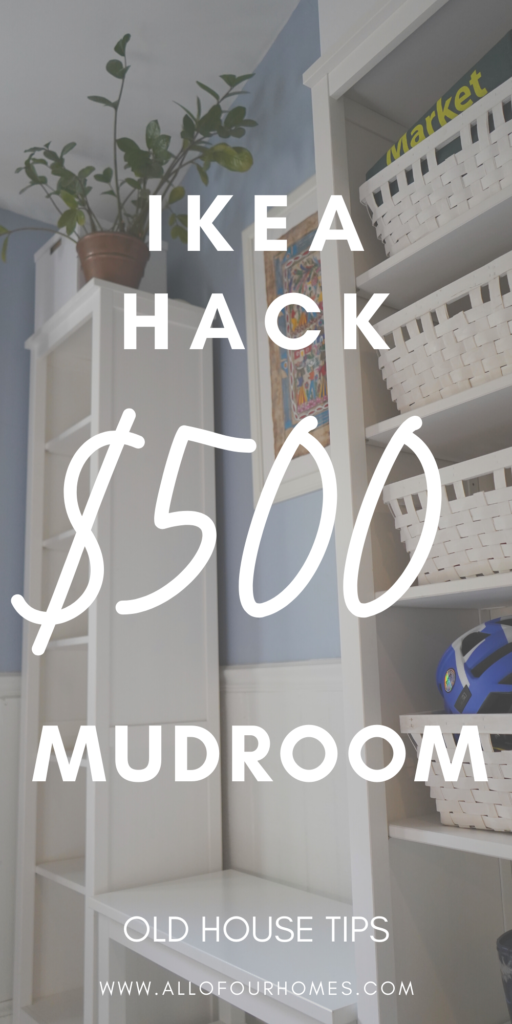 CREATE A MUDROOM FOR UNDER $500
We love IKEA for the versatility of their pieces. To create our mudroom we went with the Hemnes line from IKEA, but you could probably save even more with Billy bookcases.
We liked that the Hemnes line had several bench options that we knew would match the same white finish. See further down in this post for the full list of what furniture pieces from IKEA we used.
LOCATION, LOCATION, LOCATION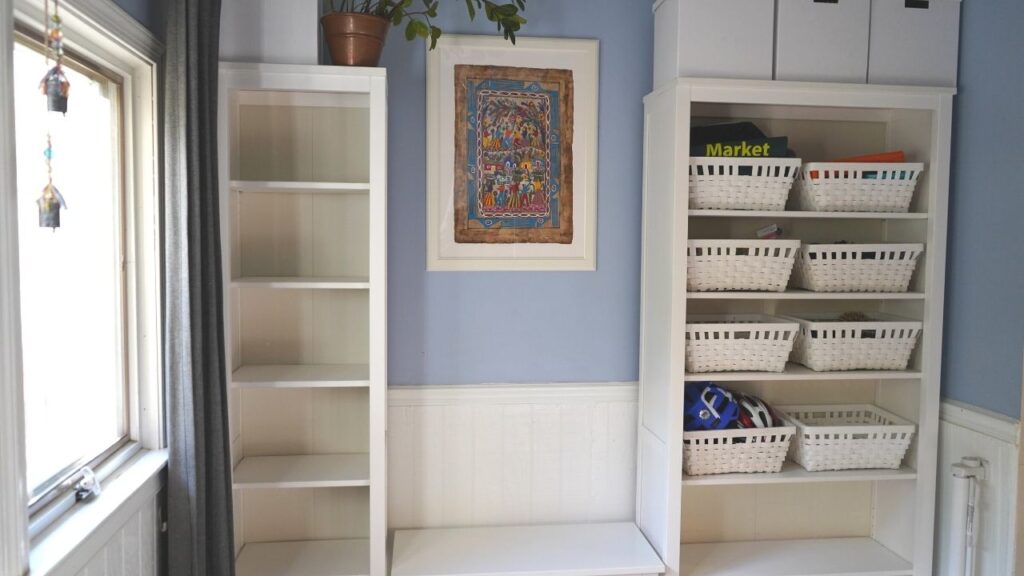 First you will want to find a good location for your mudroom storage wall. It might be in a garage, in your front foyer, by the back door, or in the actual mudroom of your old house.
We chose to create our mudroom by our backdoor. Our Folk Victorian farmhouse was built in the early 1900s and then later had the back porch enclosed.
In that enclosure is a full bathroom and another space that we refer to as our mudroom. It also had been used as a dining room by the previous owners. We use it as a breakfast nook during the winter too, so we kept that in mind with our layout.
The location by the back door works for us because we are in and out of the yard with muddy boots and bike gear throughout the year. Besides, there is hardly any space by our front door and we like to keep that clear for when we have guests.
MEASURE TWICE, SHOP ONCE
Ever heard the saying, "Measure twice, cut once"? Well, that was popular in Architecture school where we were building models late at night in studio and would make regrettable mistakes with skipping this step. So, measure twice and shop once!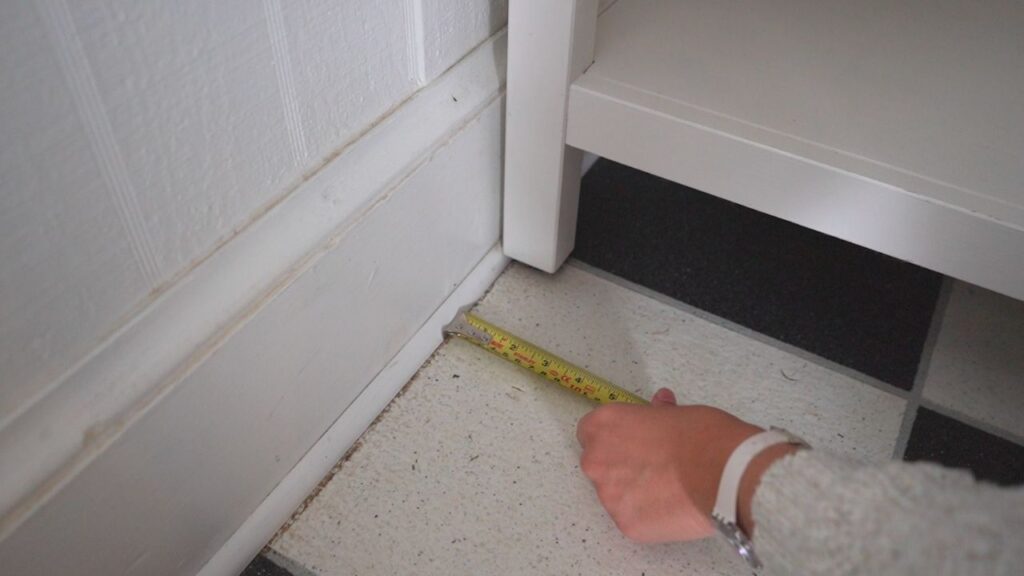 *TIPS FOR MEASURING*
Instead of measuring from face of wall to wall, measure at the floor inside of the baseboard trim. Your furniture will be sitting inside of this trim so make sure to account for it.
Use your foot to hold the tape measure in place.
Fold the tape measure and snake it up a wall to get measurements of ceiling heights.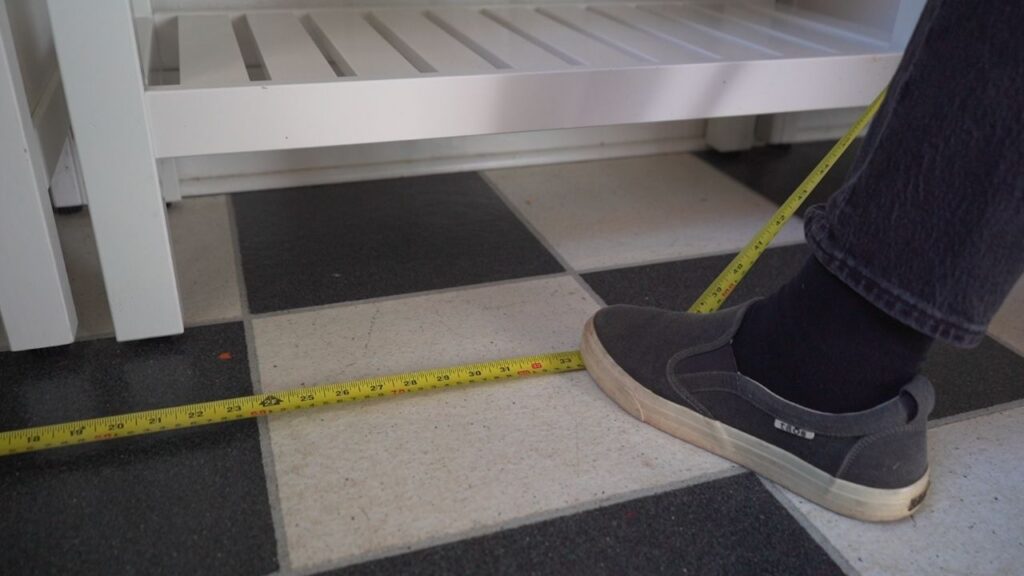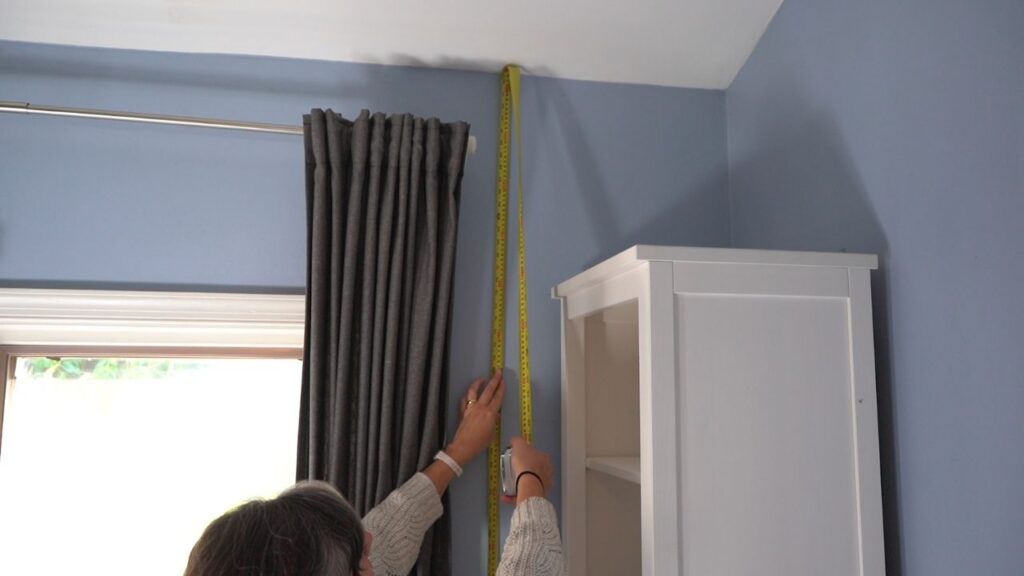 FLEXIBILITY WITH BOOKCASES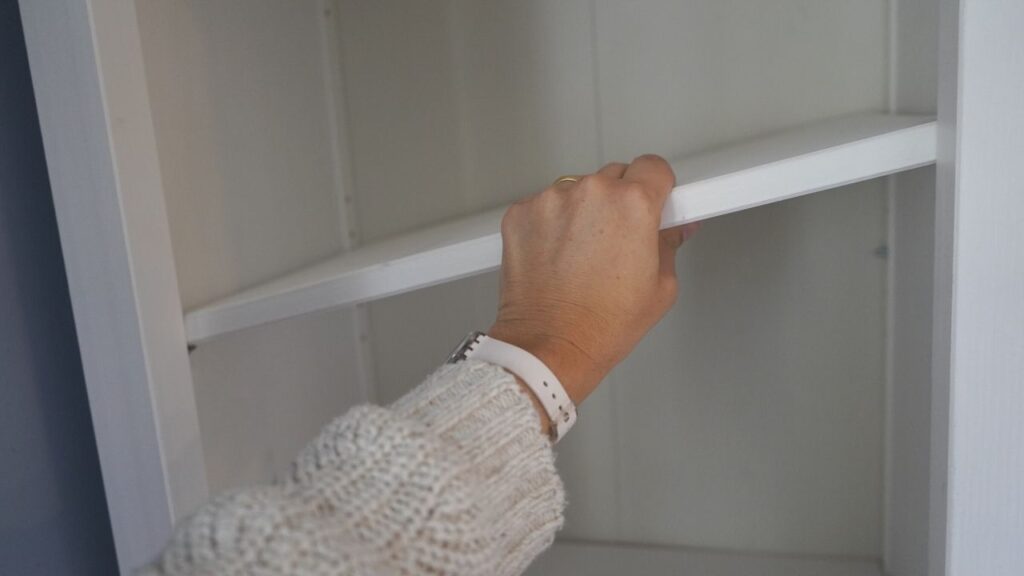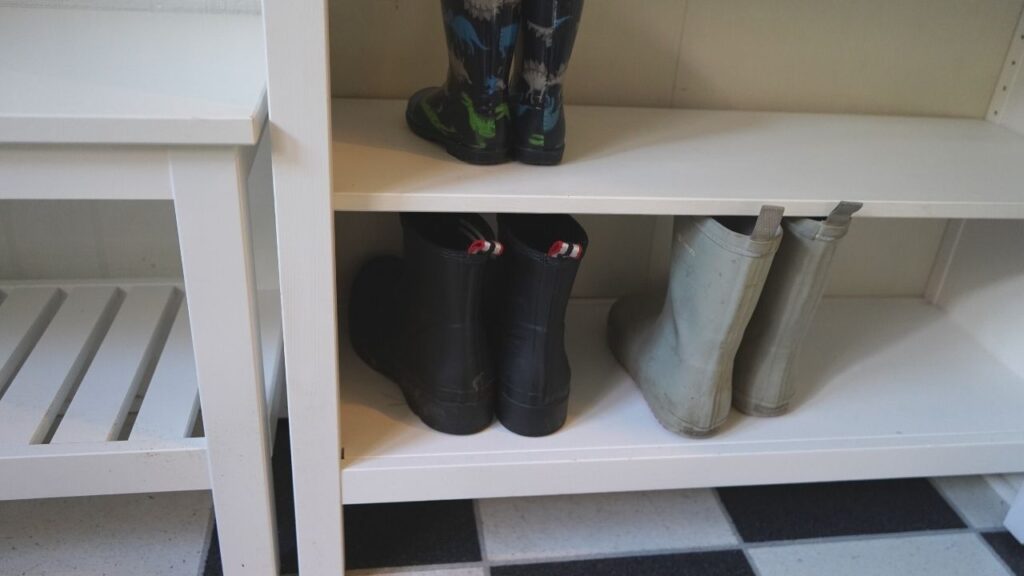 Why choose bookcases for a mudroom? We like the flexibility of a bookcase with its adjustable open shelves. The way we use a room changes in our house, from year to year and season to season.
Our mudroom was used as a homeschool classroom during the pandemic which you can see here How to Set Up a Pandemic Pod Classroom at Home. During the winter we change it into a breakfast nook.
These bookcases are from the Hemnes line at IKEA. There are two different widths available and we have one of each to fit that fit the just over seven foot dimension of our mudroom wall with a bench inbetween.
STORAGE BOXES AND BASKETS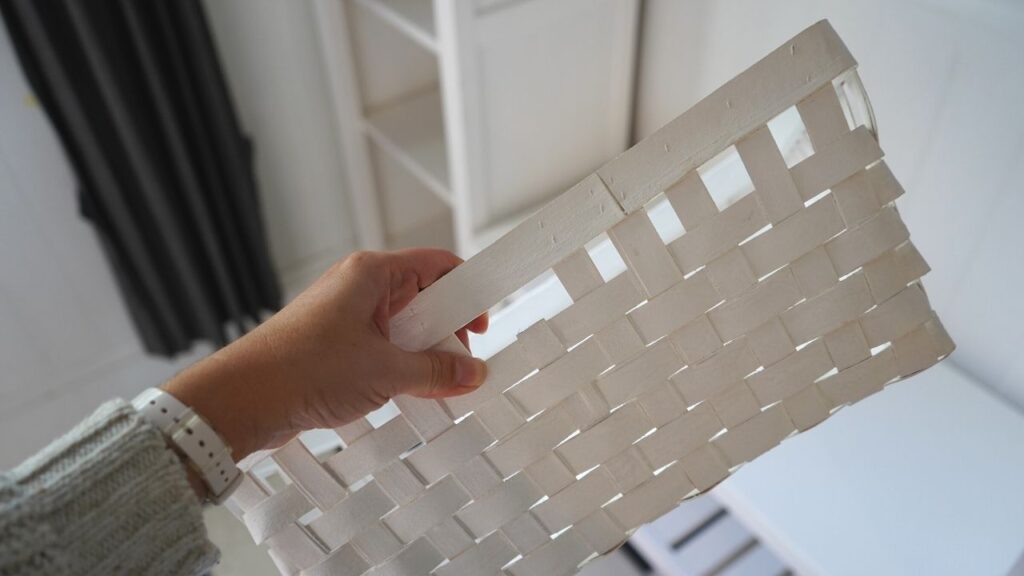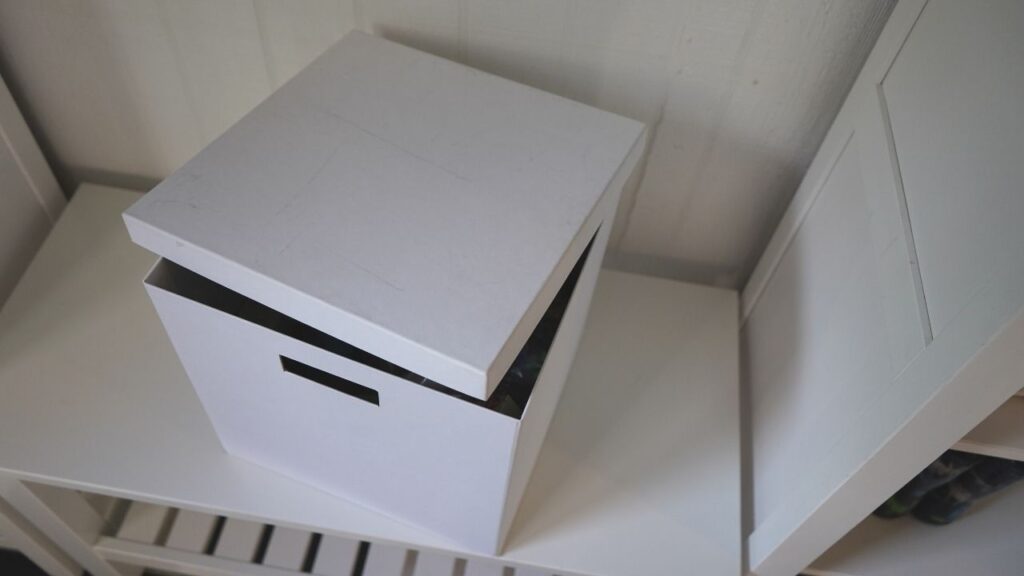 We went with a simple white for our storage boxes and baskets. I think black or a natural straw or wicker basket would look very nice too. IKEA has a great selection and I'll post some of those options below.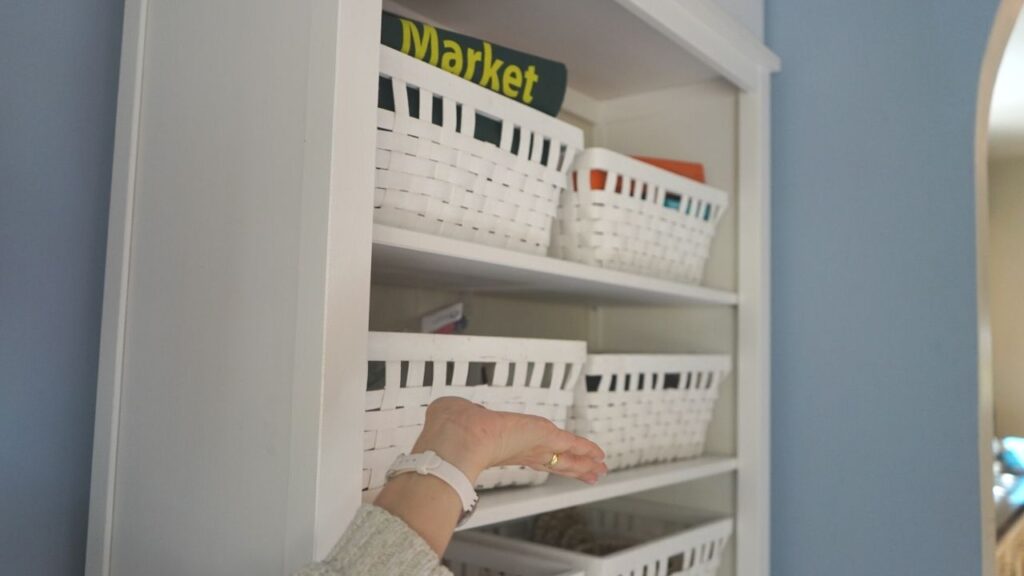 A STURDY SEAT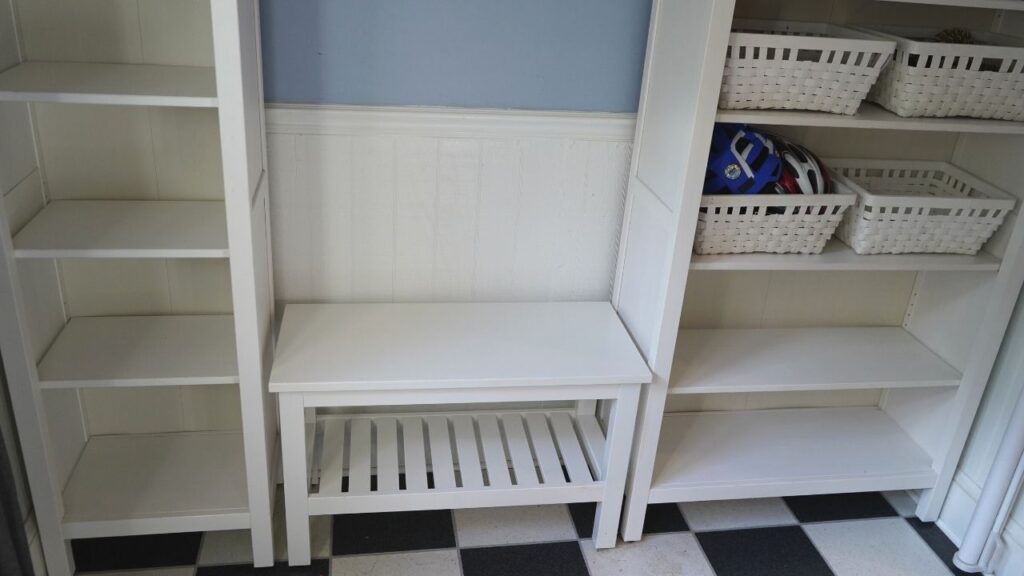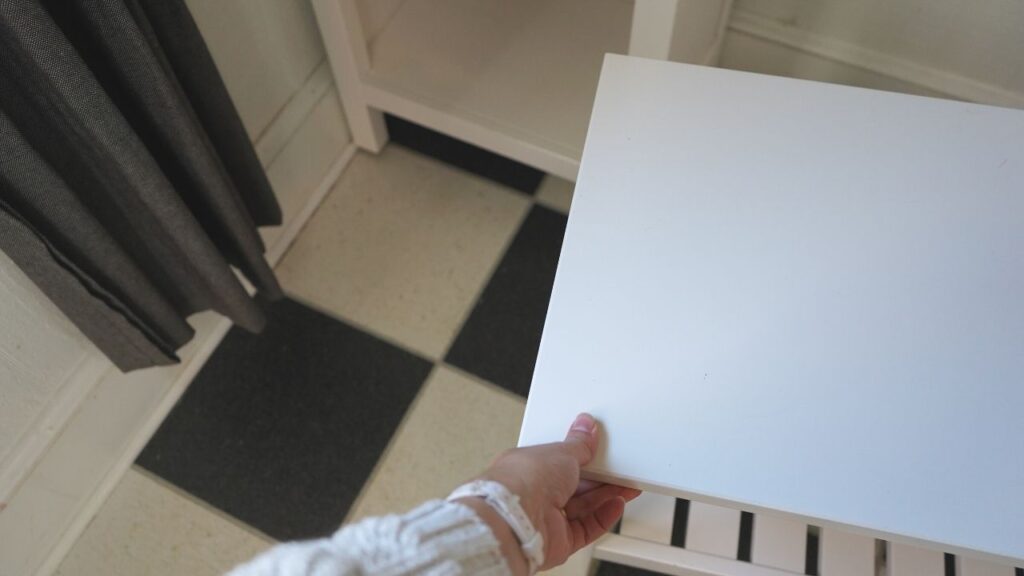 This bench is from the same Hemnes line from IKEA. However, it is part of the bathroom collection. I did look into the weight it holds which is 220lbs and it is quite sturdy. There are some great mudroom options from the Hemnes bathroom line, so take a look before you organize your own mudroom.
Another option would be two stools instead of one bench. That would be even easier to reconfigure and add more seating, but may not have the same traditional mudroom look.
MUDROOM SHOPPING LIST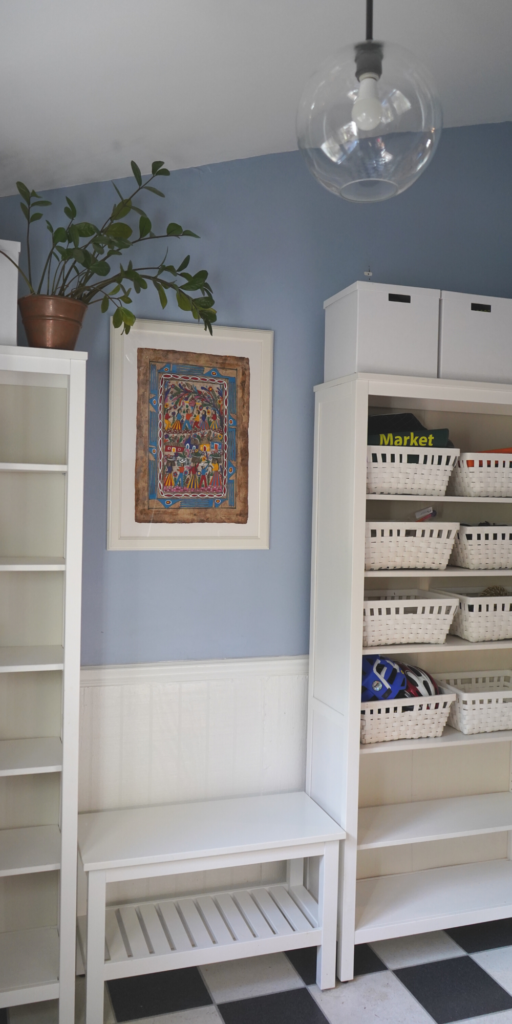 Using our mudroom as a breakfast nook! Farmhouse Breakfast Nook | Scandinavian Style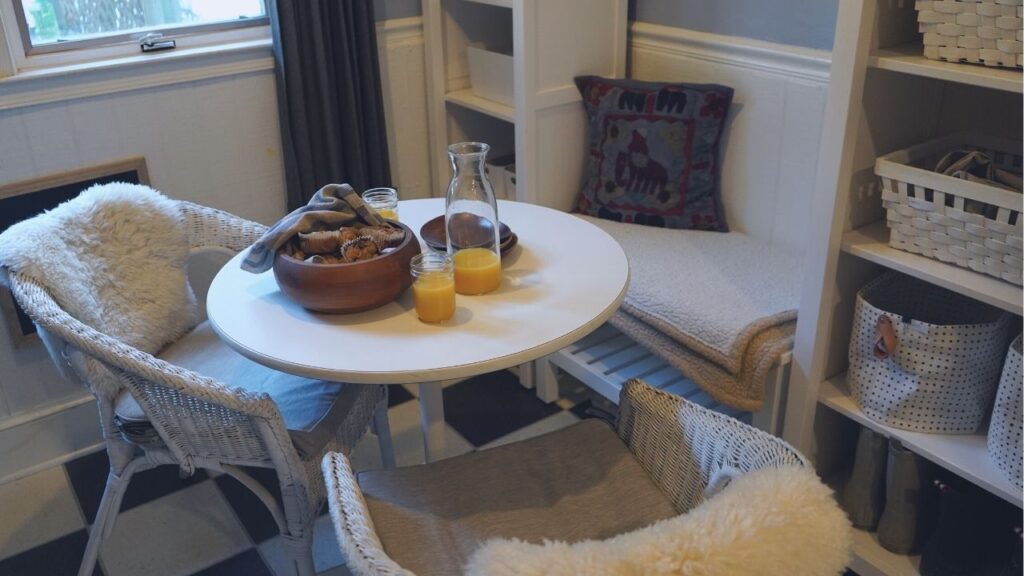 ---
OTHER ORGANIZATION TIPS
Farmhouse Breakfast Nook | Scandinavian Style
How to Organize a Front Porch | Old House Tips
Montessori Set Up in an Old House | Old House Tips