Looking for some fun Scandinavian holiday crafts to do with kids? We share our five favorite simple holiday kids crafts that will fill your house with Scandinavian holiday cheer.
We have enjoyed doing these fun holiday crafts at our house and we hope you will too!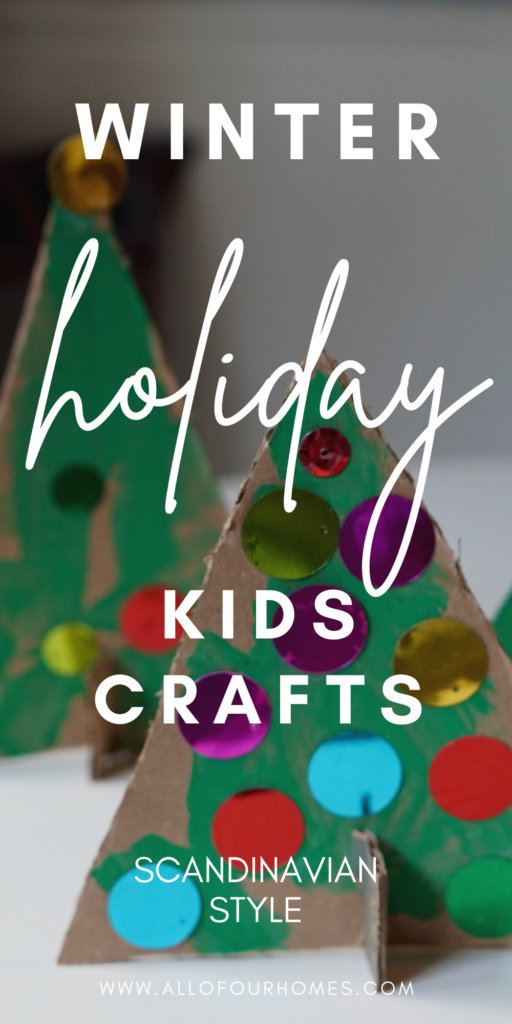 SWEDISH PAPER HEARTS
MATERIALS: Paper (construction or cardstock), Glue, Scissors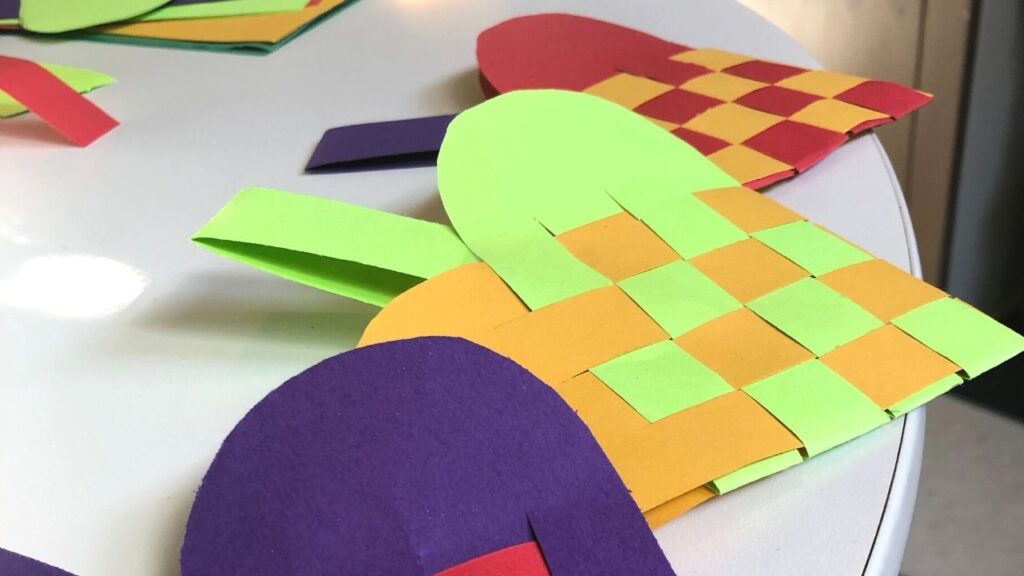 Making Swedish Paper Hearts reminds me of making Oragami cranes. It requires some concentration as you weave them together and can be quite meditative.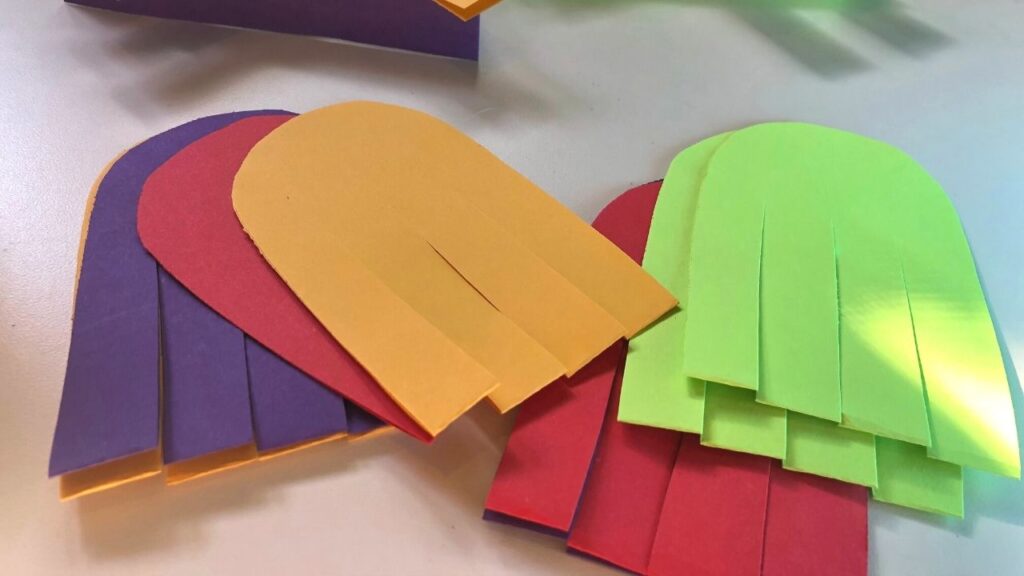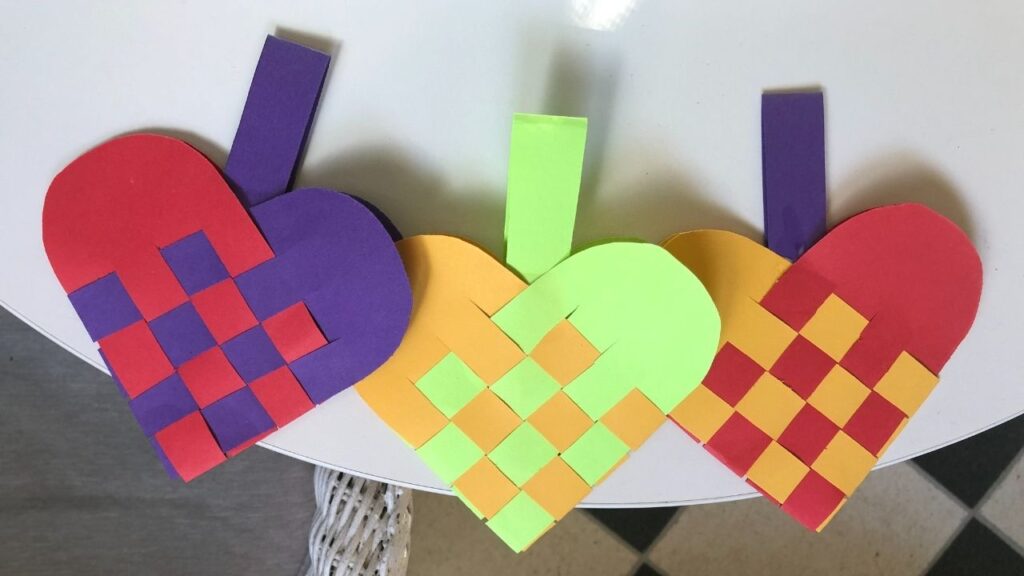 Older kids would appreciate this more, but little kids can still help out by selecting colors to put together. They can also cut strips and glue the handle to hang the woven heart baskets. Baskets can be hung on a Christmas tree with sweets placed inside.
Although I didn't use a template, I would recommend using one if you have access to a printer. Then you won't break a few hearts experimenting like I did! Tikkido has a template online and shows how to make these special Scandinavian holiday crafts step by step.
GNOMES
MATERIALS: Paper (cardstock), Yarn (or twine), Felt, Bead, Googley Eyes, Scissors, Glue (or Glue Gun)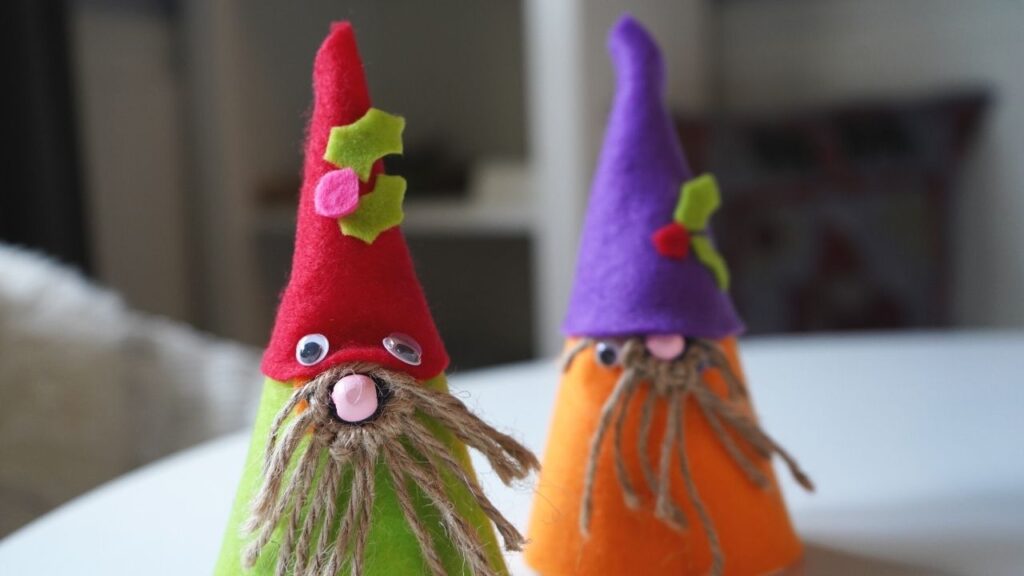 Scandinavian gnomes are very popular this year, even showing up in Crate & Barrel's Christmas collection! You can make your own adorable felt gnomes following the Easy Gnome Craft for Kids by Sugar, Spice, and Glitter.
We made these when my son was only 3, and it's good to prep materials beforehand for little kids. (That gnome beard takes a little time!) The bright colors are fun for kids. Alternatively, you could select colors that match your home or holiday decor, keeping them more subdued.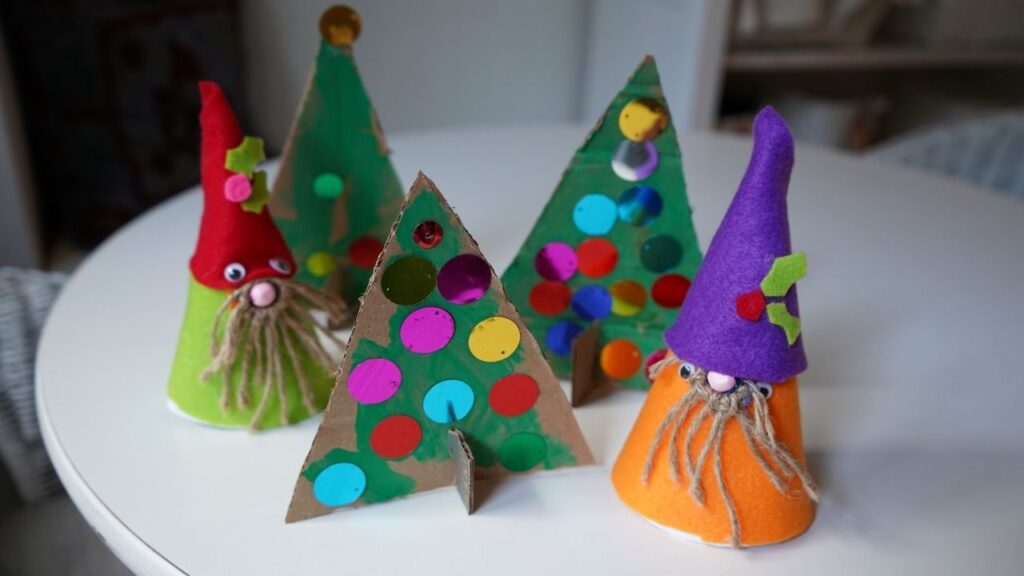 You could swap out the felt for paper as well if you're short on materials. Pages from an old book or music sheet could be fun. If you're looking for felt, googley eyes, and beads, get this kit by Kids Made Modern. It has lots of other delightful items for crafts.
CARDBOARD CHRISTMAS TREES
MATERIALS: Cardboard, Green Paint, Paintbrush, Sequins (or hole punched colored paper)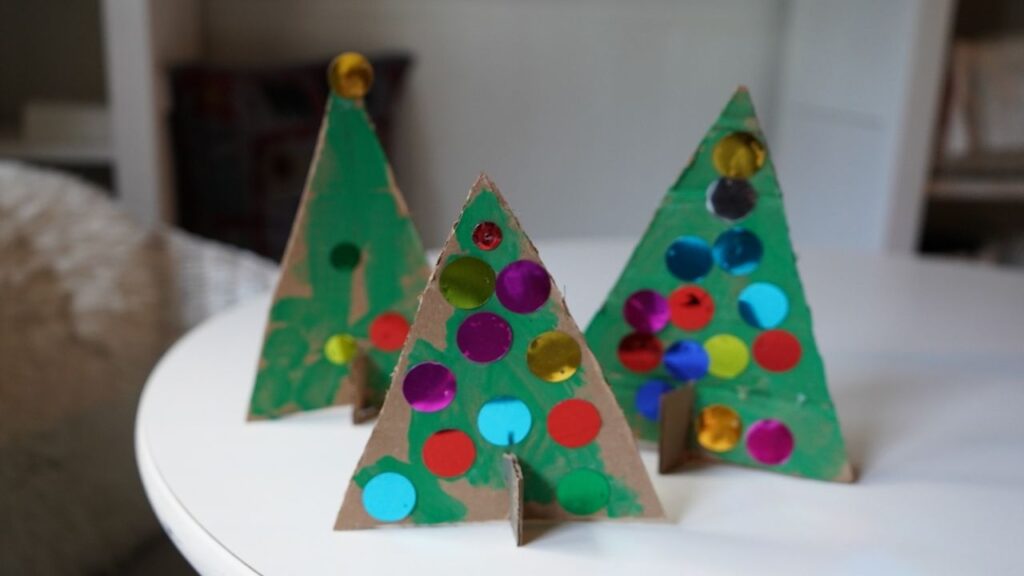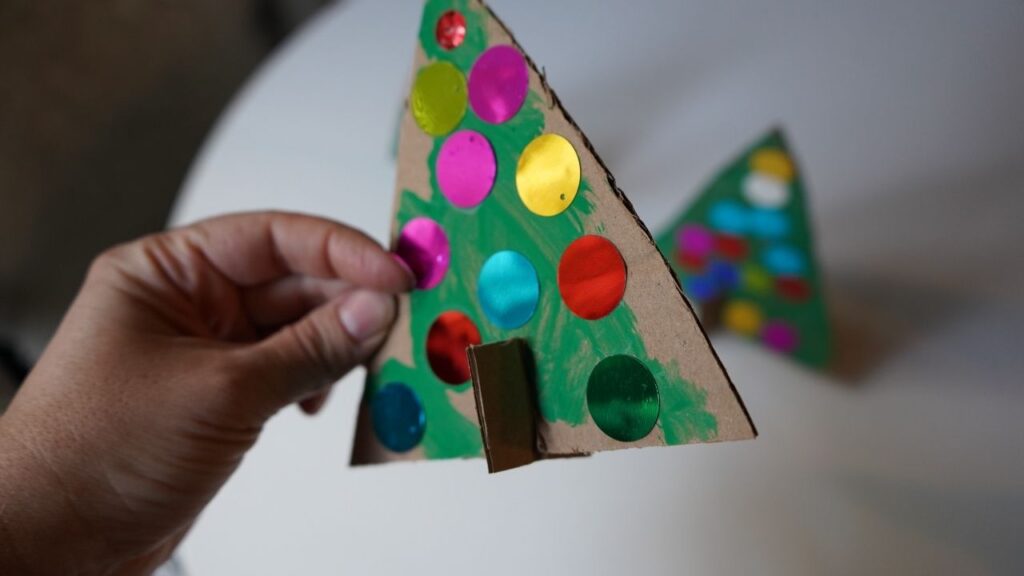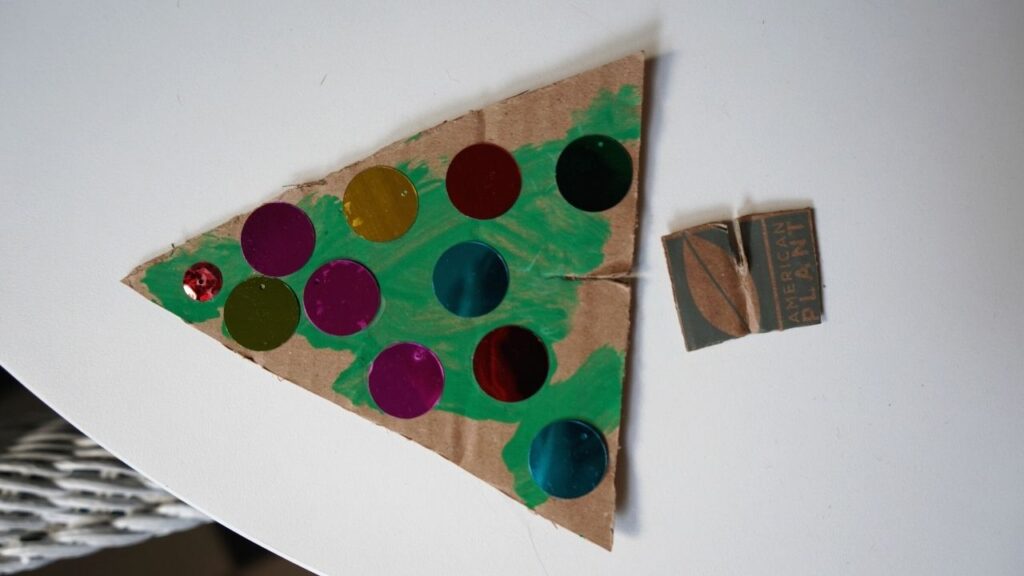 Out of all the holiday crafts we've listed here, these cardboard Christmas trees are the best suited for young kids. With this Cardboard Christmas Trees for Kids craft by the Artful Parent you could create an entire forest for your gnomes. Then kids could join in pretend play with the gnomes and trees for some holiday fun.
To stabilize our trees we added a perpendicular piece of cardboard at the bottom, cutting a slit in both the bottom of the tree and stabilizer.
BIRDSEED ORNAMENTS
MATERIALS: Birdseed, Coconut Oil, Cookie Cutters, Cookie Sheet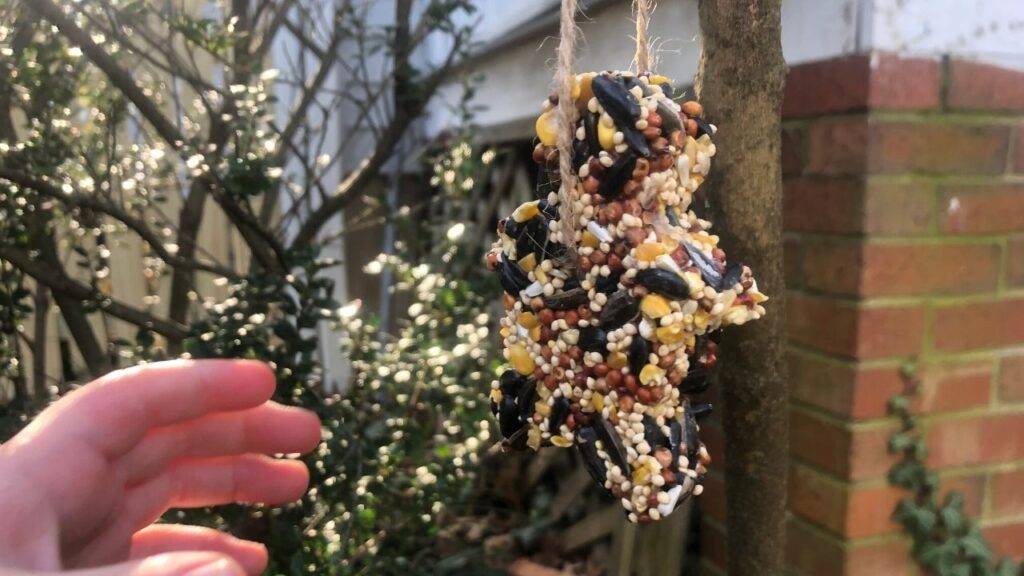 In very cold climates it's good to put out birdseed for the birds who will have trouble finding food during the winter. These birdseed ornaments are a nice way to take care of those little hungry birds in your yard.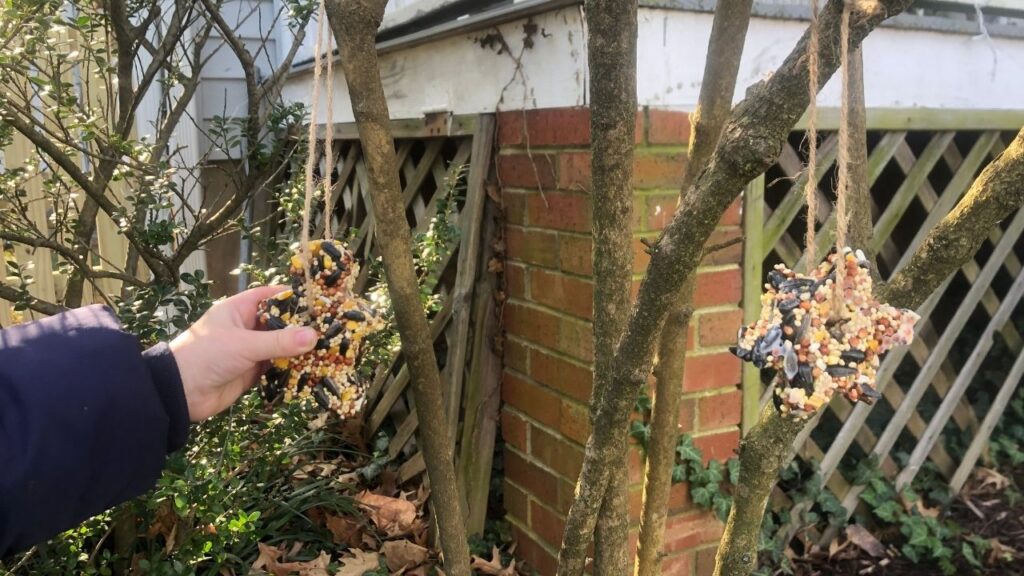 You'll need to make sure you're in a cold enough climate so that the coconut oil that holds the birdseed together does not melt. I'd also recommend placing them somewhere that doesn't get much direct sunlight.
Using simple rounded cookie cutter shapes for this holiday craft is best. Our gingerbread man worked best, but the star birdseed ornament did not. We used this recipe for No-bake Birdseed Ornaments by Giant.
ORANGES & CLOVE POMANDERS
MATERIALS: Oranges, Cloves, Skewer (or Pencil)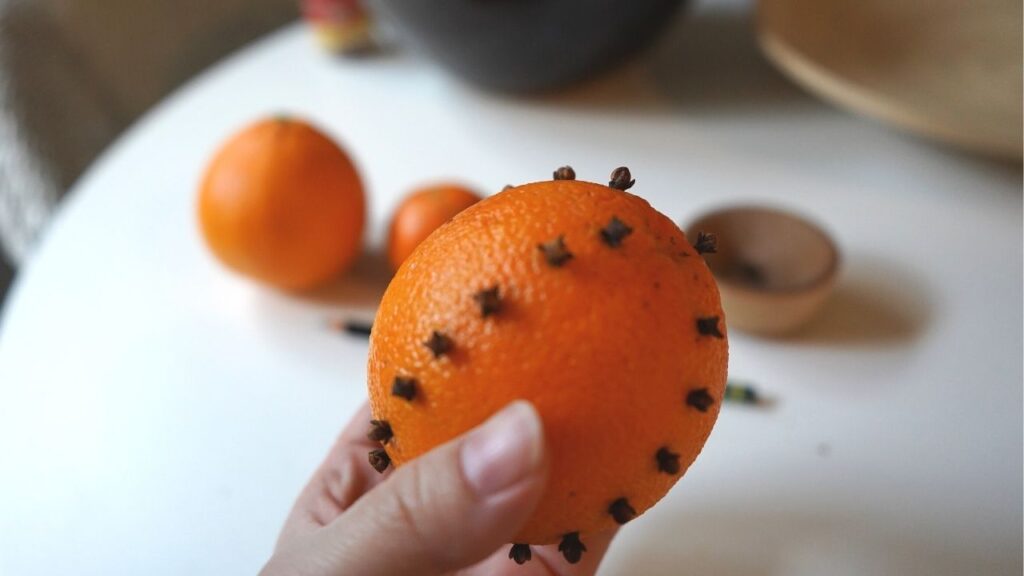 If I could share the amazing aroma of these orange and clove pomanders online I would! It's like a bit of holiday aromatherapy while you are making them. What's better is that this holiday craft continues to spice up your house with their scent long after you've made them.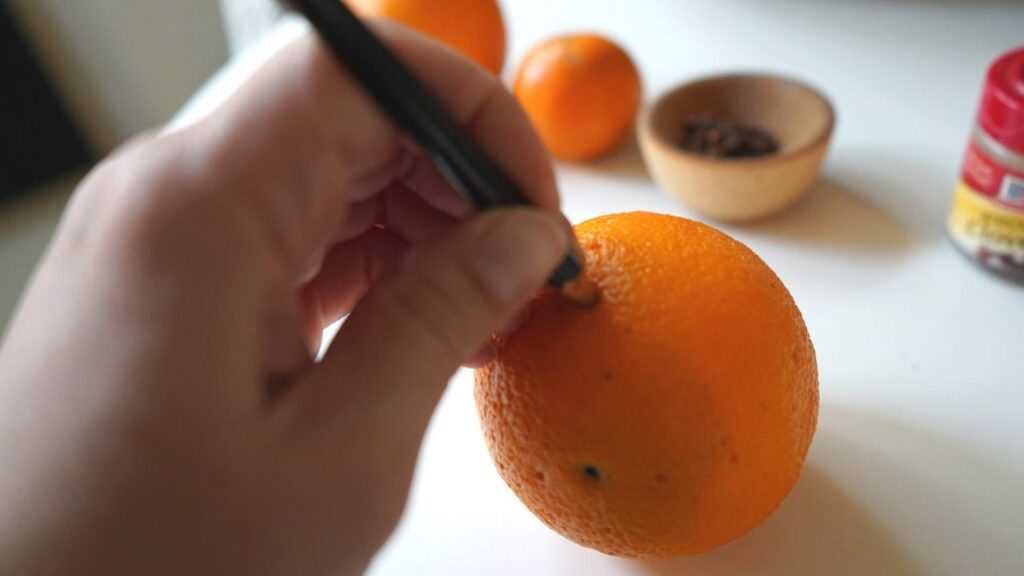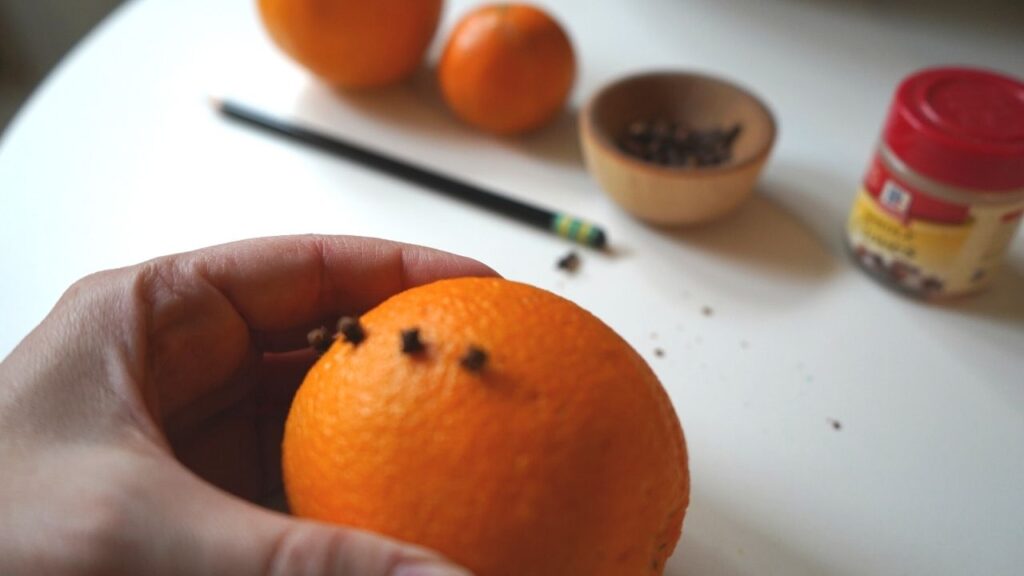 We made several of these last year with our 3-yr-old. I did not follow the proper method and we just shoved cloves into oranges until our fingertips hurt. This year I know better! Use a skewer or a pencil to poke holes in the orange first. Then it is WAY easier to place the clove in that hole. More details can be found How to Make Holiday Orange and Clove Pomanders.
You can create all sorts of patterns. We went with circles and spirals since we had just read this wonderful book Spot, Spike, Spiral by Sarah Grace Tuttle. Young kids will practice their fine motor skills and there's no harm if they take a taste of the clove and orange.
Pomanders were popular in Victorian times and I believe they date back to Medieval days. I am not sure about their Scandinavian origins but natural elements like oranges are often used in Scandinavian holiday decor.
---
MORE WINTER INSPIRATION
Late Winter & Early Spring | Montessori Inspired Activities
Winter IKEA Grocery Haul | Swedish Food at Home
Christmas Decor in a Scandinavian Style Farmhouse