Oranges and cloves make festive holiday decorations that look pretty and smell amazing! Make these simple orange and clove pomanders this holiday season.
These orange and clove pomanders are easy enough for even the littlest kids to make. That way the whole family can get involved in decorating for the holiday season.
Making orange and clove pomanders has become an annual holiday tradition in our house. Everyone loves creating their own designs and all the while smelling the fresh orange and spiced cloves.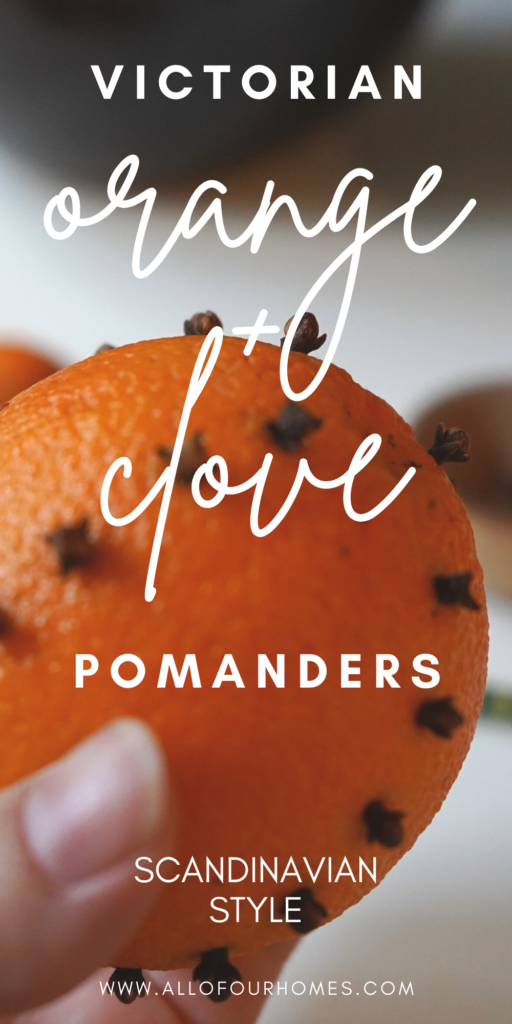 Decorating with oranges and cloves is the perfect Scandinavian way to add natural elements to your home during the holiday season. Although orange and clove pomanders are not strictly Scandinavian, pomanders with these scents were popular throughout Europe in the Middle Ages.
Orange and clove pomanders, like we are making here, were popular during Victorian times. They became a holiday tradition for those who had the means to use fruit and spices for decoration.
We live in an old Folk Victorian farmhouse that was built at the turn of the century. Making orange and clove pomanders is a way to celebrate the holidays and the history of our Victorian farmhouse. Plus following the Scandinavian way of using natural elements to decorate with the seasons make these an extra special holiday tradition for us.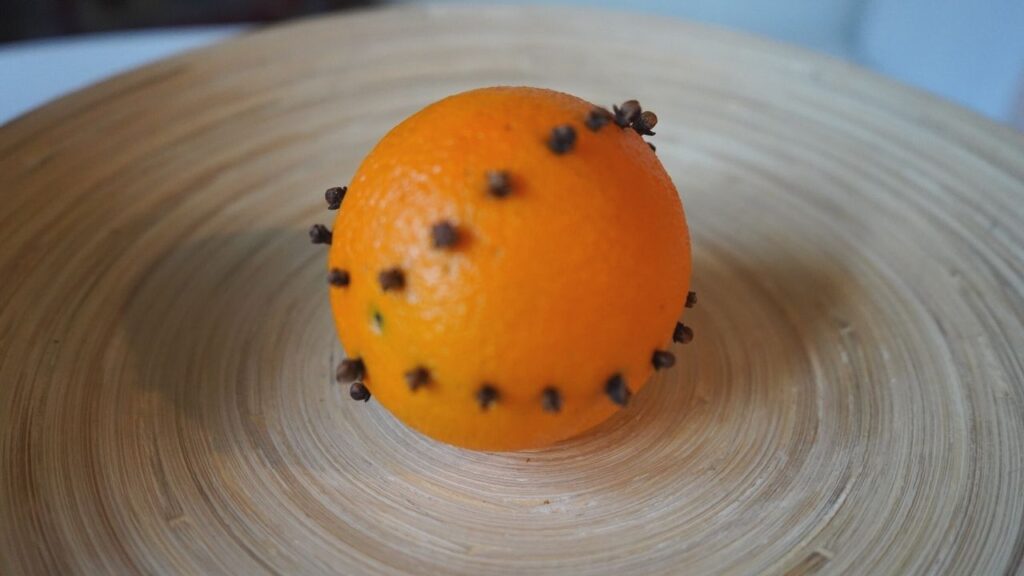 MAKING ORANGE + CLOVE POMANDERS
This project is budget friendly with the only supplies you really need being oranges and cloves. You could even slice up the oranges the next day for breakfast or throw these into a pot of apple cider for a warm winter drink.
PICKING THE FRUIT
You can use any citrus fruit for this holiday project. Lemons, grapefruits, kumquats and even apples can work too. Consider what would work with your seasonal holiday color palette.
We used oranges and mandarins (cuties) for our orange and clove pomanders this year. Fruit that fits in the palm of your hand is easier to work with, especially for smaller children if they are helping out.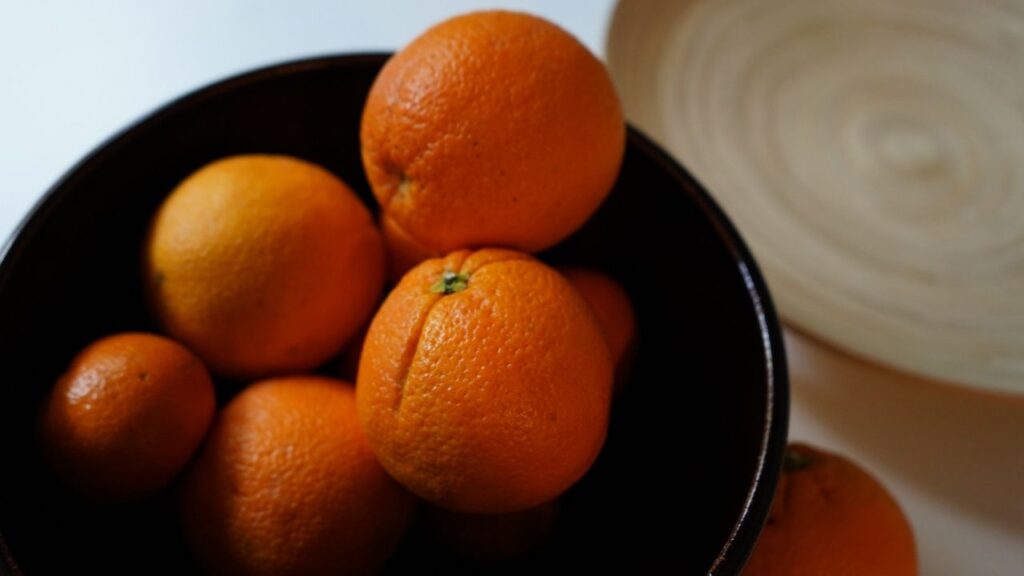 SUPPLIES YOU'LL NEED
The list is short!
ORANGES (OR CITRUS FRUIT OF YOUR CHOOSING)
WHOLE CLOVES
PENCIL (OR WOODEN SKEWER OR TOOTHPICK)
SMALL BOWL
LARGE BOWL OR DECORATIVE PLATE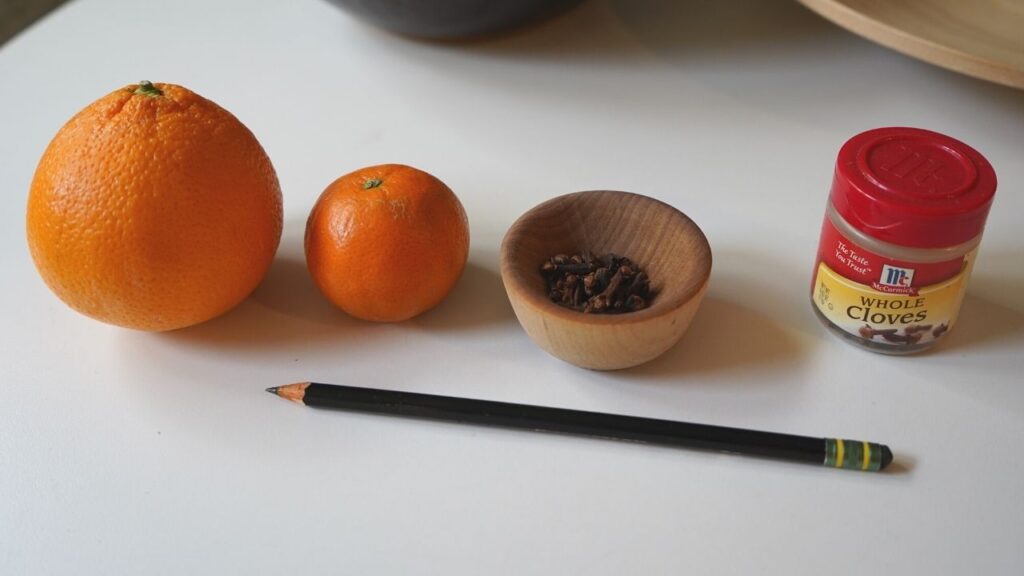 ADDING CLOVES
Cloves are shaped much like a nail. They have a sharp end that works well to pierce an orange peel. However, I recommend using a pencil or toothpick to create a small hole first. Shoving in cloves without making holes first will hurt your fingers after a while – I did that one year and was happy to use a pencil the next time!
You can create a design with your pencil first by making holes. Don't wait too long to add the cloves or else the holes will start to seal up and be harder to find.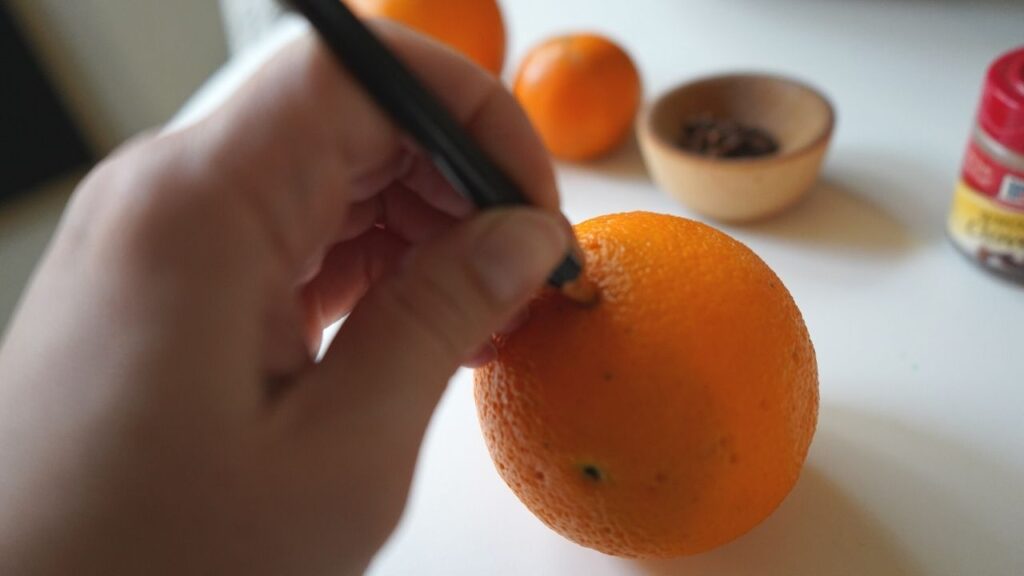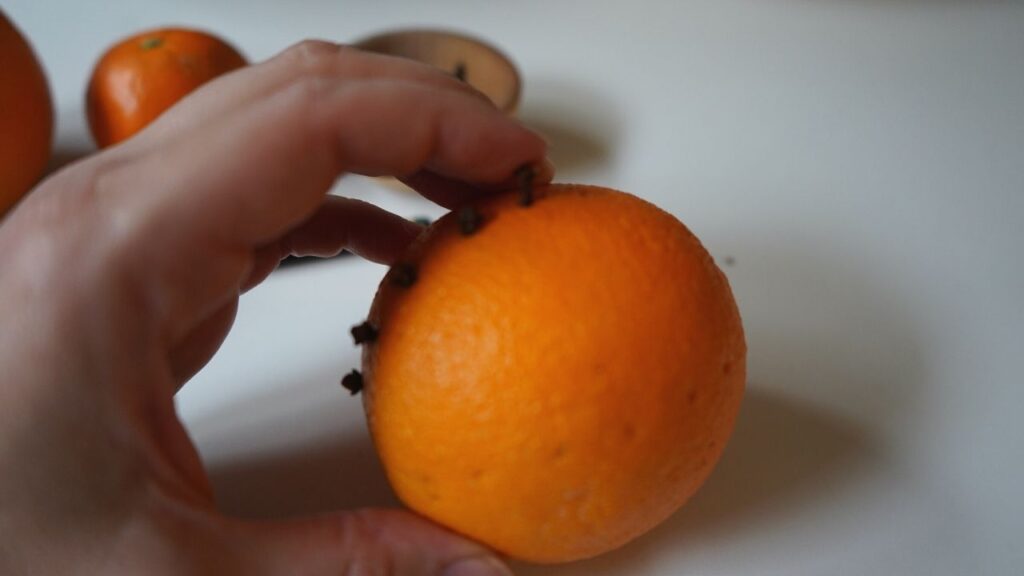 If you do plan to dry your orange and clove pomanders then it's good to space your cloves around a 1/4 to a 1/2 inch apart since the fruit will shrink when you dry it. We don't dry ours but we keep a little space between the cloves anyways.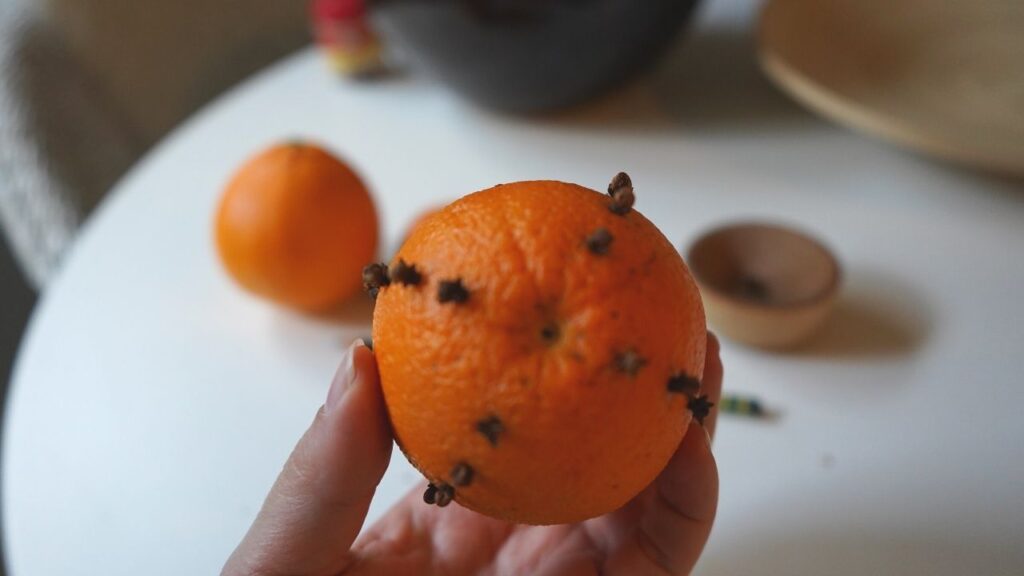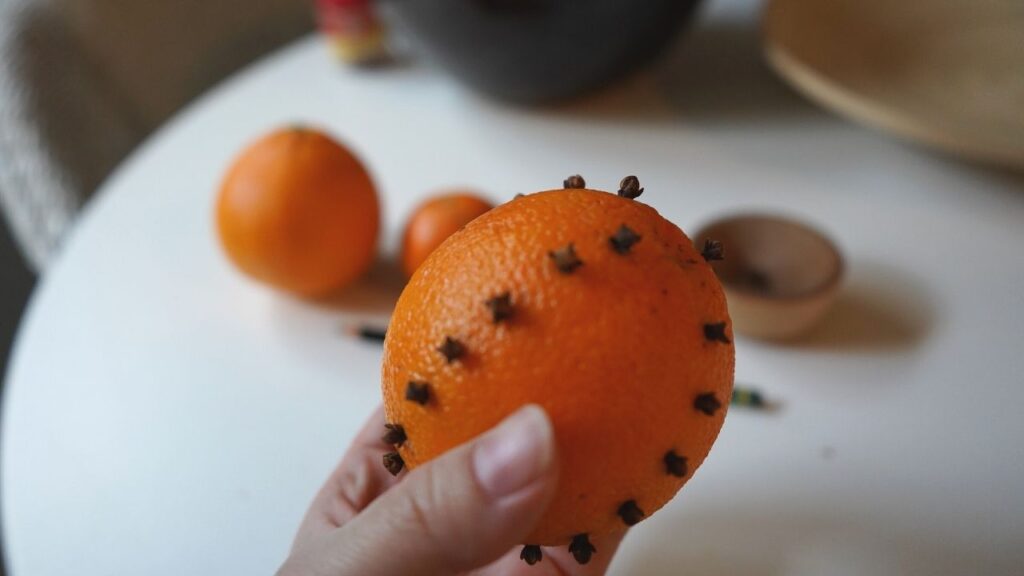 EASY FOR KIDS
Making orange and clove pomanders is great with kids. It requires minimal supplies and very little set up. Plus there is hardly any mess, just some crushed clove bits to sponge up.
We used mandarins because they are small enough for our four-year-old to hold steady when placing in the cloves. The mandarins were a bit juicier so perhaps just smaller oranges would have been easier. We also pierced the holes with a pencil first and then handed the fruit over to our little one to add the cloves.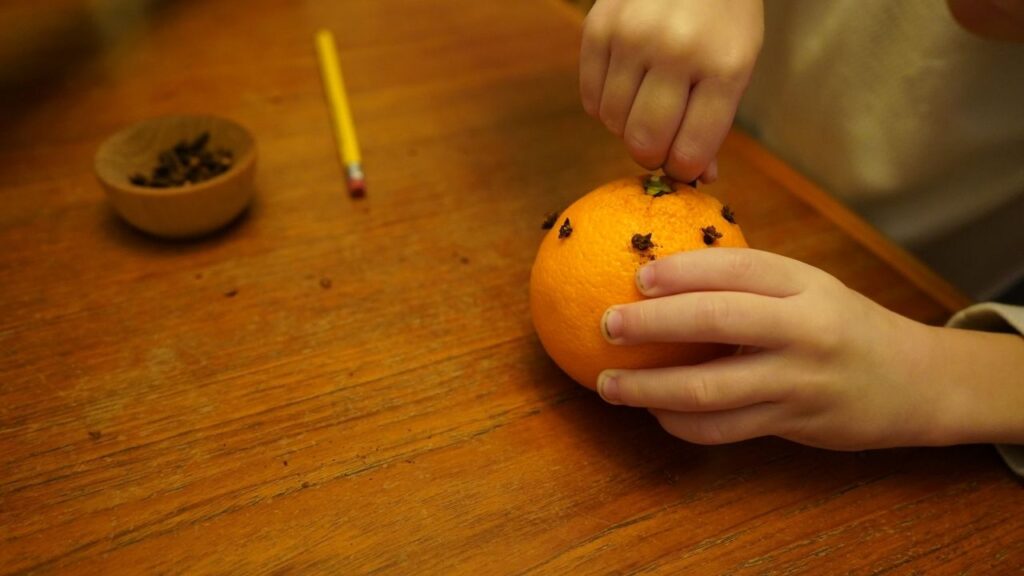 PRESERVING POMANDERS
Orange and clove pomanders, in Victorian times, were dried and used throughout the year to add nice scents in closets and rooms around the house. You can find instructions online on how to dry these in a paper bag with arrow root powder and a mix of other spices, however results seem mixed and some may end up moldy.
You can also add a ribbon around them and hang them up in a cool dark place until they dry which may take a few weeks.
We keep our orange and clove pomanders out for just a week or two during the holidays. Their freshness can be extended by placing them in the fridge.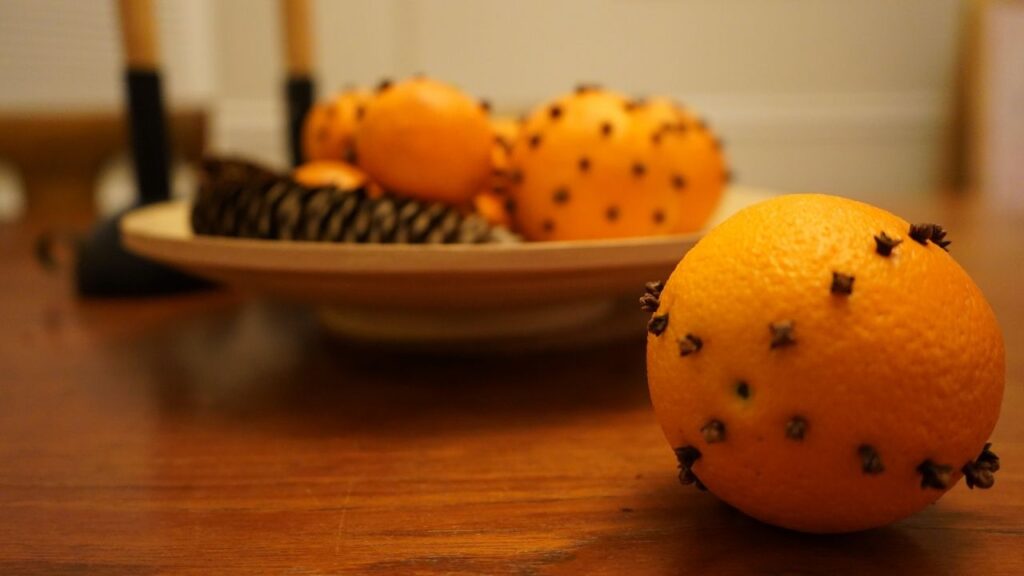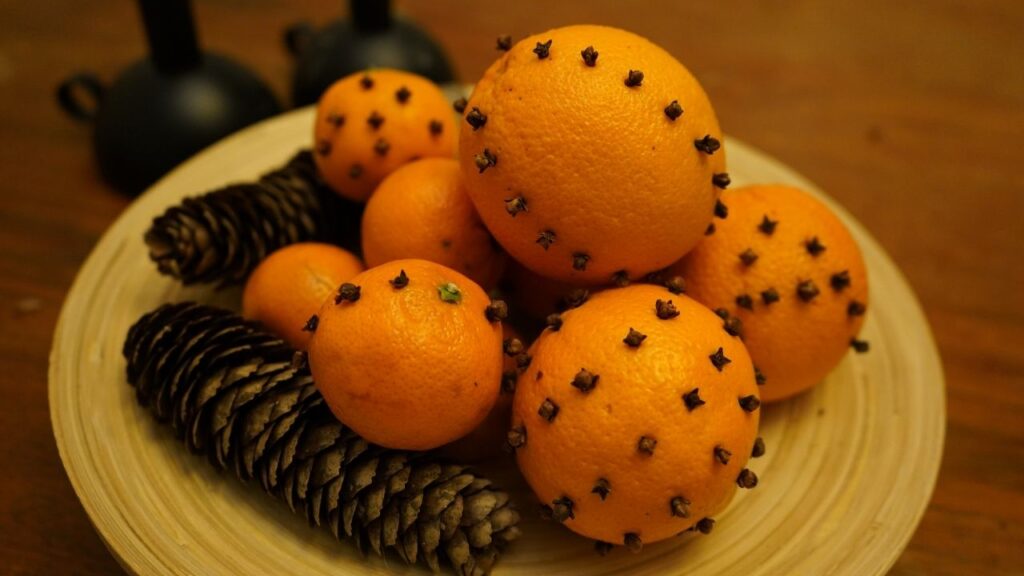 ---
MORE WINTER INSPIRATION
How to Make a Hygge Home | Scandinavian Style
Simple Winter Decor | Victorian Farmhouse