We review the famous book, A Field Guide to American Houses by Virginia Savage McAlester, with a walk through our neighborhood. We highlight some of the most popular American house styles like Victorian, Craftsman, and Cape Code style houses. See which ones you know and how this book might help you identify your old house style.
OUR FOLK VICTORIAN HOUSE
It has taken me years to uncover what type of house we have. Then I bought A Field Guide to American Houses and discovered what made our old house a Folk Victorian house.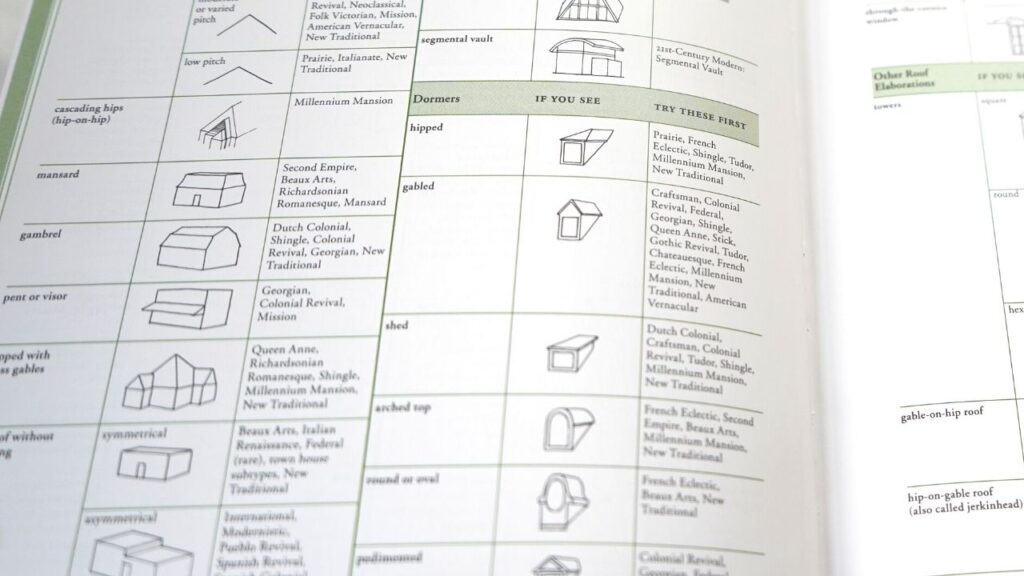 The diagrams! That is what helped me figure out that our house is not a Queen Anne or Gothic or Italianate, which all have front gable styles, but instead it was a Folk Victorian.
Our old house was built somewhere between 1905 and 1912. From when the land was purchased and when it was sold with a structure on it. (I discovered this through a deed search. I highly recommend doing one if you wish to piece together the history of your home as I did!)
The style is very straightforward. I like to say it looks like how a kid would draw a house with a triangle on top of a square. Folk Victorian homes had simpler forms compared to their Queen Anne counterparts.
Folk Victorian vernacular was similar to older more straightforward farmhouses and folk houses. Carpenters were accustomed to building those simple farmhouse or folk house forms rather than the asymmetrical and more complex Queen Anne style Victorian houses.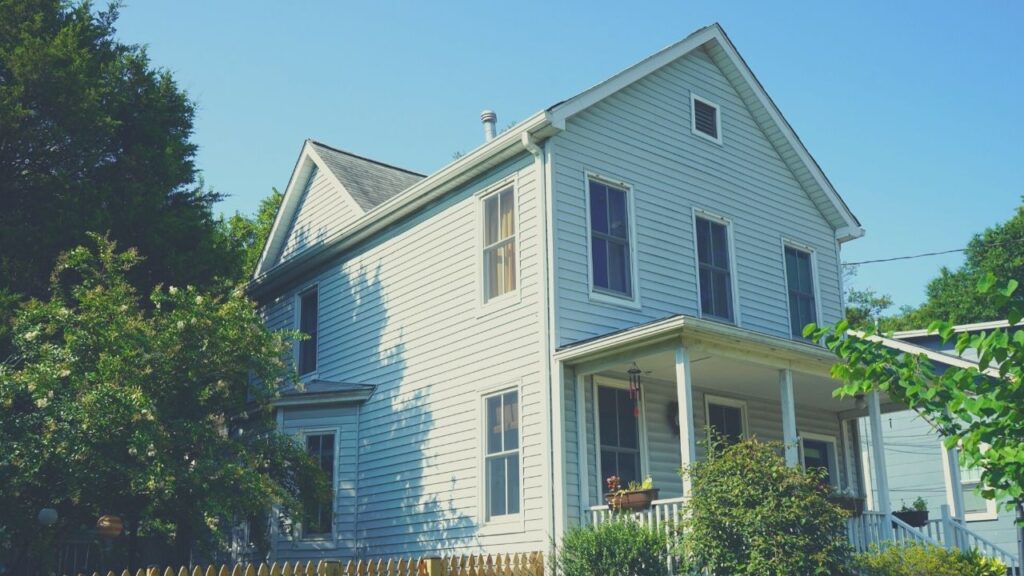 The decorative detailing was added on porches and roof eaves. Our house no longer has these decorative features but but probably did when it was build.
I describe our home as a Folk Victorian in a farmhouse style because it is styled like a simple farmhouse although it was never part of working farm. Our lot was next to what looks like was a working farm with several buildings and that probably influenced the style at the time.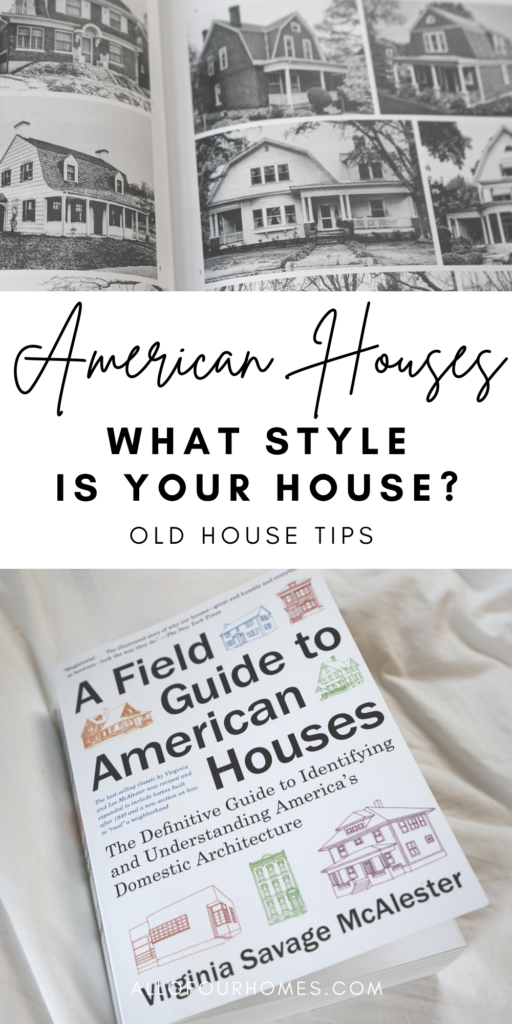 POPULAR AMERICAN HOUSE STYLES
If you walk around an older American neighborhood you'll likely see a variety of housing styles. Each style reflects the phases in which there was development in the area.
In our neighborhood several houses were built in the mid to late 1800's. Then when the streetcar from Washington DC was extended to the area around 1900, much more housing was built.
The housing lots in between the Victorian houses were then sold as the neighborhood gained popularity. In these lots is where Craftsmen homes an other newer styles were built.
FOLK VICTORIAN (1870-1910)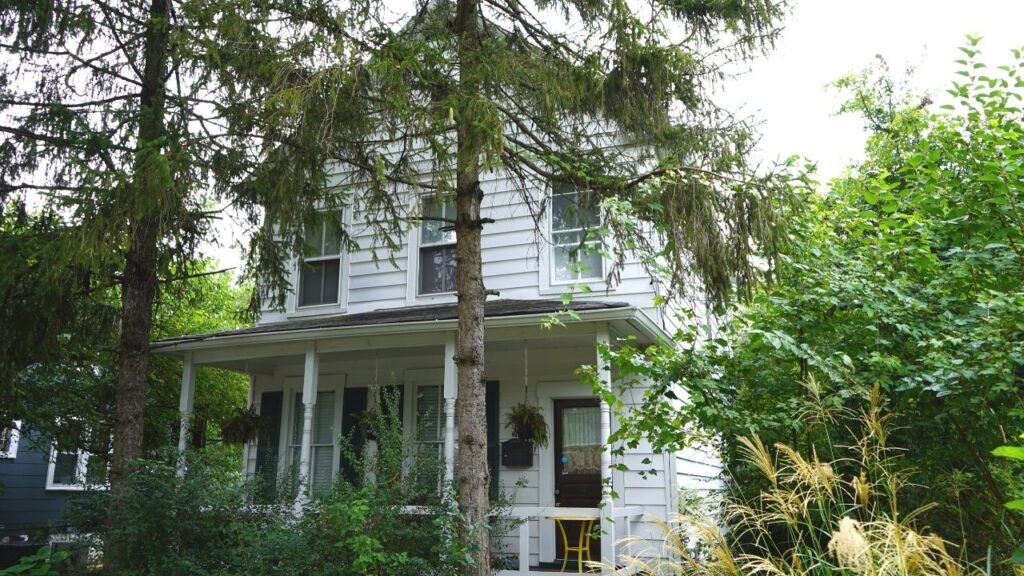 Porches with spindlework detailing (turned spindles and lace-like spandrels) or flat, jigsaw cut trim appended to National Folk (post-railroad) house forms; symmetrical facade (except gable-front-and-wing subtype); cornice-like brackets are common.
– Virginia Savage McAlester, A Field Guide to American Houses, p. 397
DUTCH COLONIAL REVIVAL (1880-1955)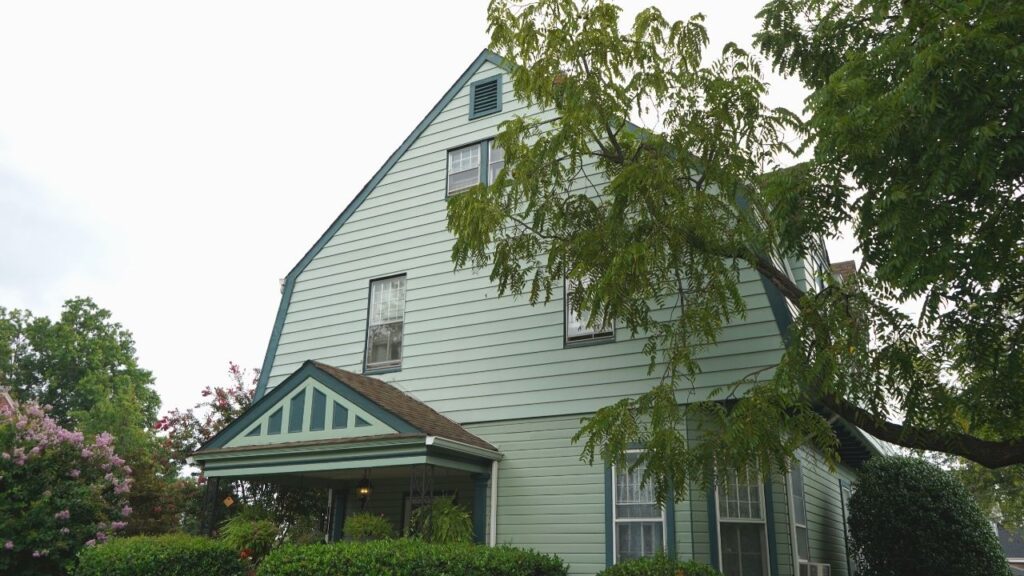 GAMBREL ROOF – About 10 percent of Colonial Revival houses have gambrel roofs. Most are one story with steeply pitched gambrels containing almost a full second story of floor space; these have either separate dormer windows or a continuous shed dormer with several windows. A full-width porch may be included under the main roof line or added with a separate roof. This subtype is know as Dutch Colonial, but very few examples closely follow early Dutch precedent.
– Virginia Savage McAlester, A Field Guide to American Houses, p. 410
SPANISH REVIVAL (1915-1940)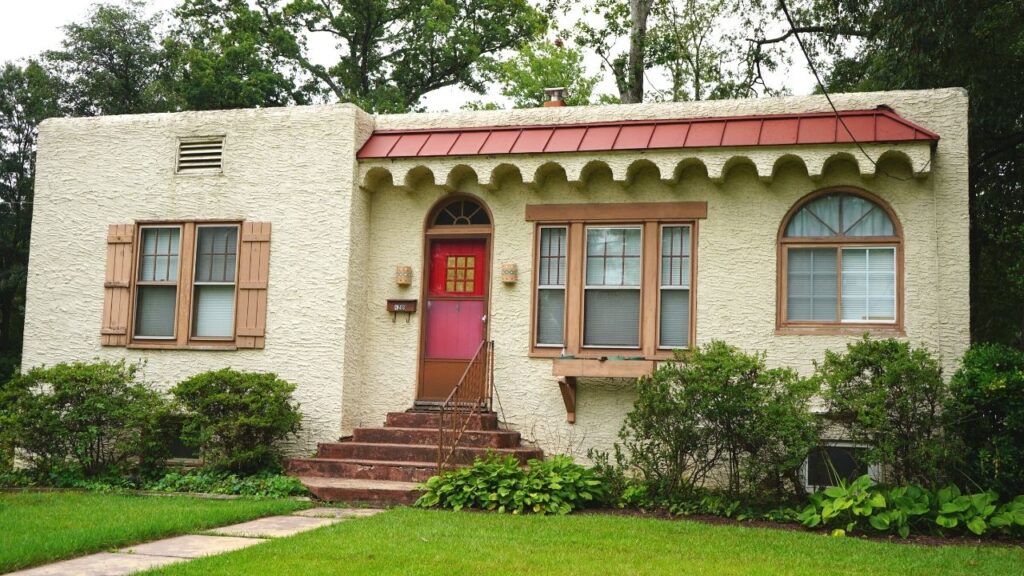 Low-pitched roof, usually with little or no eave or overhang; red tile roof covering; typically with one or more prominent arches placed above door or principal window, or beneath porch roof; wall surface usually stucco; wall surface extends into gable without break (eave or trim nominally lacking beneath gable); facade normally asymmetrical.
– Virginia Savage McAlester, A Field Guide to American Houses, p. 522
CRAFTSMEN BUNGALOW (1905-1930)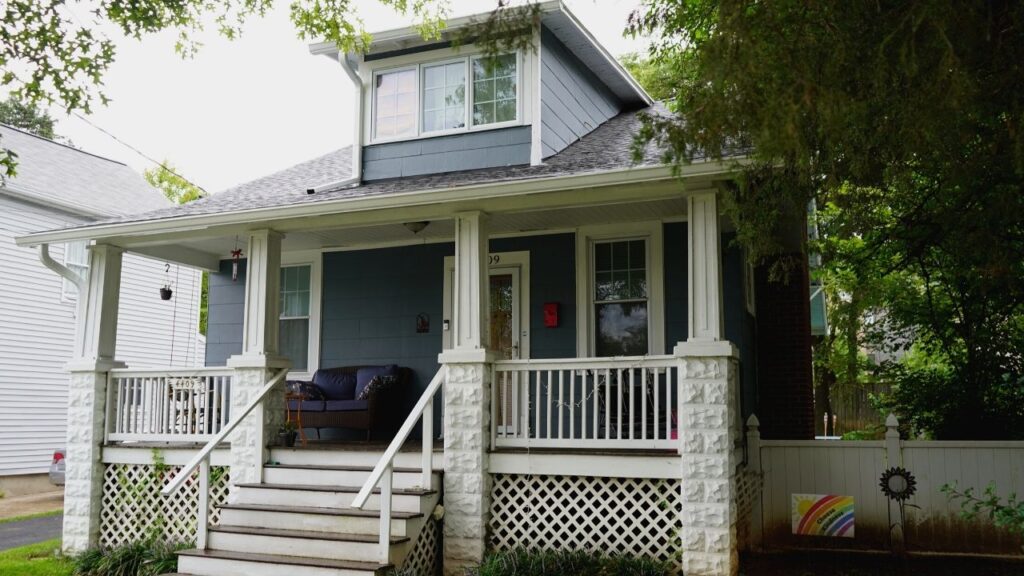 Low-pitched, gabled roof (occasionally hipped) with wide, unenclosed eave overhang; roof rafters usually exposed; decorative (false) beams or braces commonly added under gables; porches, either full- or partial-width, with roof supported by tapered square columns; columns or piers frequently extend to ground level (without a break at level of porch floor); commonly one or one and one-half stories high, although two-story examples occur in every subtype.
– Virginia Savage McAlester, A Field Guide to American Houses, p. 568
CAPE COD (MINIMAL TRADITIONAL) (1935-1950)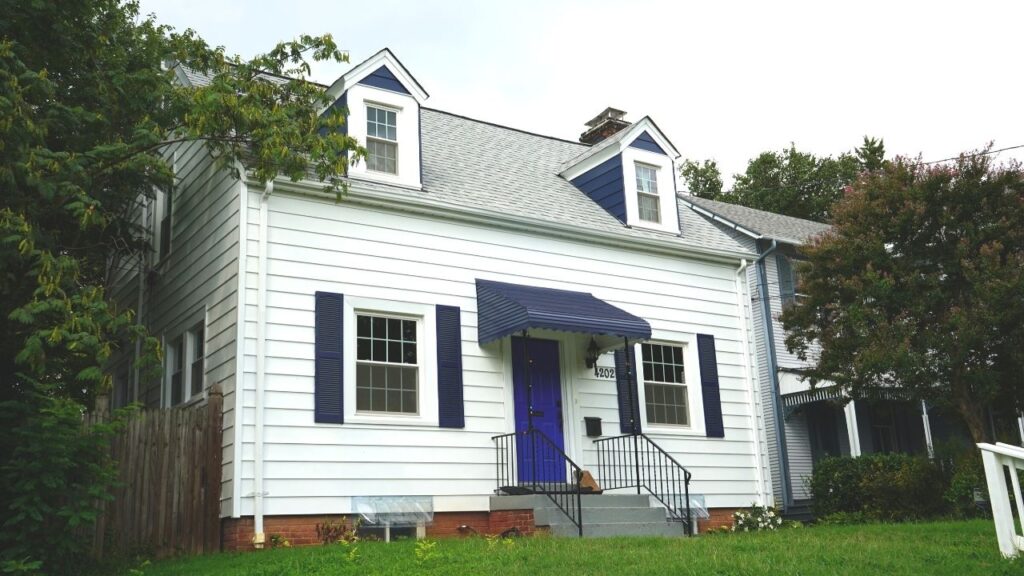 Low- or intermediate-pitched roof, more often gabled; small house, generally one-story in height; roof eaves usually have little or no overhang; double-hung windows, typically multi-pane or 1/1; minimal amounts of added architectural detail; rarely has dormers.
– Virginia Savage McAlester, A Field Guide to American Houses, p. 588
SHOP THIS POST
A Field Guide to American Houses by Virginia Save McAlester
This post contains affiliate links.
---
MORE OLD HOUSE HISTORY
How to Find your House History using Sanborn Maps