Here are 12 things to make sure you don't forget to add to your cabin packing list. We've stayed at more than 30 rental cabins and share the 12 things that we always pack for our hygge cabin getaways.
I love to go hiking during the fall and winter. I can layer up and wear my warm hiking boots and there's hardly a bug in sight! When we rent a cabin in the mountains it's usually the fall or winter. That means exploring the wilderness, getting cozy by a fire either indoors or out, and listening to music while eating by candlelight.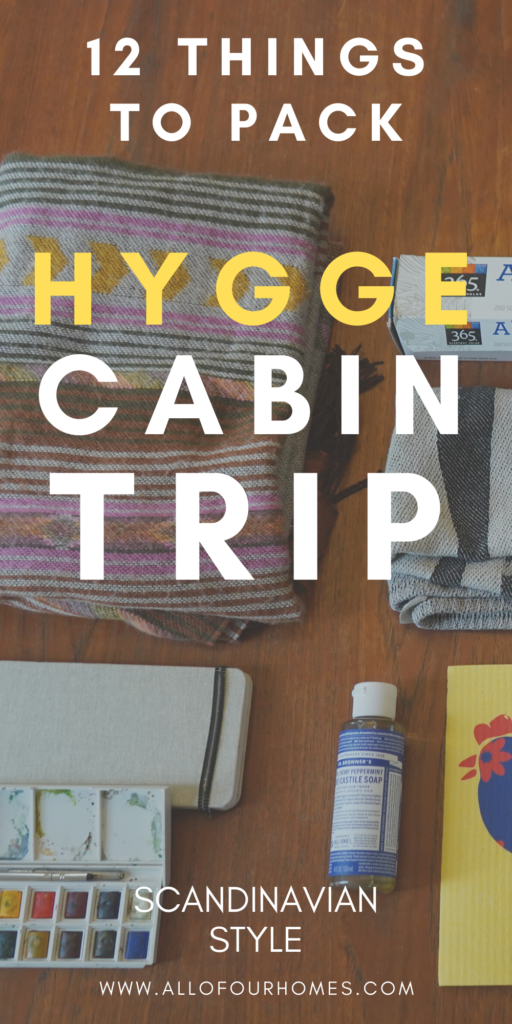 PACKING FOR A HYGGE CABIN TRIP
EXTRA TOWEL – FOR A BATHMAT
FOIL
TRASH BAGS
BLANKET SCARF
Going on a hygge cabin trip is one of the most relaxing and rejuvenating things you can do. But, planning a cabin trip, can be downright stressful! After planning and packing for a ton of cabins weekend getaways, we've come up with some crucial items that we have to have and will regret…if we forget (and believe me that has happened more than once!)
1. EXTRA TOWEL – FOR A BATH MAT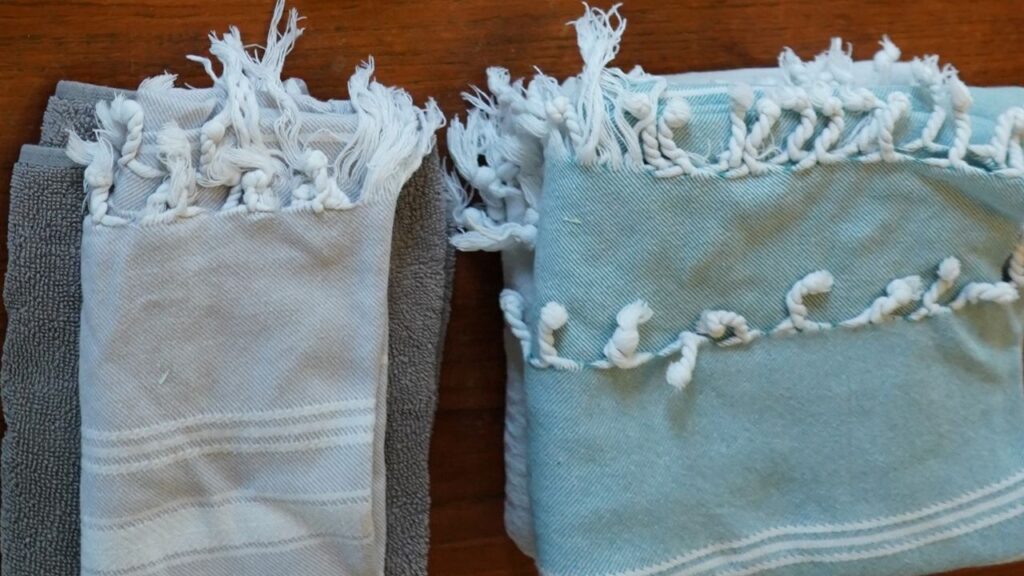 If you are renting a cabin with indoor plumbing, but you need to provide linens (think Airbnb, VRBO, state park, etc.) then make sure to bring an extra towel to use as a bath mat.
We've stayed at rustic cabins with outhouses and fancy modern cabins with all fresh linens changed daily, so in either of those cases you would not need to bring this. However, any rental where you need to bring linens probably has either no bath mat at all or one that is not cleaned regularly.
No one wants to take a hot shower and then have to step onto an ice cold cabin floor. Even worse, we've had to sacrifice a bath towel to clean up a sopping wet floor when the shower door wasn't closed just right! I won't get into the details of all the dirty bath mats I've come across, but I've set aside at least 20 that ranged from dusty to cozy mouse dens.
2. TURKISH TOWELS
Our favorite bath towels for a cabin trip are Turkish towels. They are lightweight, pack small, dry fast, and can double as picnic blankets, scarves, or pool towels. (I would recommend packing something a bit thicker for a bathmat, like a terry hand towel.)
3. HAND SOAP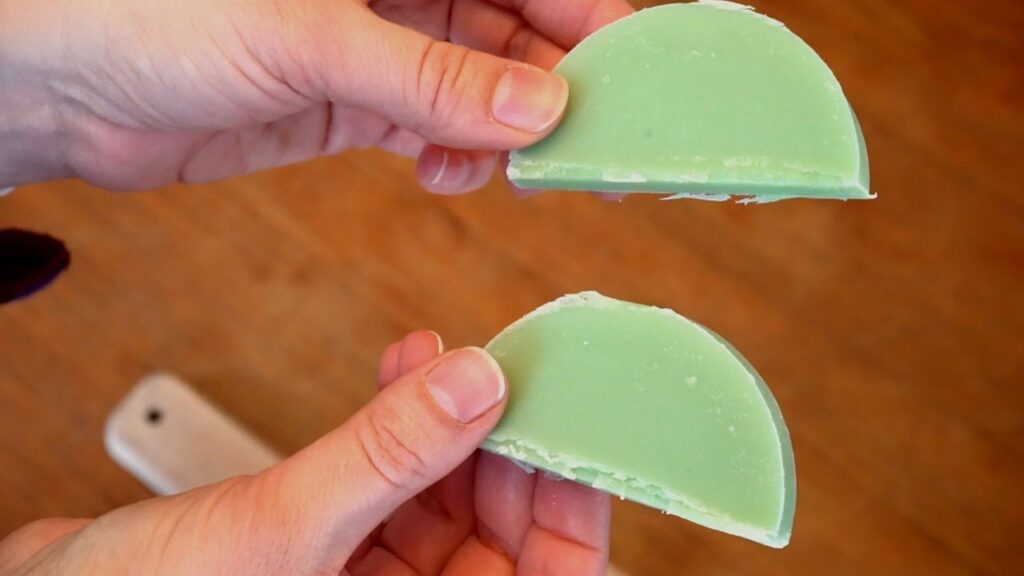 Washing your hands is at the top of everyone's list these days! Make sure to add hand soap to your cabin packing list. One hand soap per bathroom is enough.
My favorite light weight way to do this is to cut up a bar of soap. Not all soap works for this, but I've found that these Sappo Hill round soaps are easy to slice into 4 smaller pieces. You can use them in the shower or at the sink and they hardly take up any space. When planning a family cabin trip with multiple bathrooms this is definitely the way to go.
4. KNIFE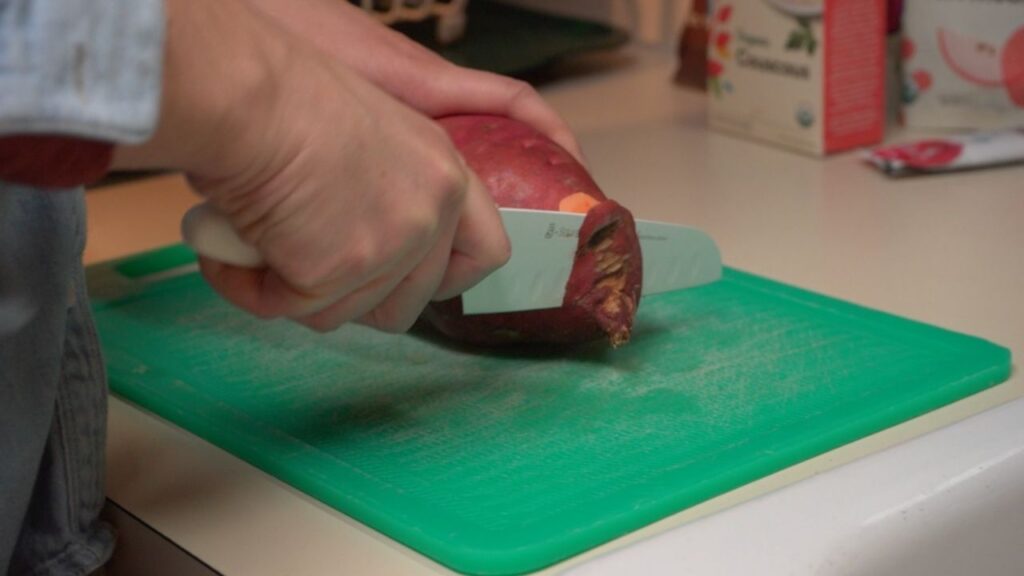 Sharp knives are always hit or miss at the cabins we've stayed at. If you are cooking on a wood stove or an open fire you'll want food prep to be easy. That's why we bring our own knife. I found this travel Santoku knife with a case at Crate and Barrel many years ago. Farberware also makes something similar.
5. FOIL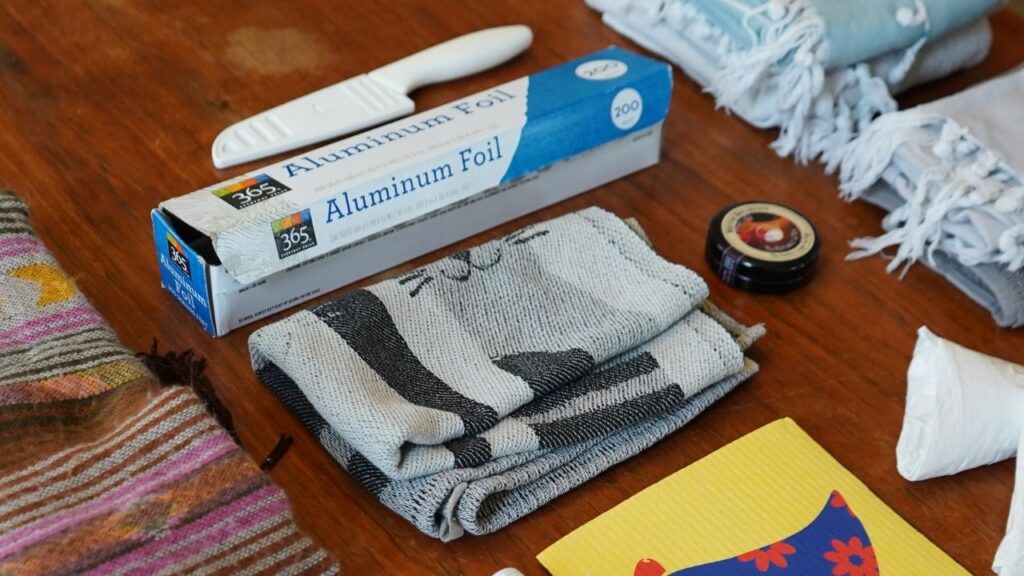 Another must have to keep cooking easy is foil. We use parchment paper at home for easy clean up, but foil has so many other great features with a cabin trip.
If you are cooking over an open fire or in a wood burning stove, you'll want wrap that food in foil so it doesn't burn. Plus, you can wrap up leftovers in foil to bring back home and enjoy!
6. DISH TOWEL
So, you'll probably bring paper towels along on your cabin trip. I am not saying to take paper towels off of your hygge cabin packing list. You should just make sure to add a dish towel too.
A dish towel is just more hygge plus it keeps makes your environmental footprint a bit smaller. Plus it's nice to not have to lug out a huge bag of paper towel trash at the end of your vacation if your rental requires it. We love the 100% cotton Swedish dish towels by Ekelund Weavers.
7. DISH SOAP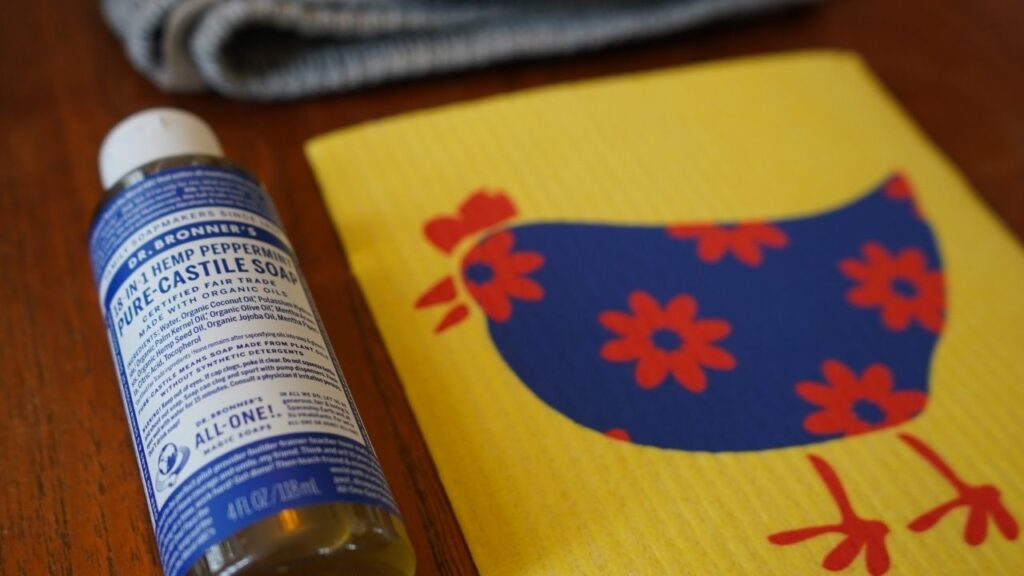 Dr. Bronners makes the best all-in-one soap. You can find it in all different sizes for home or travel. You can use the soap for washing dishes, cleaning floors, body wash, really anything! We use Dr. Bronners Peppermint Castile Soap for washing our fruits and vegetables at home and we take a small bottle with us on our cabin trips.
We recommend the 2oz or 4oz small travel sized ones. It is concentrated so it takes very little to do the dishes.
8. SWEDISH DISHCLOTH
Swedish dishcloths seem to be all the rage right now. We were given this yellow bird dishcloth as a gift and love the fun bold colors. They are a great alternative to traditional sponges since they dry faster and are a bit more cloth like for wiping surfaces. Here is another set of fun bold Swedish dishcloths.
9. TRASH BAGS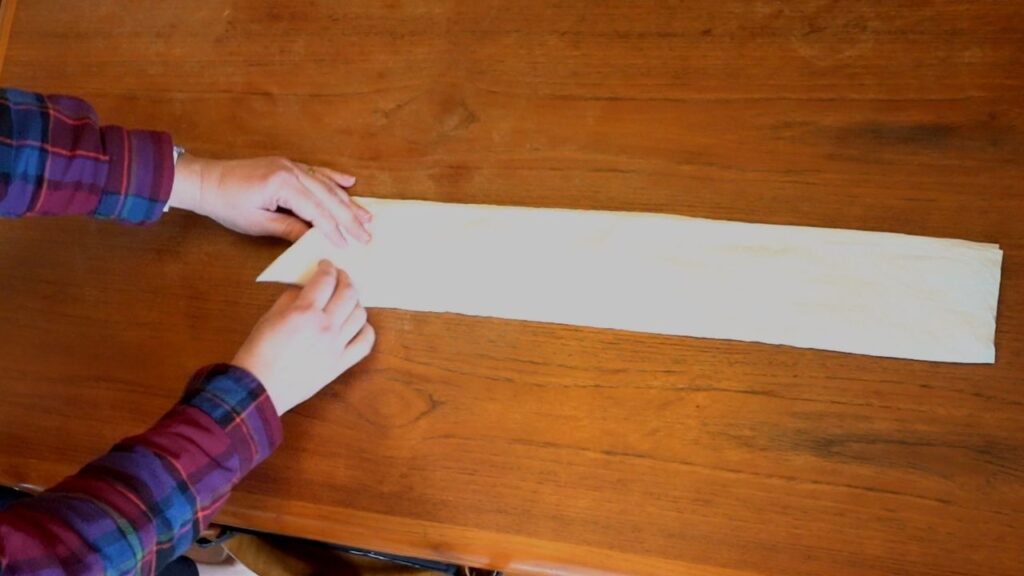 Uh, yeah, probably the worst thing you can forget for a cabin packing list. Even if the rental you are staying at provides a trash bag, they usually only provide one. And that one bag might break. And that might happen in your car as you haul it away. (Yes, this has happened to us!)
So, to contain your trash, trap smells, keep mice out, and if you just need an extra one to sort recycling to take home, bring some extra trash bags. I'd say 3 to 4 bags are good enough for a weekend cabin trip. You can use them for wet laundry, double bag your trash, or anything I just listed above.
If you can go on a hygge cabin trip that is zero waste I applaud you. For those of us who cannot, consider folding up your bags into a neat little triangle and stuffing them in your cabin pack incase you should need them.
10. TEA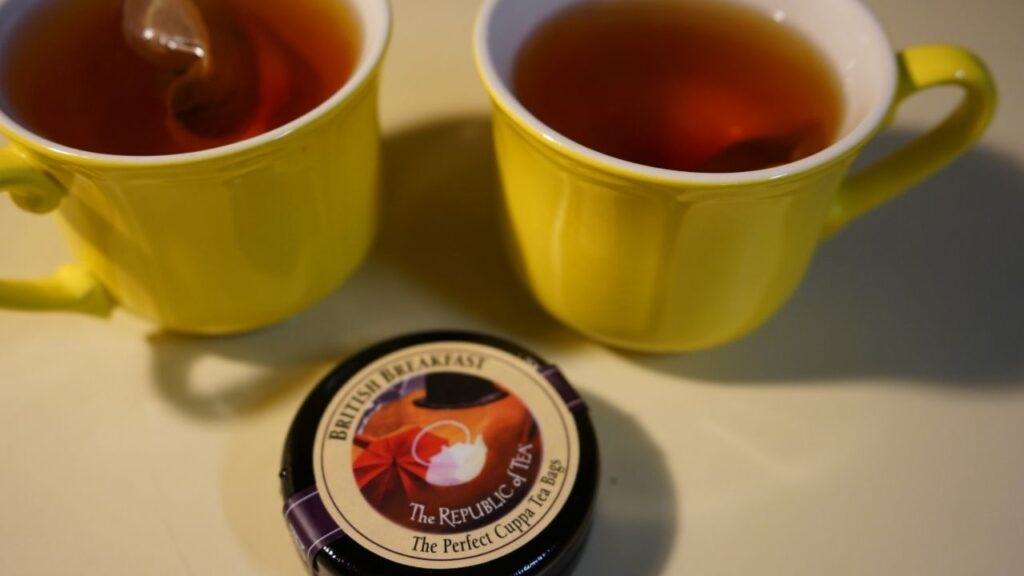 If you like The Republic of Tea or Downton Abbey (Yes, they have an entire Downton Abbey themed line of teas!) then you should get one of these small 6 bag traveler tea tins to add to your cabin packing list. They have green tea, black tea, and white tea in these little puck like canisters the can be reused.
Any hot beverage in a mug is great for a fall or winter hygge cabin trip. Tea is wonderful way to start and/or end the day. It's refreshing once it's cooled off for after a long hike in the woods.
11. BLANKET SCARF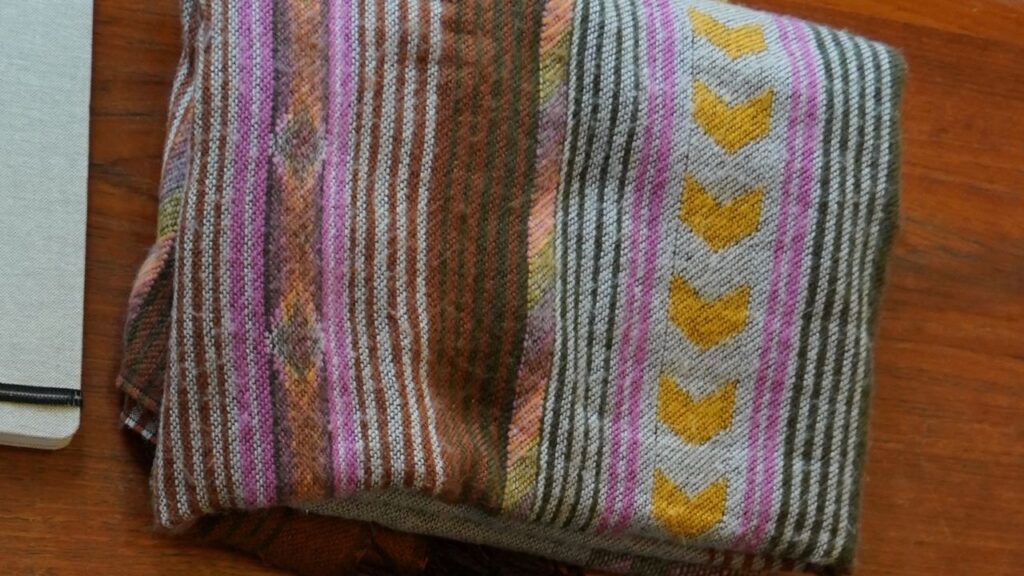 Bringing a scarf that can double as a blanket is crucial for any cold weather cabin trip. Or, a blanket that can be used like a scarf works too! Whatever it is, we are always a blanket short on our cabin trips…and if someone steals the covers at night, you've got your own back up!
12. ARTS & CRAFTS – WATERCOLORS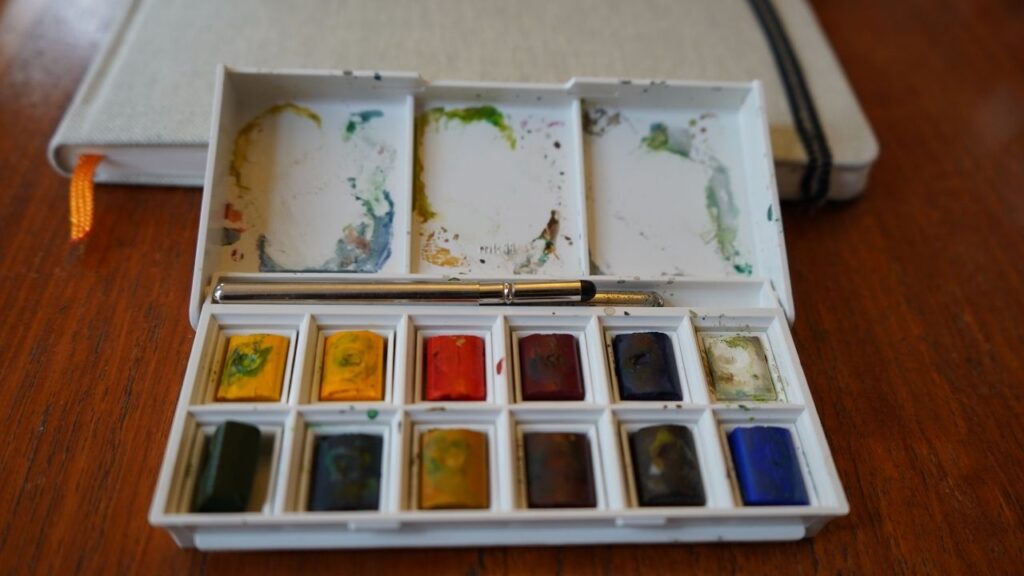 Whittling, knitting, drawing, painting, music making, these are all more fun out in the woods. Bring something that you enjoy that you hardly have time to do at home. I prefer watercolors and this tiny little watercolor kit comes with me on every trip. I only get to it half the time, but when I pack it in my bag I know it means fun times ahead!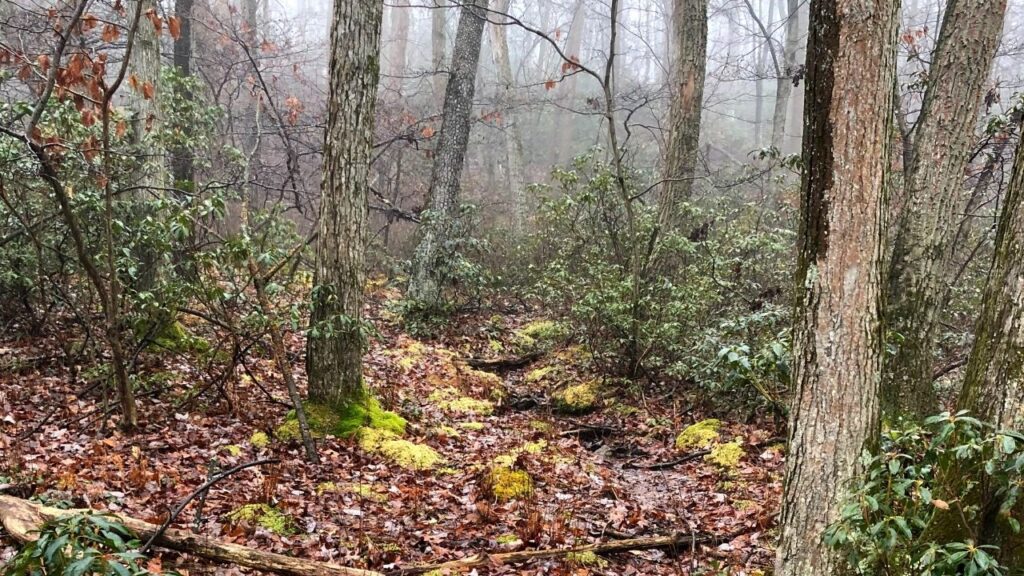 Of course there are somethings you don't need to pack to enjoy your cabin escape. And, even if you forget one thing you still have the wilderness to welcome you!
---
MORE CABIN TRIP INSPIRATION
Hygge Cabin | Things to do on a Cabin Getaway